QHW Audio's Surprising "The Vinyl" MM/MC Phono Preamp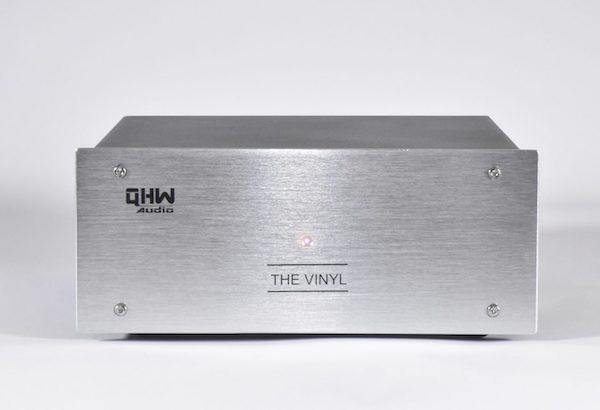 What's "surprising" about
QHW Audio
's "The Vinyl" phono preamplifier? More than a few things, starting with its Made In Spain origin. Perhaps I'm just ignorant but other than the highest tech WADAX brand of digital electronics, an older piece of which I reviewed for Stereophile, I'm not aware of a burgeoning Spanish audio manufacturing scene. Perhaps I'm mistaken. If so, I'd be happy to stand corrected.
A second surprising thing about "The Vinyl" is its price: $619.83 plus $25 to ship to The United States. That's not necessarily surprising, depending upon its build quality and sonic performance. Considering the price then, it's more than surprising to find that rather than utilizing an "off the shelf" op-amp for the MC input, The Vinyl sports discrete bipolar transistors.
Likewise, the MM uses not an "off the shelf" chip but rather a QHW developed AE2270 op-amp. "Op-amp" is not a dirty word, contrary to what some audiophiles believe. It can be, using "off the shelf" ones. As I've written more than few times, careful in-house op-amp development can produce better than discrete circuit performance and SMT (surface mount technology) is not a dirty word.
Who is the "Spaniard In the Works" (sorry, I've been listening to John Lennon's remixed Plastic Ono Band album)? "The Vinyl"'s designer is Francisco Vizcaya Lopez, who is a music professor, concert performer, composer and has some engineering in his background. So, he brings to this design a serious musical background. Enough surprises? But wait! There's more!
"The Vinyl", hand soldered in Spain, features two inputs (one for MM and one for MC) switchable on the back panel.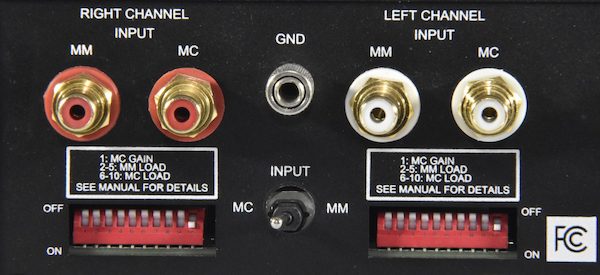 The dip switch arrangement allows you to independently configure both the MC and MM inputs, so at the flip of the rear panel switch you can choose between the two sets of chassis mounted RCA jack inputs. Carefully selected low tolerance RIAA components include 0.1% 25ppm thin film resistors. The website lists MC gain @1kHz as switchable between 63dB and 69dB, while the manual says 64dB and 71dB. Either way those choices should work with any low output MC cartridge. MM input capacitance is adjustable in multiple steps from 47pF to 617pF (that's according to the online manual—the printed one slightly differs). The rest of the specs are at the bottom. The power supply is another surprise: it's a 36V DC unit terminated in an IEC jack so you can play with A.C. cables and if you never have because you're so sure they can't possibly make a difference you're only fooling yourself (I promise). Finally, the front fascia is a nicely finished brushed aluminum plate.
At this point it's not a surprise, but had I not earlier divulged the $619.83 price tag, it would now be among the biggest surprise, until you get to hear it, which should provide the biggest surprise of all.
Set-Up
Keep the instructions and dip switch adjustment card handy because the rear panel won't tell you anything and the switches themselves are not marked. No big deal.
Again, I used the SME M6 turntable and both the Ortofon 2M Black LVB 250 ($999) and the Ortofon Cadenza Black ($2879) running the $619 "The Vinyl" into my big rig, which now includes the Wilson Audio Specialties XVX speakers. For the Cadenza I set gain at 63dB (or 64dB) and loaded it first at 100 ohms and once I'd played plenty of records to fully break in the phono preamp, I did the serious listening. However, all through the break-in this low priced phono preamp produced surprise (of course!) and nothing but pleasure. Not "for the price" kind of pleasure, but rather the fully enjoyable, musically and sonically fulfilling kind. Yes, a $619 phono preamp paired with $329,000 loudspeakers. Eventually I changed the loading to 47 ohms, not because it was bright at 100 ohms and the balance was in need of "taming", but because the spectral balance improved at 47 ohms.
An industry friend had stopped by (wearing a mask) to pick up a piece of gear and being a "folkie", he asked to hear Peter, Paul & Mary's debut album, which I had on an original gold label Warner Brothers pressing. It's a fine recording by the late Bill Schwartau, who engineered so many great albums (including Bill Evans/Jim Hall Undercurrents, The Genius of Ray Charles, etc.). About Schwartau Phil Ramone said in his autobiography, "Bill Schwartau was one of the unsung heroes of our industry, and every recording professional on the East Coast admired him. His ability to hear 'through the microphone' was impeccable; and when Bill set up a session, what you heard in the studio matched what you heard in the control room. He used microphones and aural shading to convey subtlety and nuance in the same way a painter uses light and color." So if you see his credit on a record jacket, expect good sound.
I hadn't put it away and had listened to it through another phono preamp so that was the first record to which I paid attention. I was beyond pleasantly surprised ("shock" might be the word) to hear how this inexpensive piece dealt with instrumental attack, sustain and decay. The hard-strummed acoustic guitars shouldn't sound "hard" and they didn't. Instead, the attack was natural and relaxed, but not soft either. The sustain generous so you could hear the body and the decay generous—the kind of sonic performance you expect from costly phono preamps. The vocals had the same natural presentation, with each of the three singers in three-dimensional relief against a very subtle studio acoustic. When I played the record on my far more costly reference front end, yes, the presentation was better in every way, but the essence remained the same, meaning the less costly everything committed minor acts of omission, starting with some dynamic diminishment, less precise attack and the like but I was comparing for instance a $50,000 phono preamp to one costing $619! (not that I'd trade in the costly one and take the money and run, mind you).
This inexpensive phono preamp's top to bottom performance impressed, but best was its transparency, timbral neutrality and freedom from obvious sonic artifacts. On its own, in a very costly system, it got out of the way and just let the music through.
Sadly, more great records show up than I can get to and here's one that sounded absolutely spectacular through this inexpensive phono preamp: Monty Alexander, Love You Madly Live at Bubba's (Resonance HLP 9047). This is a two LP set recorded in 1982 to 24 track analog tape on Criterion's Mobile Truck by studio owner Mack Emerman (on this website I don't have to tell you about Criterion Studios). The recording and performance get 10s. As does Bernie Grundman's mastering. Pianist Alexander is backed by bass, drums and percussion.
I promise, you'd never know you were hearing it through a $619 phono preamplifier. The acoustic bass was so natural and well-controlled, the drums immediate and natural-sounding—particularly the cymbals and rim shots— and Alexander's hard-driving piano produced dynamics and convincing timbral verisimilitude. Add a transparent, generously sized soundstage presentation that had width, height and especially depth (percussionist Robert Thomas Jr. placed well behind the piano, stage right (whether or not that's from where he actually played) and top it off with "you are in the room" applause and you have both a really great recording and a ridiculously good phono preamplifier that I think you could insert into your system and fool the most demanding audio fanatic into thinking cost ten times what it actually costs. And it's quiet.
Just to bring this down to earth: switching to the big rig produced far greater spatial perspective (more of an "in the club" experience), a piano in greater relief and more compactly and appropriately sized, a more subtle bass attack and sustain and a few other things too, but still I came away from that listen more impressed than ever by what "The Vinyl" accomplished.
Conclusion
I always love to plug things in and be surprised, particularly by lower priced components that appear to have been well-designed and constructed. "The Vinyl" produced a big sonic surprise that was as big as the price, which I didn't know until well after the first "plug and play". I appreciated everything about its looks, construction, ergonomics (particularly if you have two arms, or turntables, equipped one each with a MM and MM cartridge) and of course the sound. It's not surprising to find out that the designer is also an accomplished musician. Way highly recommended. And, if you buy and don't agree with me, you have 21 days to listen, return and get your money back. How can you go wrong? And for you wealthy readers, you ought to get one just to hear what's possible for $619 and to have a "spare" in case your costly rig blows up.
Technical specifications
Nominal gain at 1 KHz:
• MM: 42 dB
• MC low: 63 dB
• MC high: 69 dB
Maximum output level: 9 V RMS or more.
MM input impedance: 47 KOhm
MM input capacitance: adjustable from 47 pF to 617 pF.
MC input impedance: adjustable from 47 Ohms or less to 32 KOhms.
MC input capacitance: 150 pF.
Total harmonic distortion at 1 KHz, 2 V RMS output, 10 KOhms load (20 HZ – 20 KHz band):
• MM: 0,004 % or less.
• MC low: 0,007 % or less.
RIAA deviation 20 Hz – 20 KHz: less than ± 0,1 dB.
Residual noise: < 300 uV (MC input shorted).
Signal to noise ratio:
• MM: -84 dB or better (input shorted, referred to 2 V RMS).
• MM: -96 dB or better (input shorted, referred to maximum output).
• MC low: -78 dB or better (input shorted, referred to 2 V RMS).
• MC low: -90 dB or better (input shorted, referred to maximum output).
Crosstalk: < -96 dB (at 1 KHz referred to 2 V RMS output in other channel).
Power consumption: < 10 W
Power supply: output, 36 V DC, input 100 V – 240 V AC 50 – 60 Hz.
Maximum dimensions: 243 mm (L) x 218 mm (W) x 89 mm (H) (including connectors and feet).
Weight: 2 kg
<!- ------------------------------------>