Miles Davis's Relaxin' is Craft's Next "Small Batch" Release!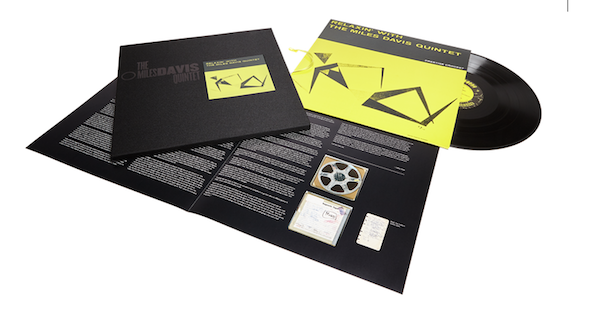 Craft Records today announced Miles Davis's
Relaxin'
as the next
"Small Batch"
limited to 5000 copies release. The pre-sale launches Friday April 15th at 2:00 PST/5:00 EST on the "Small Batch" website.
Bernie Grundman cut lacquers using the original analog master tapes and RTI pressed on 180g Neotech VR900 compound with "one-step" stampers. Each pressing is individually numbered and encased in a foil-stamped linen-wrapped slip case featuring an acylic inset of the original artwork. The original artwork is reproduced on a "tip-on" jacket extractable through a unique frictionless ribbon pull tab. Included in the package are new liner notes from GRAMMY Award-winning music historian, journalist and producer Ashley Kahn.
The 1956 recording hardly needs introducing to AnalogPlanet readers, but for the few who might not be well-familiar, between November 1955 and October 1956 the group featuring John Coltrane, Red Garland, Paul Chambers and Philly Joe Jones recorded 32 tracks at Rudy Van Gelder's Prospect Avenue, Hackensack, NJ living room studio that became Miles: The New Miles Davis Quintet (1956), Cookin' (1957), Relaxin' (1958), Workin' (1959) and Steamin' (1961).
When Relaxin' was released, Davis was but a few short months away from recording Kind of Blue for Columbia. To pre-order Relaxin', visit the Craft Records "Small Batch" website as of the date and times listed at the top. I've heard the test pressing. Keep your fingers on the website trigger!
<!- ------------------------------------>