Sumiko and Pro-Ject USA Launch New Budget-Priced E1 Series Turntables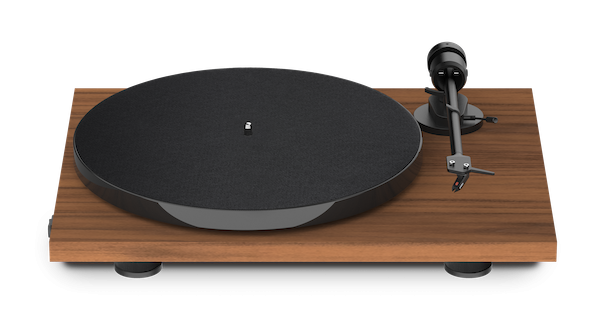 MISTELBACH, AUSTRIA (May 3, 2022) - Sumiko and Pro-Ject USA today announced the new E1 budget-priced turntable line designed and produced in Europe. The E1 turntable is available in three versions: the E1 ($349) the E1 SB with with built in switchable phono preamplifier ($399) and the E1 BT ($499) featuring both built-in switchable phono preamp and a Bluetooth wireless transmitter to connect wirelessly to soundbars and powered speakers.
The E1 turntables feature a high-density subplatter assembly on which rides a low mass synthetic main platter. A polished stainless steel spindle bearing rotates within a low friction brass bearing well mounted in a solid MDF plinth wrapped in one of three durable foil finishes: high-gloss black, satin white and satin walnut. The aluminum tonearm features a factory mounted Ortofon OM5 cartridge. An electronic speed selector drives the DC motor at either 33 or 45rpm. The E1 series also includes a hinged acrylic dust cover.
The E1 Family will be available for purchase through Authorized Pro-Ject Audio Systems retailers beginning May 2022.
<!- ------------------------------------>