Zesto Audio Introduces Andros Téssera Reference Phono Stage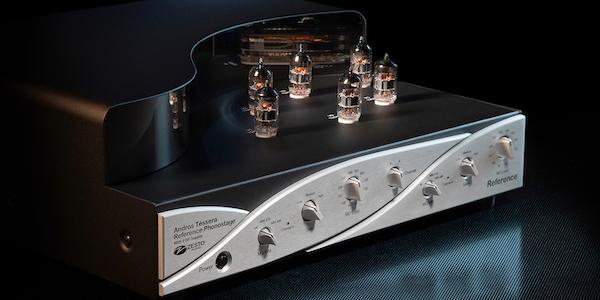 Zesto Audio recently announced this new super-deluxe Andros Téssera phono stage, which features a new 100% tube analog circuit design featuring "optimized" components and a wide variety of performance and convenience upgrades from its previous reference phono preamp.
Among the claimed performance improvements is a dynamic range increase from 108dBV to 116dBV plus loading on the step up transformer's secondary coil, which puts the load resistor out of the signal path. A front panel situated 12 position MC load per channel offers 1000, 800, 700, 500, 400, 350, 300, 250, 200, 150, 100 and 50 ohms.
The circuit features 2 completely independent dual mono channels with LED indicators for A and B. Gain is up by up to 7dB, voltage increased from 250V to 300V, power increases from 52W to 60W for claimed greater high and low frequency accuracy. Current increase from 3.4A to 8A and maximum output goes from 8V RMS to 12V RMS for greater headroom.
The circuit uses new 12DW7 tubes that better drive the output tubes to produce lower noise, more headroom and lower distortion. There's a new dual-chassis external power supply and many, many other design enhancements.
The new Andros Téssora accommodates 4 tonearms, 1 MM and 1 MM per each of the two independent inputs and it saves all settings when switching between the two. It's 100% hand-made in the USA and gets a final 50 hour factory burn in on all circuits before final testing.
The rear view is equally enticing:


The price is $18,000.
<!- ------------------------------------>