More Notes on the Rolling Stones Reissues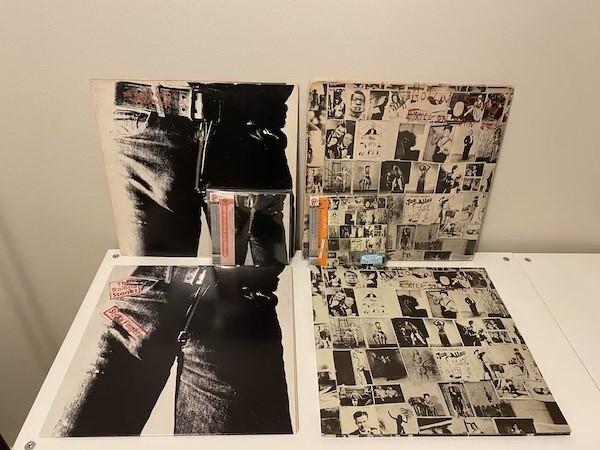 Whether it's the 60s material controlled by ABKCO or the 1971-onward catalog owned by the band, the Rolling Stones' discography is among the world's most tirelessly and excessively reissued; every few years, there's yet another remastered, repressed, repackaged reissue of the same decades-old classics. After several mediocre reissues of the Rolling Stones Records albums (particularly the first and best two,
Sticky Fingers
and
Exile On Main Street
), AnalogPlanet editor Michael Fremer found the half-speed mastered 2018
Studio Albums Vinyl Collection 1971–2016
box set (now available as individual albums) to best capture the original LPs' spirit, even if sometimes lacking in transparent analog sparkle. However, I thought another perspective on the
Sticky Fingers
and
Exile
reissues, also taking into account the Japanese flat transfer CDs, would be useful.
Before getting into album-specific details, an overview of the Japanese CDs. In 2011, Universal Japan released SACDs of the Rolling Stones' 70s and 80s discography, most of which were flat transfers (or close) from the original master tapes (the Some Girls disc in this series has light peak limiting and maybe some other processing, though most of these at least sound unaltered). Mick McKenna and Richard Whittaker did the DSD transfers at FX Copyroom in London, while Masaru Takagi at Tokyo's Sunrise Studios has an "edited in DSD" credit (maybe along the lines of SACD/DSD authoring and track split/volume editing, rather than mastering processing). In 2013, these masters were reissued on SHM (Super High Material) Red Book CDs, with HR [High-Resolution] Cutting from 176.4kHz/24-bit PCM files converted from the DSD (it's still a normal 44.1kHz/16-bit CD, but the HR Cutting process bypasses the need to create a 44.1/16 DDP from the higher resolution master files). If all the technical details sound like gibberish, I can't blame you.
For the half-speed mastered LPs, Miles Showell at Abbey Road Studios received hi-res PCM and DSD flat transfers from the original tapes, perhaps the same ones used for the Japanese discs, with instructions to do the best work possible while referencing the original LPs (more info here). MPO pressed the 2018 box set, though not all pressings of all the standalone half-speeds were done there.
Now for the album-specific breakdown:
Sticky Fingers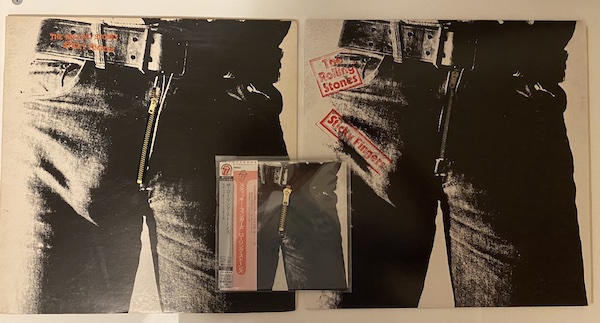 Produced by: Jimmy Miller
Engineered by: Glyn Johns, Andy Johns, Chris Kimsey, Jimmy Johnson, etc
Music: 8
I find it unnecessary to yet again dissect these albums' musical content (everyone's already said everything about these records), but I'll say that Sticky Fingers is the most streamlined studio album expression of what made the Stones great: dark, gritty, and sinister, yet elegantly so. Despite a few lesser moments, it's a very solid blues rock album that, for the most part, still holds up well today.
I can't afford an original Mastering Lab-cut UK pressing, so instead I have a mid-70s Monarch-pressed US reissue with a working zipper. It cost $50 in nice condition, though isn't anywhere near audiophile quality. It has the glowing analog transparency that digital lacks, but it's muddy and veiled, with muffled highs and poorly defined mids. Unfortunately, the standalone half-speed reissue isn't much better; the cymbals are clearer and it's a cleaner overall cut, but it's still murky and the snare sounds more like cardboard. An anonymous American plant (based on the stamper rings I'll guess Erika Records, but I'm not certain) did the US pressing of the half-speed (Interscope B0031948-01), which is riddled with non-fill. While Showell's mastering is a tad too compressed for my taste, the muddiness might be more of a plating issue than a mastering choice (maybe the MPO version, distributed as a standalone LP in Europe, sounds better).
Neither of those vinyl pressings sound like the Japanese SHM CD, which is bright but clear and dynamic, too dynamic even. The saxophone on "Brown Sugar" is harsh at higher volumes, and the lack of compression means that the whole thing (especially the drums) sounds a bit limp, but the benefit is that you can rip the CD (or SACD, if you pay aftermarket prices) and master it exactly how you like. Still, acoustic guitars sparkle, drums sound like actual drums, and electric guitars sound like electric guitars rather than midrange sludge. There's actual soundstage depth and space, noticeable especially on "Can't You Hear Me Knocking," that blows away the mid-70s reissue and the US half-speed. Unless you're a deluded vinyl loyalist, the Japanese flat transfer CD's pros outweigh its cons. (If you choose the self-mastering route and need to have a vinyl copy, Kunaki and similar services sell custom lathe-cut LPs. That's not an endorsement or recommendation, however, as I haven't yet tried it myself.)
Adding to the Japanese CD's value for money is its packaging, which at the price of ¥2667 (around $20 USD) replicates the original UK vinyl packaging with the original Japanese obi. There's a miniature working YKK zipper, the belt die-cut, the original band photo and credits insert, and an additional booklet with Japanese liner notes and English and Japanese lyrics (which I haven't scrutinized for the glaring inaccuracies still common with Japanese releases). The half-speed vinyl, which at my preferred local store cost $26.99 (though word is that UMG recently further raised the MSRP on many vinyl titles), merely comes in a standard foldover jacket with a printed inner sleeve (underwear photo and credits, but no band photo) and mediocre artwork scans all around-you can faintly see the outline of the original UK LP's belt die-cut, and there's no working zipper. While the size and inconvenience of vinyl has undeniable appeal, given the lesser sound quality of the more affordable US Sticky Fingers pressings, I'd recommend the latest repress of the sonically and aesthetically superior Japanese flat transfer SHM CD (don't even think about the 2009/2015 CD and LP remasters, which are unnecessarily loud and compressed). The vinyl pressings get a 7/10 for sound quality, while the SHM CD gets an 8.
Exile On Main Street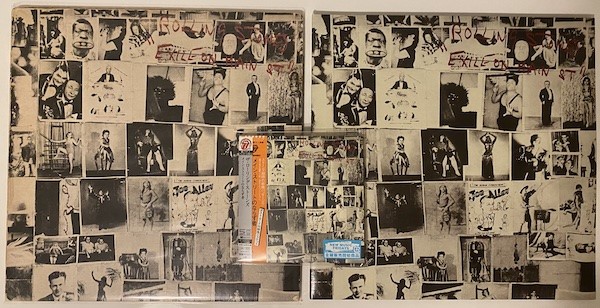 Produced by: Jimmy Miller
Engineered by: Andy Johns, Glyn Johns, Joe Zagarino, Jeremy Gee
Music: 9
Famously recorded in a drunken and drugged-out haze while the Rolling Stones evaded UK taxes (rather predictably, they'd spent the money they owed in taxes on drugs and luxury), Exile On Main Street remains the Stones' magnum opus, a sprawling, messy, and unsettling double album that captured everything as it fell to pieces. Of course, that's exactly why the Stones never made a front-to-back great album ever again, but even if they did, Exile is the '70s blues rock album to end all 70s blues rock albums, one of that era's few classics actually worth its endless praise.
I'm fortunate to have an original US copy cut at Artisan sound and pressed at the Columbia Santa Maria plant, though the LPs aren't the cleanest (VG condition), the Unipak is disintegrating (G+), and the 12 postcards are missing. Still, the Artisan cut even in less than perfect condition has a natural tonality and holographic transparency unique to an all-analog signal path. Sure, there's some inner groove distortion and a near mint copy isn't cheap, but if that means hearing Exile the way it's meant to be heard, I'll accept some distortion on "Tumbling Dice" and surface noise on "Let It Loose."
Still, I was curious about how the current half-speed edition (EU copies pressed at MPO, North American copies plated at GZ and seemingly pressed at Precision) and the Japanese flat transfer CD compared to the Artisan cut. Like Sticky Fingers, the Exile SHM CD is a bit too dynamic, but for unmastered sources that's not uncommon. It's also noticeably brighter in the upper mids than the Artisan, though for a digital version it's surprisingly transparent, maybe from the lack of mastering. In my experience, the quality of these flat transfer CDs depends on what DAC you're using; they sound somewhat unexciting on my Arcam CDS50, but excellent through the SSL 2+.
On first listen, the half-speed seems more compressed than the Artisan, but that impression is most likely caused by the lessened transparency and in turn, a more forward and bright sound. However, it's much closer to the original than the godawful 2010 remaster (which is still one of the most blah-sounding things you'll ever hear), and the half-speed cutting combined with updated technology means that for better or worse, it's smoother and far less distorted than the Artisan. For those who are on a budget or don't feel like hunting for an original Artisan cut (which is usually cheaper "in the wild" than on Discogs), the newer half-speed is a perfectly fine copy of Exile On Main Street (I can't speak for the 2016 Miles Showell half-speed cut). Would many of us prefer to hear an all-analog reissue without early 70s cutting technology's limitations? Of course, but we also don't know if the tapes are in good enough condition to cut lacquers.
In terms of packaging, the half-speed reissue is rather lame; it's normal direct-to-board gatefold with thin top-loading printed inner sleeves (far from the original's side-loading thick cardboard inners), no postcards, and mediocre photo reproduction. It'll suffice for many, but disappoint those familiar with the original (further, the standalone half-speed reissues have barcodes printed on the jackets). Thankfully, the Japanese CD painstakingly replicates the original UK and US packaging, with a miniature Unipak jacket, the two side-loading printed inner sleeves on appropriate cardstock, small reproductions of the 12 postcards, a replica of the original Japanese obi (with an additional obi containing reissue info, plus the usual Japanese booklet). You really can't go wrong with any of these, but I think the Artisan is the best of the best while the Japanese SHM CD is the best value for money (the half-speed is quite good, don't get me wrong, but for the $36.99 I paid feels a bit overpriced). The Artisan gets a 10 for sound, the SHM CD a 9, and the half-speed an 8, but that's my subjective opinion based on what sonic characteristics I value most.
(Malachi Lui is an AnalogPlanet contributing editor, music obsessive, avid record collector, and art enthusiast. Follow him on Twitter and Instagram.)
<!- ------------------------------------>