With the Donatello Gold MC Cartridge Gold Note Plays "The Price Is Right" (Revised)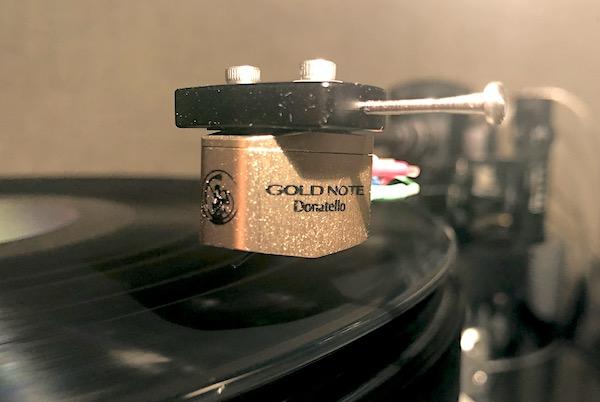 The first item up for bids today on "The Price is Right" is Gold Note's Donatello Gold moving coil cartridge! Vacuous bimbette hostess, tell us all about it!
"Well, Michael, the Donatello Gold MC cartridge features a beautifully machined Duraluminum alloy (aluminum, copper, manganese, and magnesium) body and weighs in at 7 grams. It features an aluminum cantilever to which is attached a Micro-Elliptical stylus co-developed with Adamant-Namiki, outputs a generous 0.5mV, has a frequency response of 10-40,000Hz, and an internal impedance of 40 ohms. The coils are of copper, the magnet is Samarium-Cobalt. Compliance is rated at a usefully low 12x10-6cm/dyne, with suggested tracking force between 1.8 and 2.1 grams. Channel separation is realistically spec'd at 25dB with channel balance spec'd at <1dB."
Thank you, and I'm sorry for calling you a "vacuous bimbette". That is deeply offensive in 2019. Since I'm the only contestant on today's "The Price Is Right", I will make only one guesstimate as to the price of Gold Note's Donatello Gold cartridge—and this is before listening or measuring anything.
Considering the aluminum body and elliptical stylus as well as the attractive packaging, my guesstimate is $1695. Assuming it measures and sounds as good as it looks, I'm going with that!
"Oh, sorry Michael, you've grossly overbid and lost today's "The Price Is Right" How embarrassing for you! The actual list price of Gold Note's Donatello Gold cartridge is $1070! Now, lift your dropped jaw from the floor, install the Donatello Gold , measure what you can and report back. You've thoroughly embarrassed yourself. Look who's calling whom a 'vacuous bimbette'!"
Installation, Measurements and Listening
How embarrassing! But you really can't blame me for thinking the Donatello Gold cost more than $1500 before auditioning and especially afterwards! The cartridge is nicely packaged though Gold Note loses a few points for not providing a stylus guard, which means you have to be extremely careful installing it, and if you have cats, kids with poking fingers or incompetent cleaning people you will have to deal with that in your own way (a dustcover with skull and crossbones sticker, or a removable head shell on your tone arm or whatever).
Goldnote emailed: It Now Provides a Stylus Cover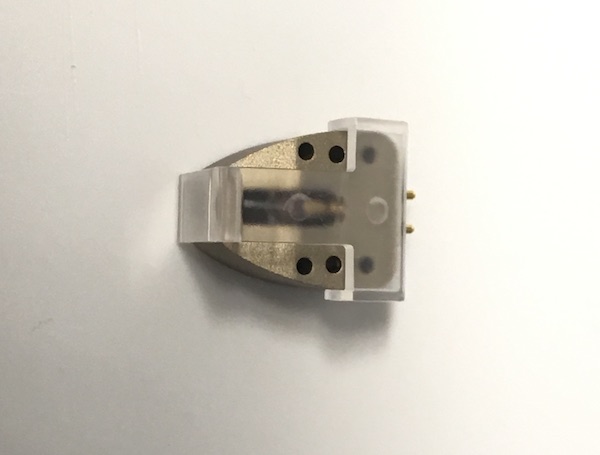 I installed the Donatello Gold on the Graham Phantom III tonearm mounted on TechDAS's least costly Air Force V turntable, though at $19,500 without arm it's still pricey! Thus I was going to get maximum performance from the Donatello, but would it be playing in a too rich an environment and embarrass itself?
First off, the Donatello Gold—at least my sample—was very well manufactured and relatively easy to set up. With the arm parallel to the record surface, SRA measured close to 92 degrees. To maximize separation and minimize cross talk differences between the channels, I had to move the cantilever's position ever so slightly from perpendicularity. It's easy to do on the Graham. Using a digital oscilloscope I measured better than spec'd separation of 26dBs and achieved the spec'd within 1dB interchannel balance (and keep in mind the oscilloscope method usually shortchanges somewhat the separation figures, though it's totally accurate in terms of the actual set-up). So far so good!
Before actually playing anything but based on the stylus profile, and the generous output and 40 ohm internal impedance, which means more coil turns and thus higher moving mass, rather than a powerful magnet system, my expectations were for a cartridge with reasonably good but not exceptional detail retrieval, moderate but not "lightning-fast" transient response and an overall pleasant sound. Given the Duralumin body, which usually means low resonant performance, I was expecting timbrally well-balanced sound.
What I got, running the cartridge into either the ultra-costly Ypsilon VPS-100 Silver phono preamp via a Ypsilon MC-10 step up transformer or the voltage amplification input of the CH Precision P1/X1 phono preamp (loaded at 500 ohms) was a cartridge that sonically performed well above its price point. Of course as expected it was not a "detail resolving" champ, nor the fastest kid on the block but its timbral balance was unerringly neutral and top-to-bottom well extended with no obvious tonal lumps or bumps. Transparency was also impressive.
The Donatello Gold tracked well and sailed easily through the 80µm peak on Ortofon's test record. It handled vocal transients well, producing pleasing smoothness without notably over-softening and blurring detail.
What most impressed me about the Donatello was how much of a "set it up and forget about it" cartridge it turned out to be. I listened to it for way too long (don't ask the manufacturer how long it took for me to get this review published once I'd unearthed the cartridge from among the boxes waiting to be opened) because the Donatello's overall performance was so pleasing and "easy to forget" in the best sense of that expression.
While the Donatello Gold's sound was on the opposite side of "hard and analytical" it was nevertheless, and regardless of musical material, never "soft and smothering".
1996's somewhat obscure MILES DAVIS Live Around the World (9362-46032-1)—an American released double LP set pressed at Warner's Allsdorf Germany pressing plant—needs a good reissue. It's late live Miles culled from analog and digital recordings done around the world between 1988 and 1991. It peaked at #4 on Billboard's Jazz album chart and was heard by most people on CD. It's even possible that this LP was sourced from a CD resolution master. Not everyone liked it, but I do! It's worth owning just for the almost 10 minute cover of "Time After Time" recorded at the JVC Jazz Festival in Chicago June 5th 1989. 1989 sounds "recent" to me until I count and then it's 30 forking years ago! In any case when I play it for people they love both what Miles does to the tune and the searing sound of his horn, which should bite and draw blood but not slice you open.
The worst sin a cartridge can commit on this recording is to soften the horn to "mellow". While the Donatello Gold didn't produce large puncture wounds and leave a red trail as the best cartridges can do (and you'll enjoy it, trust me!), it did get well through the skin and made listening to the track thoroughly enjoyable in ways some lesser cartridges (some priced similarly) don't manage.
Noting that organist Joey DeFrancesco plays on some tracks on the Miles album got me to pull out You're Driving Me Crazy (Sony/Legacy 19075820041 2 LPs) his collaboration with Van Morrison so well recorded live in the studio I thought it was to tape, but it was to the latest version of ProTools. I don't care how something gets recorded, I just care about how it sounds and this record sounds fantastic. Buy it if you don't already have it.
The Donatello Gold's rendering of this destined to be a classic album (not hyperbole) was better than satisfactory. It was completely satisfying, putting you, the listener, into the studio with Van center stage in three dimensions, and DeFrancesco's churning organ sounding juicy and fully fleshed out. The keyboardist blasts some trumpet as well and as on the Miles track it too had good "bite".
Of course, there's more of everything to be had from this record and from all of the records I played but at far greater cost—no doubt Gold Note too would agree that its costlier cartridges can bring more out of these records.
I doubt Gold Note would object to my conclusion that few cartridges in my experience at the $1000 price point combine the DonatelloGold's timbral neutrality and generosity with its transient precision and "speed". Nor does the Donatello Gold sacrifice "rhythm'n'pacing" to put some richness and warmth on your sonic plate that others miss.
There's more to be pulled from the grooves of your records, especially in terms of dynamic contrasts, top octave air and detail and bottom octave "grunt" but, if you're running a moderately priced turntable and phono preamp, to get those you'd need to spend a great deal more on a cartridge and on the associated gear.
What impressed me most about the Donatello Gold was that whatever its shortcomings and deficiencies compared to costlier cartridges, it did not expose any of them when paired with the very best associated gear. And it was most effective at just getting out the way and letting the music through. I was never bored or wanting more—and that's saying a great deal considering what was lurking on the next turntable over!
Of course, there are other great MC cartridges at this price point, including the Ortofon Quintet Black reviewed here in different versions by me and by our Malachi Lui. The Quintet Black was faster and resolved more detail, but if you've heard that and found it a bit dry and perhaps lacking in harmonic richness, the Donatello Gold might be the one for you.
Conclusione
The made in Florence, Italy Donatello Gold moving coil cartridge is easy to recommend at and beyond its $1000 price point. I can't imagine anyone buying it would be disappointing based upon expectations at this price point and well beyond it. The price is, indeed, right! In fact it's downright righteous!
<!- ------------------------------------>