French Record Company's Jean-Marc Harari's "The Golden Book of Classical LP Records, French Issues"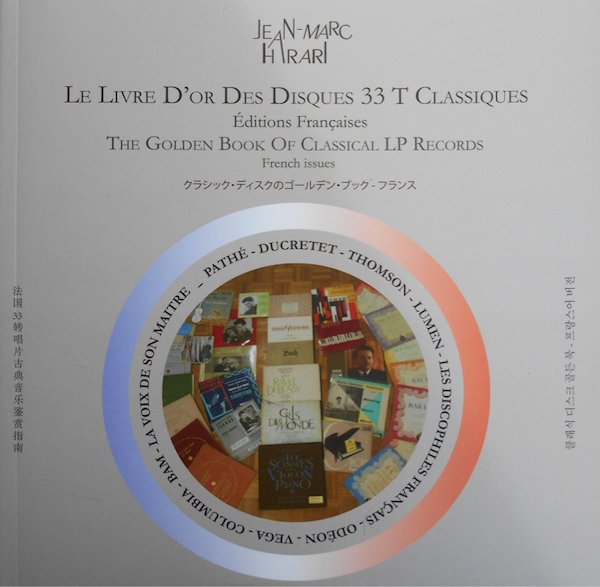 French Record Company
founder and musicologist Jean-Marc Harari, (who is also a conductor and alumnus of the Paris National Conservatory and whose initial all-analog release, the "ERC
exquisite
"
Marcelle Meyer Plays Debussy
was recently
reviewed
on this website), has compiled this multi-language illustrated discography covering the "golden age" of the French classical music record industry.
While many collectors rightly obsess over the British classical music labels (EMI, DECCA, etc.) French labels like Ducretet-Thompson, Belvedere Tudor, ERATO, Le club Francaise du disque, ORTF, L'Oiseau Lyre and many others have their own strong followings and collectibility for reasons that include smaller press runs and thus rarity, luxurious sleeves and boxes often illustrated by famous painters, and of course talented if lesser known artists like the aforementioned Ms. Meyer, whose previously un-released 1958 recording for the Les Discophiles Francais label (DF 211-212) featured the kind of superb packaging and excellent sound quality Mr. Harari claims for the country's labels during its "golden age". Of course there's also a great deal to be said for hearing French musicians playing the music of the great French composers like Debussy, Chabrier, Milhaud, Lalo and others.
A casual flip through the book delivers the exquisite visual goods, many of which in their 12x12 editions would be more than suitable for framing, though the quality of the approximately 1.5"x 1.5" cover reproductions, while mostly very good, is more serviceable than framable.
The pictures are certainly useful for choosing what you might wish to search for and buy on the Internet. There are 207 reproductions of the highly regarded Ducretet-Thompson label for instance. Not being at all an expert here, I cannot comment on the book's completeness or other aspects of Mr. Harari's curation but the book is a welcome addition to the various discographies I've acquired over the years, most of which, inexplicably in this "vinyl resurgence" age are no longer in print (if you are interested in acquiring a copy go to the French Record Company website linked at the top of this story).
"The Golden Book of Classical LP record - French issues " - limited ed. 2017 ; 340 pp, listings of about thirty labels, around 125 pages of colors photos, + discographys of 19 legendary French artists.
Two of those were covered in a 2002 Analog Corner. Meanwhile, below is the section from that Stereophile column covering those out of print labelographies (though the old contact info is in the text body, do not use it to attempt to reach the author!):
Two Superb Reference Guides for Vinyl Fanatics
Anton Svec, a Swiss gentleman with plenty of time on his hands, has come up with The Record Label Guide U.S.A., a reference labelography for American popular music (and some classical) issued on vinyl. The 800-page bound looseleaf book includes more than 2400 color shots of almost every label and label variation. For example, 30 different Mercury pop label variants are shown. Each label's section includes a short informative history, the dates during which each variation was used, and a collage of great album-cover art.
I found a few omissions (no Rounder Records, for instance) and some factual errors. I don't believe Svec has a clear corporate timeline for Warner Bros., for example, and how that affected the label art, but overall, the information is quite reliable and Svec is amenable to being corrected. He invites buyers to send him digital images of labels he's missed, so the project will grow only more complete and authoritative over time.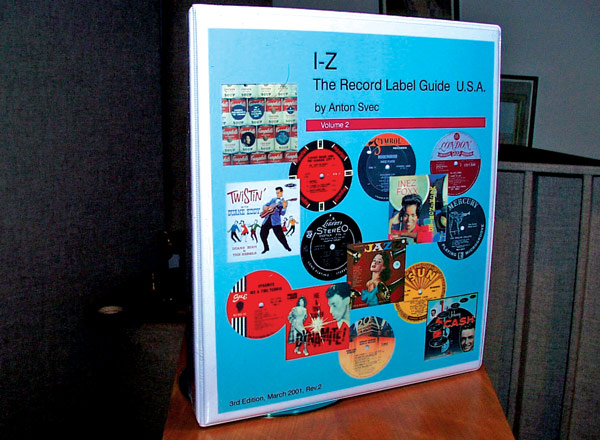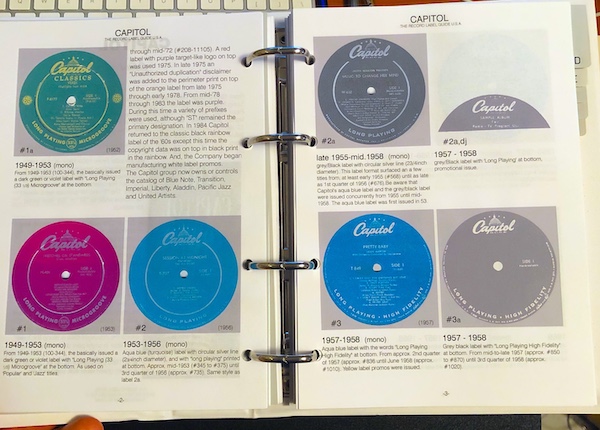 The paper quality is so-so. To keep pages from tearing out of the overstuffed binder you might find yourself licking those stick-on reinforcement rings you probably haven't used in 20 or 30 years, and it's all run off a color laser printer, but so what? It's still extremely well-done, and, in my opinion, invaluable. How a guy in Switzerland gained access to all this information I'll never know. In any case, I recommend this labor of love to every serious record collector. The third and/or fourth editions are now available for about $100 each plus shipping from Schopper AG in Switzerland. Highly recommended! Like a great novel, you won't be able to put it down.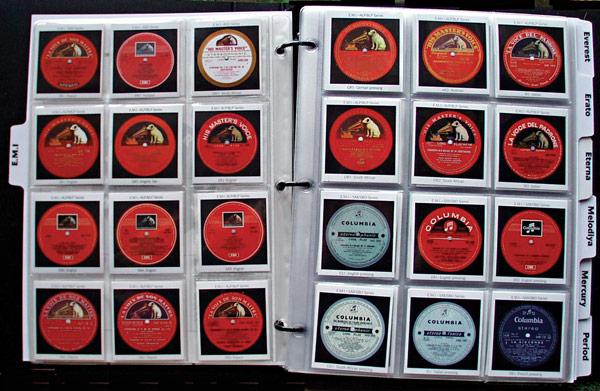 The classical labelography Mikrokosmos has just issued its third and fourth editions. Another labor of love—this one from a Canadian, Peter Fülöp, with a great deal of help from record collector extraordinaire Richard Foster—Mikrokosmos is a far more sumptuous affair, with high-quality, plastic-reinforced, looseleaf label delineators, and much-higher-quality baseball card–like full-color printed labels, which you insert into clear plastic pockets.
The label variations are mind-boggling: 11 for British Decca's SXL series, 12 for Columbia Masterworks, etc. To hold in your hands and be able to leaf through almost 50 years of the history of classical vinyl inspires awe. The work that went into putting this together must have been excruciating. Every serious classical music record collector should own this serious and colorful reference work. Volumes 1–4 cost $136 plus shipping, including a handsome custom looseleaf binder, index tabs, plastic label sheets, and labels. Mikrokosmos is available directly from Peter Fülöp at 314 Churchill Avenue, Toronto, Ontario, Canada M2R 1E7, www.mikrokosmos.com.
<!- ------------------------------------>