Gem Dandy's PolyTable Signature And Sorane TA-1L Tonearm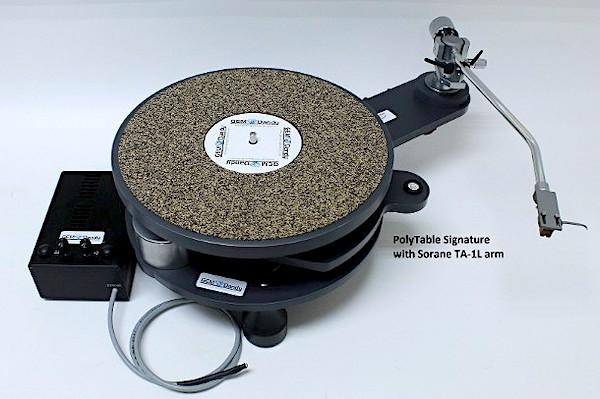 With all due respect to Gem Dandy's new PolyTable Signature "layer cake" of a "two tiered" turntable, the bigger news here is the Sorane TA-1L tonearm George Merrill chose to package with his new turntable. Why is the Sorane news? Because it's the possible successor to now defunct Jelco. But first, the new $2995 (not including arm) turntable, which, for sure, is
also
news.
Mr. Merrill says he's spent his life "…designing for the person that has an enduring passion for music but cannot spend the cost of their car for a turntable." Anyone familiar with Merrill's turntable designing history, beginning in the 1970's with his Acoustic Research mods and later his Merrill-Scillia 'tables knows that for decades he's worked to produce great sounding, technically sophisticated designs mostly priced affordably by applying to them a series of energy management principles intended to deal with: 1) internally generated energy produced by the motor, drive system, platter support bearing and tonearm, 2) mechanically coupled energy entering via the support feet, 3) airborne energy and 4) energy generated at the stylus/groove interface.
These would seem to be obvious objectives for any turntable designer but having tapped on my share of super lively plinths (among other sins), some either don't pay attention to one or more, or fail to execute.
The PolyTable Signature Solution
Three thick elastomer discs separate the PolyTable's two composite polyoxymethylene/polyvinylchloride platforms from one another, while thinner ones isolate the lower platform from the trio of three inch tall supports upon which the entire assemblage rests. An adjustable foot housed within each support allows for 'table leveling. Sorbothane discs applied to the bottom of the three feet further isolate the 'table from upon whatever platform you choose to place it—the better the platform the better the non-suspended 'table will sound—especially since while Sorbothane is stable vertically, laterally it is not, so this 'table can laterally move with ease—I'm not talking about large horizontal displacement, but considering how records play, even microscopic ones matter.
The lower base hosts the motor, which is a fluid-damped low voltage A.C. synchronous unit driven by what Gem Dandy calls "DMD". It uses a regulated DC supply to power a microprocessor that oversees crystal controlled adjustable low distortion dual precision sine wave oscillators that drive two high power, low distortion amplifiers that energize the motor windings.
Gem Dandy claims for the drive system absolute total power line isolation plus speed accuracy of three parts per million. According to the company "the Digital Motor Drive System is the most advanced drive system available."
Housed in a brushed black metal chassis and connected to the motor via an umbilical (and to the A.C. via a "wall wart"), the DMD features buttons for selecting 33 1/3 and 45rpm as well as adjacent potentiometers for easy speed adjustment. A handy strobe light in the form of a long, glowing red tipped umbilical exits from the DMD's front. It makes easy setting correct speed, which is useful since bumping into and nudging the speed pots located adjacent to the "on/off" buttons is easy to do. Making the pots lockable and the strobe umbilical detachable would be nice touches but those would add to the 'table's cost and wouldn't enhance the performance of a "max bang for the buck" turntable. Drive is via a flat belt on a crowned pulley machined of Delrin or a similar material.
The upper base, which holds the long spindle bearing that extends through a hole in the lower one, also serves as the arm mounting platform—a long cantilevered, spirit bubble fitted affair designed for a 12" arm.
Records spin on a two-piece decoupled platter system topped with a bonded RCC (rubber cork compound) mat that incorporates two types of rubber with differing energy absorption characteristics. The added cork is said to aid in the transmission of energy into the mat, while the bonded mat itself both damps the record while helping to decouple the platter energy. A ring of the same, or a similar RCC material damps the area surrounding where the spindle bearing attaches to the upper base.
Sorane TA-1L Tonearm
Sorane, imported to America by Mockingbird Distribution, is a brand with which I've had no experience. My late colleague Art Dudley reviewed the TA-1L arm (then marketed under a different name) in Stereophile.
As many of you know, Jelco, once the supplier of reliable, well-made "traditional" tonearms and a company that built OEM arms for many manufacturers shut down last spring, said to be a victim of Covid19 supply and labor issues.
Gem Dandy, one of many companies that once relied upon Jelco for arms, now packages the PolyTable Signature with Sorane's long TA-1L arm. Like Jelco, Sorane is a Japanese company and like Jelco, its beautifully finished arms are hand-assembled by artisans.
The TA-1L is a traditional arm in every conceivable way: S-shaped arm wand of polished aluminum tubing, removable head shell, bearing assembly and other structural elements machined from aluminum with "cup and point" type vertical and miniature ball-race horizontal bearings. VTF is statically set, while anti-skating is spring-adjusted. Azimuth can be adjusted at the head shell while the main post can be raised and lowered as needed to set VTA/SRA, but not "on-the-fly".
In other words, this arm allows you to adjust every set-up parameter. The TA-1L has an effective length of 322mm, a P2S distance of 310mm and so has a 12mm overhang. It can accommodate any weight cartridge—most with the supplied counterweight and subweight insert if needed. An optional counterweight lets you use cartridges weighing up to 55 grams. Know any? For more about Sorane, read the interview with Mr. Katsuaki Ishiyama, the arm's designer and founder of parent company IT Industry, which he founded in 1974.
<!- ------------------------------------>