An Interview With Ed Sullivan Show Associate Producer Vince Calandra at The Fest For Beatles Fans, NYC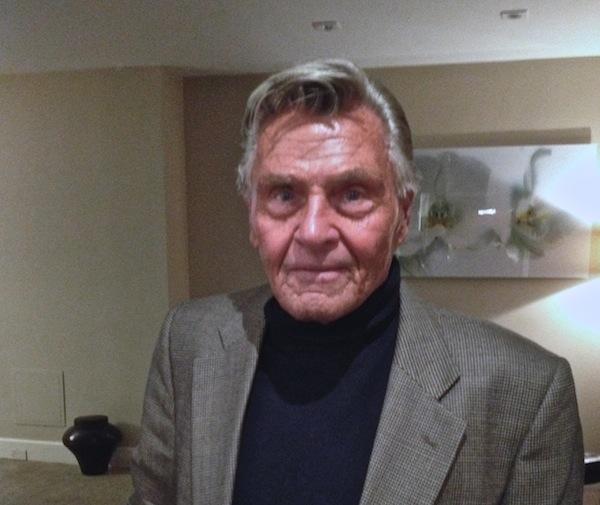 This year's Fest for Beatles Fans coincided with the 50th anniversary of their first appearance on The Ed Sullivan Show, February 9th, 1964. The "invasion" festivities began earlier of course, including one event held Thursday February 6th at the 92nd St. "Y". That one featured Peter Asher (of Peter and Gordon, who also signed James Taylor to Apple and went on to become a major producer/manager), performer Billy J. Kramer, Beatle secretary Frida Kelly and Vince Calandra. The event was hosted by British actor/comedian and Beatle fan Martin Lewis. Donovan was a no-show due to a friend's death.
"Who is this Vince Calandra guy?" I asked myself as the panel assembled on stage. I soon found out! Without him there the event would have been a bust. Calandra was an Ed Sullivan show production assistant who did everything from holding cue cards for Buddy Holly to standing in for the ill George Harrison during The Beatles rehearsals before the big broadcast of Feb, 9th, 1964. He accompanied them to Shea Stadium too.
Calandra's stories were amazing. You didn't want them to stop and when they did, you wanted more. Obvious was his genuine affinity for all of the people he met, especially The Beatles. You can watch the stream here and if you are a Beatles fan, I suggest you do.
When I found out that Mr. Calandra was a Fest for Beatles Fans guest I set up a Sunday interview at the show. It was crowded and noisy and he was spent from having done interviews all day but he graciously agreed to yet one more, so off we went to the Grand Hyatt Hotel's Presidential Suite.
I was as much interested in this fascinating character as I was in the Beatles connection. Mr. Calandra is a self-described "Brooklyn street kid," which makes him both an unlikely and likely candidate for how his life has gone (we should all look as good when we turn 79). Part Leo Gorcey, part Zellig, Calandra's adventures seem endless, with one more eye-popping than the next.
Also, you'll find more online interviews including this one from 2003
here.
CBS held an event at The Ed Sullivan Show that evening just before its broadcast of last week's Grammy Salute to The Beatles, which was musically superb and I hope you watched it. (It is being reprised Wednesday evening, February 12th and 8:30PM EST so don't miss it!).
I was invited to the Sullivan Theater event by my pal Vinnie Favale and it too was worthwhile. The guests included musician/producer Nile Rodgers, John Oates (Hall and Oates), Director Julie Taymor (Lion King, All Across the Universe, Spider Man, etc.), Neil Innes (Rutles, Bonzo Dog Band), Pattie Boyd, Peter Asher, Foreigner's Mick Jones, Tad Kubler (of The Hold Steady) and filling in for Andrew Loog Oldham, Felix Cavaliere of The Rascals. I met Gene Cornish at the Fest earlier in the day so that's two Rascals in one day!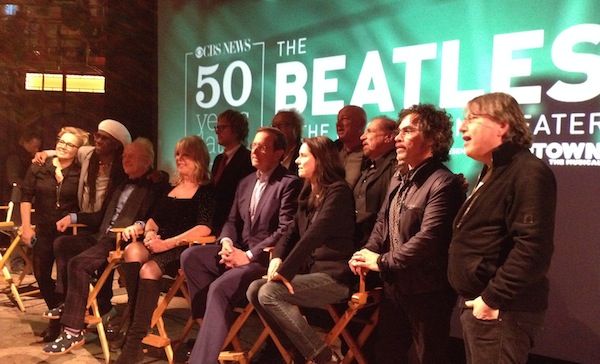 Rodgers told a hilarious story of growing up in a Southern California ghetto and not knowing anything about The Beatles when a girl he fancied insisted he come over and watch them on the Sullivan show. "This," she insisted, "was going to change everything." But even after seeing it, the classically trained musician didn't quite get it. "Only after meeting Mr. Timothy Leary", he said euphemistically for dropping acid, "did I begin to get it", Rodgers laughed, "and then I picked up a guitar and the first song I learned on it was 'A Day in the Life'!"
In an evening of great anecdotes that was best! Another was Peter Asher's about hearing "I Want to Hold Your Hand" just after Paul and John had finished writing it on Asher's mother's piano. Paul was living in Asher's family's house and dating his sister Jane.
If the stream of that event is not up now, it shortly will be here.
I was able to get Neil Innes to sign my copy of his somewhat obscure album How Sweet to Be An Idiot, which is how I felt asking for his autograph, but sometimes you just have to get over it. And when I offered host Anthony Mason copies of my DVDs (okay, I'm obnoxious) he said "I've got them. Someone gave them to me. They are great," which made me feel great.
If you avail yourself of these links, "A splendid time is guaranteed for all."
<!- ------------------------------------>