Best Ever Face to Face ?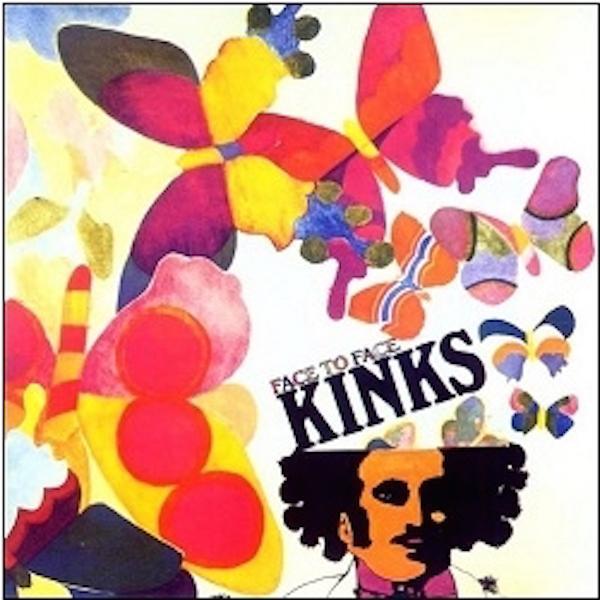 Ed. note:
I'm posting this from the Narita airport in Tokyo. For some reason I cannot load the usual album review page so I can't list credits and music and sound ratings here the usual way. Here are the credits:
Produced by: Shel Talmy
Engineered by: N/A
Mixed by: N/A
Mastered by: Kevin Gray at Cohearent Mastering
Music: 9
Sound: 8
The fourth Kinks album was the first on which Ray Davies removes his hard rock shell. It's clear in retrospect that many artists from the '60s rock era were rocking only because that's what the times demanded.
Ray Davies was one of them. The Kinks' hard rock songs like "All Day and All Night" and You Really Got Me" are among the best of the era, supercharged by brother Dave's guitar and his slashed speaker cone amplifier. While Ray slowed things down with "Set Me Free" and "Tired of Waiting", those were also powerful mid-tempo rockers with great hooks.
However, as soon as Ray could, he moved on to more adult observational fare with a music hall feel, though it's also true that around the same time The Beatles went from "he/she" to social commentary.
While the earlier Kinks albums packed a few hits, some great originals that weren't singles, and a bunch of covers, Face to Face was the first Kinks album of all Ray originals. His wry sense of humor was all over the record too, and he approached the subject matter from a decidedly mature, adult perspective, though he'd begun that approach earlier with "Dedicated Follower of Fashion", "Well Respected Man" and "Sunny Afternoon" (on this album), which was a number one hit in the UK, proving The Kinks could be hit makers minus the hard rock.
Face to Face wasn't exactly a "concept album", but it did have a loosely fitting theme of observational songs about people, mostly in turmoil. Ray enjoyed observing and commenting on the upper class, especially when he could tear down the façade of happiness to expose the bleak side, as on "Most Exclusive Residence For Sale". "Dandy", a hit for Herman's Hermits, gently mocks clothes horse superficiality and "Session Man" goes after hired musical guns, though the album uses "Nick" Hopkins on keyboards, who added plenty to the proceedings.
There's not a weak tune on the album and all of them hold up well almost fifty years later, including the humorous ones like "Party Line" and the almost throw away "Holiday in Waikiki", but the real stand-outs are the dark songs "Too Much On My Mind" and especially the drone-like "Fancy", which might be the album's deepest cut.
Producer Shel Talmy was never known for deep pocket spending on record production or anything more than straight forward getting the tune on tape and getting out and for the longest time I thought of these as "el cheapo" productions with not much sonically to recommend but over time that view has changed especially with these new re-masters by Kevin Gray from the original Pye mono tapes (this album was never mixed to stereo though there are original fake stereo versions issued by both Pye and in America by Reprise—stay away from those!).
I compared this reissue to an original UK red label Pye mono pressing and to an early 1990's gray mono Pye pressing. The earlier pressings sound similar. The new cut by Kevin Gray is much better! There's no doubt about it. It's far more transparent, spacious and harmonically complete. The bottom end is both more extended and more detailed. On the opening track drummer Mick Avory does some speedy kick drum double time that I'd not before heard so deeply and cleanly rendered.
More importantly, I'd always thought of this album as "okay sounding" but it's much better than that on this reissue. First play "Fancy" and you'll hear what I'm talking about.
The Kinks Katalog has been messed up since forever, with a slew of reissues and hits compilations sourced from who knows what? Now we have a chance to get them all, cut by one of the great mastering engineers working today, sourced from the original master tapes and well-pressed too.
For Kinks fans, this is it. Who knows how long these will remain in print. I'm buying them all!
<!- ------------------------------------>