A New Exile on Main Street "Using the Original Analog Master Tape..."? Doubtful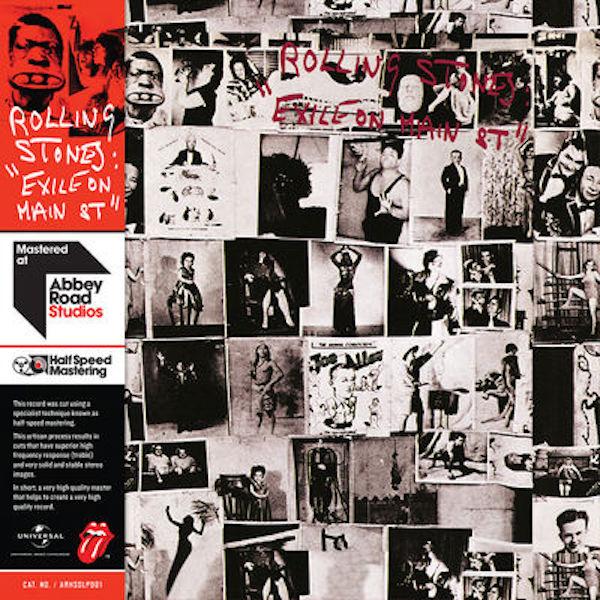 A recent sales blurb from UMe's
"The Sound of Vinyl" website
reads: "Using the original analog master tapes this artisan process results in cuts that have superior high frequency response (treble) and very solid and stable stereo images. In short, a very high quality master that helps to create a very high quality record."
Furthermore it states that "Six iconic album releases have been exclusively re-mastered for vinyl at the world famous Abbey Road Studios to bring you a new level of depth and clarity. These records have never sounded so good!"
Since, to the best of my knowledge, Abbey Road's 1/2 speed mastering set-up used by Miles Showell cuts exclusively from 96/24 files, something is definitely wrong here.
First, it's obvious that an advertising copy writer has gotten his hands on a list of audiophile vernacular and he (or she) is sprinkling it liberally and thoughtlessly.
The claim made here is that the original master tapes have been used to produce these half speed mastered cuts. Is that true? I very much doubt it. I think what's being used are digital files sourced at some point from the tapes. That would be very different from what's being claimed. Different enough in my opinion, that if what I think is happening here is true, it constitutes at best deception and at worst outright fraud.
Of course it could be that a clueless copywriter is just carelessly spewing, but regardless, the company is responsible.
I reached out to Mr. Showell, who is of course in a very tight spot here, but I've yet to hear back and I wouldn't blame Showell for not responding. Why should he risk his job for something he had nothing to do with?.
I bet what's being used here are 96/24 files made at some point from the master tapes. Which files? And made by whom? Are these the same files used to cut lacquers for a truly horrible, dynamically squashed Exile On Mainstream box set issued a few years ago? If so, it doesn't matter if the cut is 1/2 speed, full speed, double time, 800x or whatever. It will still suck.
It's time for consumers to put their collective feet down and stop buying this stuff. We must demand where possible, all-analog cuts from master tapes. Period. I understand why Queen did what it did for the box set I haven't heard mastered by Bob Ludwig. There were reasons. Here? I doubt there are any legitimate reasons.
Until we get an Exile on Main Street cut from the tapes and without dynamic compression, we should not be supporting this kind of project—even if it was truthfully, not deceptively marketed. That goes for the entire series in my opinion.
It is sad to see the great Abbey Road Studios name get muddied.
<!- ------------------------------------>