68 Years Later, McIntosh Launches Its First Stand-Alone Phono Preamplifier
Some may find it difficult to believe, but the new $2000 solid-state McIntosh MP100 phono preamplifier is the sixty eight year old company's first stand-alone phono preamplifier.

Of course, when vinyl was king the company built phono sections into its preamplifiers and integrated amplifiers and it's continued doing so even when vinyl was supposedly "dead". I reviewed for Stereophile back in 2006 the company's three chassis C1000 preamplifier a $26,000 extravaganza featuring a controller unit and both solid state and tubed preamps, each with its own MM/MC section (you could buy either the tubed, or solid state preamp, or both, which is what I bet most buyers did). So it's not as if the company doesn't have a history here.

In fact, McIntosh also recently launched the $8000 MP1100 tubed phono preamp. The company, like many others, understands, as do you and I, that vinyl is back and here to stay.

MP100 Features

The MP100 is a high-tech, feature-packed, versatile, microprocessor controlled phono preamplifier contained within a relatively compact chassis that's but a little over three inches tall, eleven inches wide and thirteen inches deep. It weighs a bit over eight and a half pounds.

Inside are separate moving magnet and moving coil sections. The balanced design also includes a 96k/24 bit A/D converter.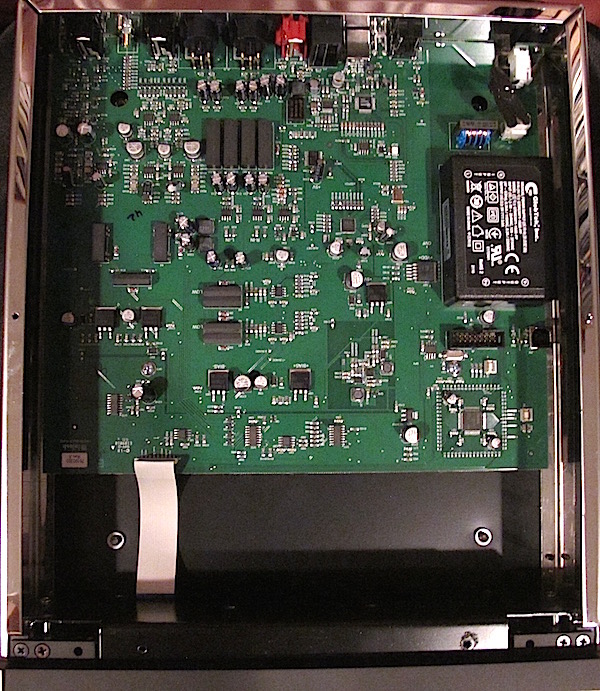 The McIntosh experience demands a glass front panel etched to allow the passage of the company's green glow, now no doubt produced by LEDs instead of incandescent bulbs and the MP100 delivers. Despite the reasonable price, it's also well-built in America McIntosh style, which means it's very well built.
All adjustments are on the front panel. Knobs on either end of the glass panel adjust loading: MM (capacitive 50,100,150, 200, 300,400pF@47K ohms) and MC (resistive 25,50,100,200,400 or 1kohms/470pF), the chosen value noted with red LED. Three black push buttons between the knobs select stereo/mono, MM/MC input, and input trim (hi/lo) for the A/D converter (more about this in a few). Analog "purists" can also use this button to altogether switch off the digital output.
The back panel features RCA jacks for MM and MC inputs (circuit board not panel mounted jacks), each with its own ground lug, both single-ended and balanced outputs as well as USB, coaxial and TOSlink optical outputs. The A.C. jack is not the standard I.E.C. one you usually see on high performance audio gear but rather an IEC IEC Class C7 type as found for instance on some routers, and Apple TVs. It saves valuable space on the compact back panel.
MP100 Specs

MM and MC gain, both fixed, is, respectively, 40dB and 60dB. Claimed frequency response is±0.3dB from 20Hz to 20kHz. Total Harmonic Distortion is said to be 0.005% maximum from 20Hz to 20kHz. Rated output is 2V balanced and 1V unbalanced, with maximum output eight times as great for both.

Sensitivity for rated output is 10mV MM and 1mV MC. Multiply those by eight and you have the maximum input voltage (80mV/MM, 8mV/MC). Signal to noise ratio (CEA490) is 80dB/MM and 78db/MC. In other words, you can run just about any phono cartridge into the MP100. Even a very low output MC like the Lyra Etna SL (.25mV) should work reasonably well thanks to the low noise and low distortion.

While it's not likely anyone running that cartridge would do so into a $2000 phono preamp, I did. The low internal impedance cartridge sounded best through the MP100 loaded at 25 ohms, which is reasonable given its 1.52 ohm internal impedance. I ran it first with the A/D converter circuitry switched off. Of course I tried other cartridges too.

An energy saving "Auto Off" that can easily be disabled puts the unit in energy saving "Standby/Off" mode after around a half-hour if no signal passes or in the absence of user activity.

MP100 Sonics

I have certain expectations of both $2000 phono preamps and for McIntosh. Naturally those expectations are at odds with one another as is the $2000 price for anything McIntosh. The MP100 combines exceptional (for the price) transparency and transient precision. It is clean, clean, clean and of course quiet times three as well, even amplifying a .25mV cartridge and run single-ended into my darTZeel preamp.

On of the MP100's most attractive qualities is that it excels at delivering the goods at very low SPLs where some at this pricepoint just pack up and go home. I played The Modern Jazz Quartet's European Concert (Atlantic 2-603), one of my all time favorite MJQ records and all was well from the balcony back row. Cymbals and snare were clean and precise, John Lewis's single note solo on "Pyramid" rang true in terms of attack, sustain and decay and Milt Jackson's vibes shimmered nicely with a cool, round convincing timbre and texture. Microdynamics were especially well-rendered at low SPLs.

I played various versions of Nick Drake's Five Leaves Left (about running out of rolling paper, not time)—I have too many versions—and the MP100 was certainly good enough to differentiate their varying levels of transparency, three dimensionality and dynamic compression. Not going to evaluate them here though.

The MP100 did really well with the guitar string transients on all of the various versions, reproducing them with great precision but not at all in an overly etched way. Most importantly, the presentation was grain, glare and smear-free, which is another way of saying "clean cubed."

So if you're waiting for the sonic shoe to drop, you won't hear one, not that the presentation wasn't without its own character, but at this price point, it was well-suppressed. The MP100's "global" sound is "worst" described as somewhat clinical, cool and bit "hot" on top. The lower midrange where warmth develops was a bit cool but I bet this phono pre would go really well with a two-way stand mount that pushes that region to produce the illusion of deep bass.

The MP100's attack is slightly fast (but not the point of crunchy), the sustain good (but not at all tube-like or generous) and the decay fast but not to the point of being objectionably dry. I'm surmising, but I bet the MP100 would, top to bottom, wake up your typical two way stand mount speaker.

Compare the MP100 to a phono preamp costing twenty times as much (the $48,000 CH Precision P1 and X1 power supply) and you do hear what all those bucks buy you in terms of instrumental textures that are less "crunchy" and more supple, and an overall harmonic presentation in millions not tens of thousands of colors and a bottom end that's of course more fully expressed in every dimension. The MJQ record has prodigious bass that sounds quite good through the MP100 but a little bit "cardboard-y" compared to the P1's presentation. Of course it's not fair to compare the MP100 to the P1 but neither life nor hi-fi is fair.

I also ran a Shure V15VxMR to check out the unit's MM section. The Shure is a smooth, neutral sounding cartridge that of course is a cutting lathe tone arm "standard" because of it's reliably flat response and excellent tracking at approximately a gram and a half. The MP100 allowed the V15's neutral "essence" to shine thanks to its low noise and wide bandwidth observationally flat response, though the overall sonics were similar to what's described above. In other words if your preference is for "rich and warm" with lush tonality the MP100 might not be for you. However, in my world I'd rather have the transducer do the tonal tuning. You can always add a warm sounding cartridge to the mix to get the sound where you want it.

The A/D Converter

McIntosh has wisely provided both two level trims as well as an overload light to prevent clipping. However, there's the other side of that: if the level is too low you lose some resolution. The clipping light never lit with the super low output Etna SL nor was leel an issue with the V15 in MM. However, the level indicator on the Vinyl Studio meters averaged well below 25% (the bar isn't level-referenced). You'd get better recordings using a .5mV MC cartridge, which I imagine would be more typical of what a buyer of a $2000 phono preamp would be using.

Nonetheless, the recordings I made with the lower output Etna SL sounded very good and were not unacceptably low in level. I recorded "I'm Putting All My Eggs in One Basket" (kind of what the MP100 designers did putting all of the circuitry on a single large board) from the Direct to Disc Concord Jazz album Great Guitars/Straight Tracks (Concord CJD 1002) featuring Charlie Byrd, Herb Ellis and Barney Kessel and when I played it back through a tubed DAC currently under review the combination of the MP100's sonics as described above and the DAC's rich, harmonically generous presentation produced a very sonic picture that was somewhat warmer and less resolved than the "live" play, but the MP100's excellent transient speed and clarity punched through producing a musical picture that would please many if not most MP100 buyers (especially since the files were made using a turntable/arm/cartridge combo costing circa $60,000!

Conclusion

McIntosh's new Made in USA MP100 MM/MC phono preamp gets audio enthusiasts into the storied brand for $2000 with a product built and presented to the company's legendary standard—and that includes the usual nicely produced instruction manual that says "welcome to the McIntosh family" though not in those words.

The MP100 matches the size and industrial design of other products in the lower cost line including the MHA100 headphone amplifier and MB50 streaming audio player.

With its built in A/D converter, end users can easily record their vinyl for portable use, or for those less critical about keeping vinyl in the analog domain, one of the digital outputs can feed a DAC, either outboard or built into a home theater receiver.

Going in, I worried that the MP100 might be an undistinguished entry into the $2000 phono preamp price point—one that relied too heavily on front panel green sex. After spending a considerable time listening all of my concerns were alleviated. If the sonic description (pleasingly fast, tight and well-organized but a bit dry) meets your needs and tastes, go for it. You'll get distinguished McIntosh sound and the green light sex.
<!- ------------------------------------>