Jack Oblivian & The Dream Killers' Garage Rock Album Lost Weekend Gets The Adrenalin Pumping!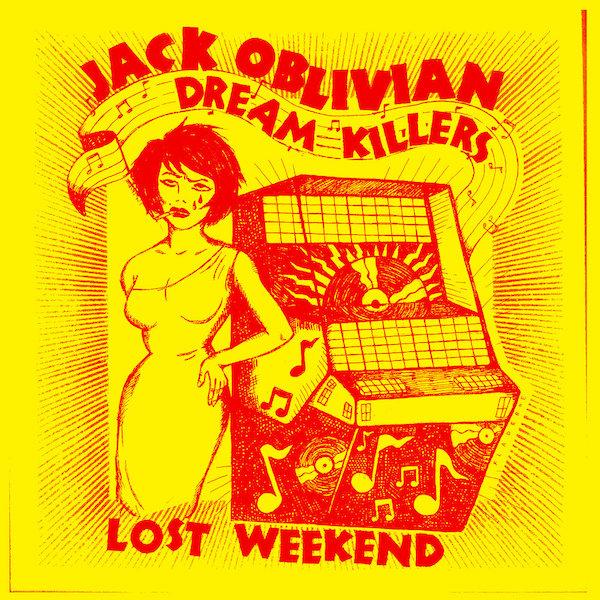 Memphis based "garage rocker" Jack (Yarber) Oblivian, formerly with Johnny Vomit & the Dry Heaves among other groups, recently released this adrenalin charge on
Black & Wyatt Records
and someone (I don't know who) sent it my way thinking I might like it even though the sound is, let's say "primitive" (no top, not much bottom, just some stuff in the middle) in a good way (some recorded to 4 track M.C.I.) but all of it purposefully squashed in a way that reminded me of Don Van Vliet ("Sweet Thang"), but maybe that's because the performances did too, though its far more punk-rocky and less bluesy.
Today was much needed room cleaning so I chose things I didn't need to sit between the speakers to evaluate, including both volumes of Third Man's incredible Ann Arbor Blues Festival 1969 (review shortly) and I figured this might fit that bill and it sure did! The problem was once it started churning from the getgo I had to stop what I was doing to find out who this guy was and what was his history.
Lost Weekend's high energy, crowded, sometimes distorted guitar, bass, drums and keyboards is the antithesis of the low energy, precious and annoying stuff presented on "CBS Saturday Morning" that has me wondering what's happened to music. The rock-most tune "Lone Ranger of Love" with its "You Really Got Me" riff and surf guitar solo, caught my attention first and it was all downhill from there!
Well, Jack is 57 and no youngster but he puts to shame the low energy eyes to the ceiling (or to the ground) stuff I see each Saturday and this record definitely got the adrenalin going. It's what I'd expect to hear on Little Steven's Underground Garage channel (21) on SiriusXM. Yarber's Wiki page lists 9 previous albums including 7 solos, so he's been "around" for some time, mostly on the Sympathy For the Record Industry label.
I had more fun listening to this uptempo assault than the last stack of "audiophile" records I checked out that sounded really good but bored the crap out of me. This sounded bad but excited. There's hope for me yet. You can check this out this jittery, jumpy assault on Bandcamp and buy the record there for $19.00. After moving a dozen records from the "to listen" to the "discard" pile, this one's a keeper! I probably should have listened a few more times and analyzed before writing this, but too excited. BTW: the record was well-pressed, probably at Memphis Record Pressing. BTW: I was so keen to get this published, I put it in the wrong category so there are no knobs etc. Too late to change now.
<!- ------------------------------------>