AnalogPlanet Visits Symbol Audio/Furniture in Nyack, N.Y.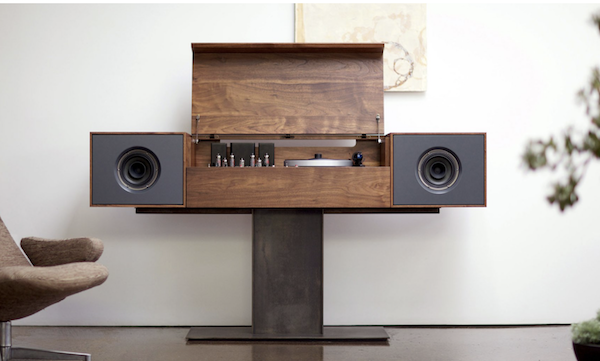 At the New York Audio Show a few years ago visitors, especially couples, found themselves attracted to a "console stereo" featuring a tube amplifier (with Blue-Tooth functionality), a high end Pro-Ject turntable, a pair of full range speakers plus a hidden powered 300 watt subwoofer all housed in a stunning-looking solid wood cabinet.
"Console stereo" disappeared in the 1970s but Symbol Audio brought back the concept with a vengeance and while the system is costly, they've sold quite a few.
The company just introduced "The Modern Turntable", a compact, all-in-one stand mounted unit with built in amplification and speakers.
And its "disappearing" record racks should help bring records into the living room and out of the basement.
Seems like an interesting company that's bringing high quality vinyl-centric audio to a mainstream music loving audience.
Clearly this is a company run by some forward thinking individuals. Since they were close by, AnalogPlanet recently visited. Editor Michael Fremer liked what he saw and heard.
*In the video I refer to an all-in-one kickstarter funded "one box" record player that seems to have disappeared. I heard from the people involved in the +Record Player and they claim that it's still happening. They had to clear an EU technical hurdle and say they have.
<!- ------------------------------------>