Half Speed Mastered Mercury Living Presence Series Debuts With Five Classics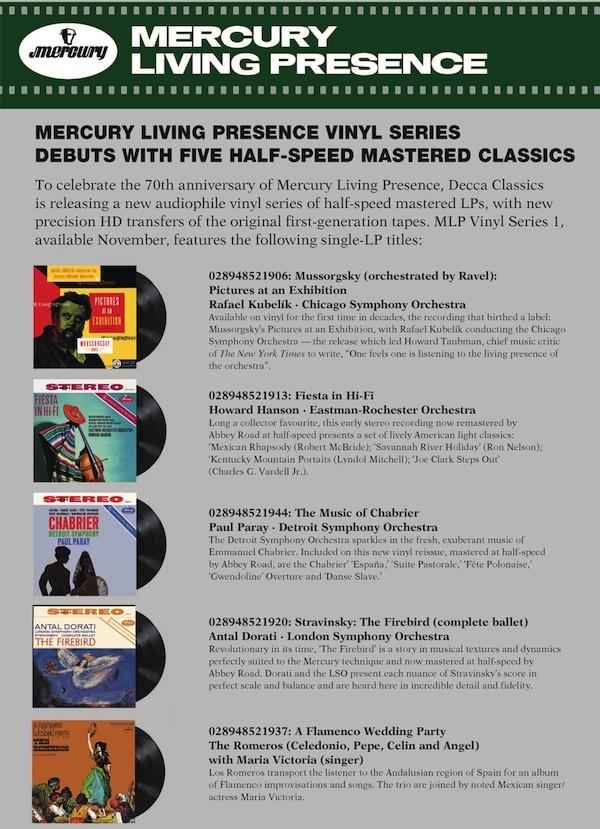 To celebrate the 70th anniversary of the legendary "Mercury Living Presence" series, Decca Classics just announced this new audiophile vinyl series half-speed mastered by Miles Showell at Abbey Road Studios using brand new from the original first generation 3 track analog master tapes high definition digital transfers made by Abbey Road Studios' Jared Hawkes (the one mono release used a full track 1/4" tape).
Tape playback was via a special Ampex ATR-100 machine. The 3:2 transfers done in the digital domain was by Tom Fine, son of the legendary team of recording engineer Robert Fine and producer Wilma Cozart Fine, who then produced the final masters Showell used for cutting lacquers. Fine says he used "modern technology" to fix "very audible problems with the old tape splices or edit points." Fine promises for the series "greater micro-detail and precision stereo imagery than was possible back in the older days of vinyl mastering. The benefit for the listener is the ability to hear deeper into the music and performance, to be in the Living Presence of these classic recordings." The series promises "lower noise and increased dynamics compared to the original LPs", which as all Mercury Records aficionados know, were unfortunately often miserably pressed. The records will be pressed on 180g vinyl at Optimal in Germany and housed in jackets featuring the original artwork and liner notes.
While the press release identified the playback deck, it did not specify the analog to digital converter, or the digital to analog converter used in conjunction with Showell's specially adapted 1/2 speed Neumann VMS-80 lathe, which can have a profound and "global" sonic effect on the final results.
The sound of the original mono title, Mussorgsky's "Pictures at an Exhibition" (orchestrated by Ravel) with Rafael Kubelik conducting the CSO, recorded in April of 1951 and released that fall moved The New York Times critic Howard Taubman to write "...unless this recording has flattered the (then held in lower regard) ensemble's competence out of all recognition, one must welcome the Chicagoans back to the top ranks of American orchestras". Taubman then went on to heap praise on the recording quality (something New York Times music critics sadly no longer do) adding "....the orchestra's tone is so life-like that one feels one is listening to the living presence."
The first series drop date is November 26th at all major retailers and on the Decca Classics online store. It will be interesting to hear how these digitized classical titles sound and how the vinyl enthusiast community welcomes them.
<!- ------------------------------------>