Kaneshii Vinyl Pressing Opens on Canada's East Coast Aiming To Serve Indie Artists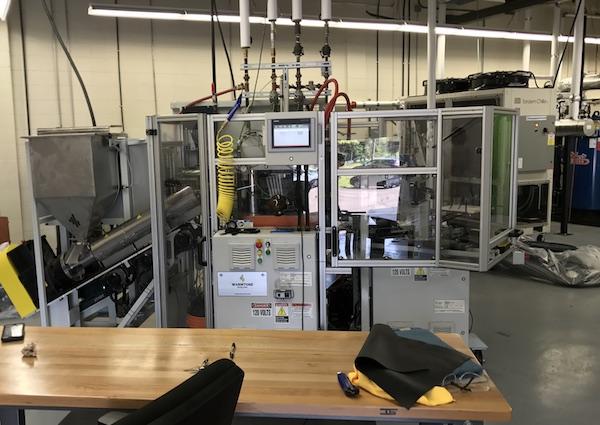 Opened June of 2017, Kaneshii Vinyl Press is a full-service boutique vinyl-record manufacturer located in the West Royalty Industrial Park, in Charlottetown, Prince Edward Island, on Canada's East Coast. The company sent the press release in the early fall, probably after the opening "shake out". Good idea!
KVP is a one-stop shop for record pressing and customized packaging. The company uses made-in-Canada Viryl Technologies' Warm Tone presses, which are fully automated machines with the capacity to produce up to 180 records per hour - more than 1.5 million per year. In addition to producing high-quality vinyl records, the press also offers all related services to provide clients with a complete final product, including labels, packaging and downloading codes.
Kaneshii's initial business model is focused primarily on the Atlantic Canadian, Franco-Canadian and Eastern US markets, offering service to clients in both official languages. The press plant caters to primarily independent artists and labels by focusing on small run productions at an affordable price. The company operates on the motto of "Artists First" and is committed to providing the highest quality records and customer service.
Kaneshii owners Gideon Banahene and Ghislaine Cormier are entrepreneurs who combine passion for music and business since they were children. Gideon grew up in an entrepreneurial household and this led him to study business; successfully completing both a BBA (2010) and an MBA (2013) at the University of Prince Edward Island. Fresh out of his MBA he started a couple of small businesses in his local community, all the while surrounding himself with music. Through conversations with various members of the business community and through market research his knowledge of business and investments has proven to provide support for creative industries in Prince Edward Island.
Also raised in a home of entrepreneurs, Ghislaine Cormier has been the executive director of la Fédération culturelle de l'Île-du-Prince-Édouard for almost 10 years, working closely with artist in the arts and culture sector. Ghislaine has been heavily involved in the music industry and with her knowledge of business acquired at the École des Hautes Étude Commercial of the University of Montreal has been a great asset in developing strategic partnerships and operational processes within Kaneshii.
The owners are determined that there is room in the marketplace for a new vinyl press in Canada and set about getting the business plan and funding in place to launch the press. Apart from the owners, there is a small but great team at Kaneshii who provide support on production, marketing and strategic partnerships.
<!- ------------------------------------>