The Kuzma CAR-30 MC Cartridge Is a Smooth Performer That Offers Transparent Performance, Stacking It Up Quite Nicely Against The Competition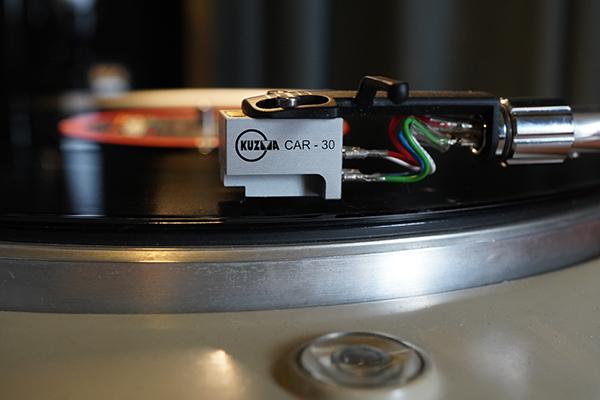 The Kuzma family of moving coil cartridges is such a fine sight to see. For the record, there are six lookalike cartridges in the Slovenian-made Kuzma MC cartridge lineup. Four of the six Kuzma carts use the same gray-colored, aluminum-alloy body that is block-shaped by nature, and not dissimilar to the skull of one of those classic red and blue Rock 'Em Sock 'Em Robots from the days of yore — look 'em up, if you're not familiar — and, in fact, two of them on the higher-end of the SRP spectrum, the CAR-50 ($7,995) and CAR-60 ($17,500), are blue and red, respectively. For cartridges at that SRP level, the least Kuzma can do is offer them in different colors, right?
For comparison, the Kuzma CAR-30, our titular review subject, has an SRP of $2,950. The Kuzma lineup that surrounds it includes the CAR-20 and CAR-20H on the slightly lower price end (both are $2,500), with the CAR-40 ($3,700) and the aforementioned CAR-50 ($7,995) and CAR-60 ($17,500) all at the other end of the cost scale. The specs for each of these six Kuzma MC cartridges are relatively similar — but, that being said, beginning with the CAR-30, changes include a micro ridge stylus and boron cantilever material.
I found the inclusion of a micro ridge stylus with the CAR-30 to be quite interesting, so I hit the intrawebs to do some research after Kuzma importer Scot Markwell of Elite Audio Video supplied me with some basic info.
The micro ridge stylus is claimed to be of a similar shape as that used in a cutting lathe, affording the greatest detail and retrieval of information in the final product. "Micro Ridge is [a] very unique stylus which is polished into an unusual shape," states the Dynavector site. "It [provides] microscopic curvature of contact surface with records. This [means the] Micro Ridge Stylus does not change the contact radius by wear after long playing time. At the same time, this curvature has a radius of only 2 microns. Due to this small figure, the reproduction sounds have very high definition, wide dynamic range, and low distortion. Combined with minimum dispersion theory [and] low equivalent moving mass, the new stylus will show new aspects [information] in the reproduction sounds."
Meanwhile, Hi-Fi Advice offers the following: "Patented by Namiki of Japan in 1983, the MicroRidge is a very complex shape that has been made possible only by using laser-cutting techniques. The MicroRidge stylus almost exactly duplicates the shape of the cutting stylus that produces the original master disc at the vinyl pressing plant."
\
The micro ridge profile (we're referencing it in lowercase here) is similar to that of a line-contact stylus, its tiny, ridged stylus covering only a few microns of contact with the groove walls. The radius of the vertical contact differs between brands, but, generally, micro ridge styluses cover a similarly large contact area as the line contact stylus.
"The microridge shape also wears more evenly, greatly extending record and stylus life," stated HiFi Advice. "Microridge styluses provide more accurate tracking than other variants with even more detailed high-frequency retrieval and considerably lower distortion than even a Shibata or Fine Line stylus."
Since this review has quickly become a quote-heavy party, here's one more for you. "Kuzma CAR cartridges are made to our specifications by a Japanese company with over 50-years experience in the field," states the Kuzma site. "The same approach, with regard to design and manufacture of cartridges housings is used as in other Kuzma products. A combination of brass and aluminum parts, made by Kuzma, provides rigid and inert support to the signal generator, allowing the diamond tip to extract musical information from the record grooves without distortion."
Now that we have all the macro info about the micro ridge, let's get down to business.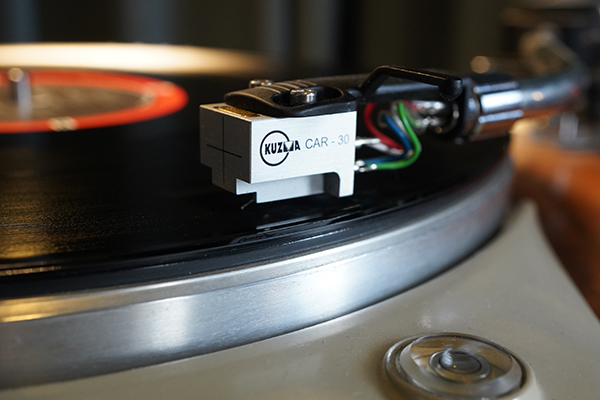 Setup
One way to interpret the sound of a cartridge is to compare it to other cartridges. For this CAR-30 review, I also brought along to my play shed-cum-listening lab the EMT TSD 15 N and my faithful Ortofon SPU Classic GM E MkII — both moving coil carts — for direct comparison purposes. Otherwise, I used a Pathos In The Groove phono stage, PrimaLuna EVO 400 integrated tube amp, and Volti Audio Razz speakers, and assorted cabling by Analysis Plus, Audioquest, and Shindo. All-round and reasonably priced Spirit II interconnects by Triode Wire Labs of Long Island, New York were also deployed.
As a sign of its serious intentions, the Kuzma CAR-30 arrived enclosed in a small, coffin-shaped wooden box, with a screw-down glass top. A round compartment within the box held the cart. Screws, Allen wrench, and specs sheet were all provided within a shallower, square space. The wood/glass case was wrapped in a small white sheath that included the serial number and inspection sign-off. Very well-mannered, I'd say.
I also used the CAR-30 in conjunction with a couple of reviews I wound up doing for our sister site Stereophile including that of the Miyajima Labs Wo-1 preamp, and followup reviews of MoFi Electronics SourcePoint 10 loudspeakers and the above-noted Volti Audio Razz speakers. At no time did the CAR-30 focus on a particular area of the frequency range, or fail to impress me with its general musicality.
Depending on what was downstream — including consistent use of a Thorens TD 124/Jelco TS-350S tonearm — the CAR-30 was an extremely capable performer, whether it involved its clean, extended treble, generally lucid midrange, and dependably tight and taut low-end. It impressed because it simply made great music while revealing the peculiarities and personalities of individual records.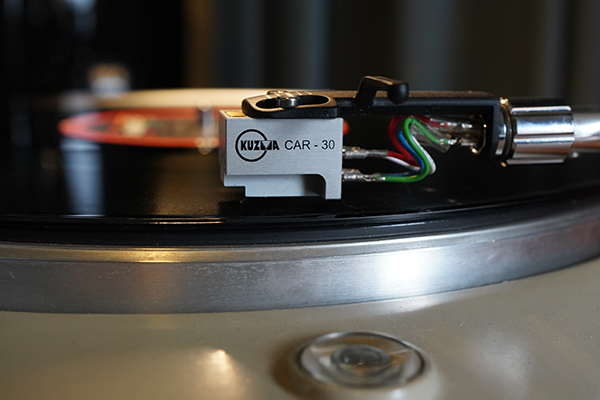 Listening Sessions
The Kuzma CAR-30 cleanly resolved the rather shiny production of a Japanese jazz record, Why Not? — Michel Camilo's 1985 release. Similarly, it relayed Ella Fitzgerald's Like Someone in Love for all its creamy, late-1950s Verve goodness, and practically reveled in the exceptional recording quality of the imminent Record Store Day 2023 release, Bill Evans' Treasures: Solo, Trio & Orchestra in Denmark 1965-1969.
Where the EMT cart possessed more upper-tier power and low-end fortitude and the SPU displayed a wider, more dramatic soundstage and a certain hyper-reality mien, the Kuzma was entirely even-keeled, rich but not overly warm, transparent but never threadbare.
Brief sidenote, part one: I also realized, while exploring the CAR-30, that though the aforementioned Pathos In The Groove phono stage is resolutely clean, super transparent, and true to the source, I preferred the similarly priced but all-tube Tavish Design Adagio phono stage. The Tavish is less resolving, has boomier low end — even saggier low end — and its mids may be more congested than those of the Pathos. But it has that certain thing tube aficionados adore: tube bloom. The Tavish produces a big, warm, juicy, large scale, airy, dynamic presentation that, while not as well-sorted as the Pathos, provides a generally more satisfying performance — to me, that is. High fidelity is not always all about detail, resolution, tight low ends, and soaring treble highs. Sometimes, it's simply about getting as much beauty as your wallet will allow.
Anyway, moving on! I took the Kuzma CAR-30 through its paces with records I've not previously used with reviews. What stood out here about Frank Zappa's March 1983 release The Man From Utopia (Barking Pumpkin Records FW 38403) and its lead track "Cocaine Decisions" was how the Kuzma fully resolved the deep, booming, subterranean tom-drops of drummer Chad Wackerman's stalking drum pattern, while the track's pitched-up keys (courtesy Tommy Mars), guitar (Steve Vai), and midrange-y bass (Scott Thunes) provided opposing sensations. The stage was large and rotund, with a production full of '80s home-studio sheen.
Another not-so-great recording from an earlier decade, John Coltrane's January 1967 LP, Kulu Sé Mama (Impulse! AS 9106), kicks off its Side 2 with drummer Elvin Jones' open solo in "Vigil," to which Coltrane eventually joins on the left channel. My original stereo pressing is a study in overhead microphone employment, with Jones' drums sounding as if they were tracked with a single overhead mike. While there's plenty of room ambience, there's sparse immediacy, which holds true for Trane's horn. But this is the sound of the record, and the CAR-30 didn't editorialize. While I generally prefer OG or early jazz pressings, both I and the AP editorial braintrust collectively think Kulu Sé Mama is overdue for a full-court Analogue Productions remaster.
The Meters' Look-Ka Py Py (Josie JOSIE 4011), released in February 1970, is one of the great lost funk albums of that decade, and I bought an original copy in the early '80s at a junk store in Charlotte, North Carolina. (Incidentally, Maceo and All The Kings Men's Doing Their Own Thing [House Of The Fox HOF-LP-1] is another 1970-released funk find from that shop that I still hold dear.) Now, here is where the Kuzma got to strut. A great studio recording from LeFevre Sound Studios in Atlanta, Look-Ka Py Py is at the junction of Clyde Stubblefield and Dave Bartholomew, the nexus of deep south Native Americans and the badass funk explorations of The Meters' Joseph "Ziggy"/"Zigaboo" Modeliste (drums), George Porter Jr. (bass), Leo Nocentelli (guitar), and Art Neville (keyboards).
Brief sidenote, aux deux: In 1979, I played drums in a band led by Boston pop star Andy Pratt that was opening for Robert Palmer, whose "Bad Case of Loving You (Doctor, Doctor)" single was riding chart-high at the time. Palmer's then-band featured three dudes upfront who produced such a massive tidal wave of impossible groove goodness, I couldn't believe it. The groove was so hard, large, and elastic that the place was practically levitating. Later, I learned those three dudes were Porter Jr., Nocentelli, and Neville.
Anyway, back to the review! The Kuzma CAR-30 played "Yeah, You're Right," the Side 2 opener from the very well-recorded Look-Ka Py Py album, with perfect aplomb. The Meters sound was super-immediate, wide open, frequency flat, and punchy — replete with razor-sharp hi-hats upside barbecue-hot guitars and stomach-churning, choogling organ grease funk tones.
The CAR-30 performed perfectly true to each of these records with as little sound of its own as possible. Perhaps there was some degree of midrange richness — always a welcome thing, imo — but overall, it was just a clean path to analog enlightenment.
In comparison, where the Kuzma was frequency flat, smooth on top, and reasonably deep down below, the EMT arrived to take names and kick ass. The treble was grittier, perhaps meaner, giving guitars added pizazz, drums kicking tough, and bass extra crispy. Kulu Sé Mama sounded more open and more dynamic, with greater life force and punch. Elvin Jones' drums had potency and power — a little aggro, but that's Elvin for you. Zigaboo's drums kicked harder via the EMT, and the stage seemed larger upon which The Meters bumped and ground (grinded?). Though Trane's horn didn't sound any less foggy, Zappa's Man From Utopia barely changed at all using the EMT, and the massive tom drop had a little more definition.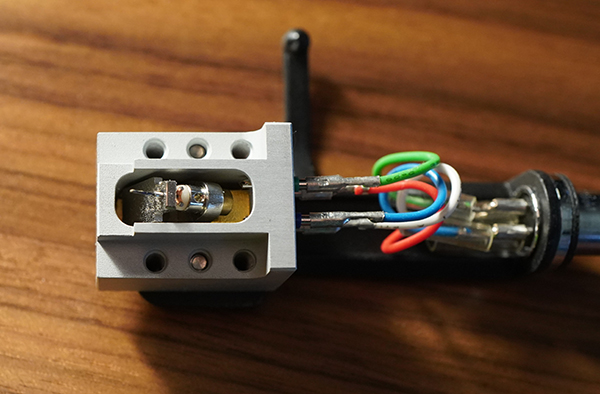 Conclusions
The Kuzma CAR-30 is one smooth performer indeed. It's well-behaved, and transparent to records and equipment. The CAR-30's sometimes reserved nature will work better in some systems than others, and it may better suit the analog needs of certain listeners than others. As in all things, system synergy is key.
Though the Ortofon SPU Classic is nearly half the price of the Kuzma and the EMT, it certainly won't win any frequency-flat championships. Meanwhile, the EMT may (as it did in my system) provide a more vigorous if less smooth overall sound for a price similar to the Kuzma. But the bottom line here is this: The Kuzma CAR-30 MC cartridge shared some of the weight and grandeur I associate with my Kuzma Stabi R turntable and Kuzma 4Point tonearm. The CAR-30 rides the range of $2-3K cartridges with its head held high, and it's quite ready to take on all comers.
For more information on Kuzma, you can go to the company's official site here.
If you want to obtain a CAR-30 MC cartridge for yourself, go here to find a Kuzma U.S. dealer near you.
Author bio: Former musician, former artist, and former legal wastrel Ken Micallef has written numerous hi-fi equipment reviews for Stereophile and AnalogPlanet, and his byline has also appeared within Mojo, Electronic Musician, and The Grammys. You can also find him at YouTube (Ken Micallef Jazz Vinyl Audiophile).
KUZMA CAR-30 MOVING COIL CARTRIDGE
($2,950)
Features & Specs
Coil wire: 5N copper
Stylus profile: micro ridge
Cantilever: boron
Body material: aluminum alloy
Frequency response: 10Hz to 35kHz
Output voltage: 0.3mV
Channel balance: <1dB
Channel separation: >25dB
Tracking force: 2.0g
Trackability: >70μm/2.0g
Internal impedance: 4ohms
Load impedance: <100
Weight: 17g
Warranty: 1 year, parts and labor
<!- ------------------------------------>