Marantz Debuts KI Ruby SACD Player/DAC and Integrated Amplifier at Amsterdam's Concertgebouw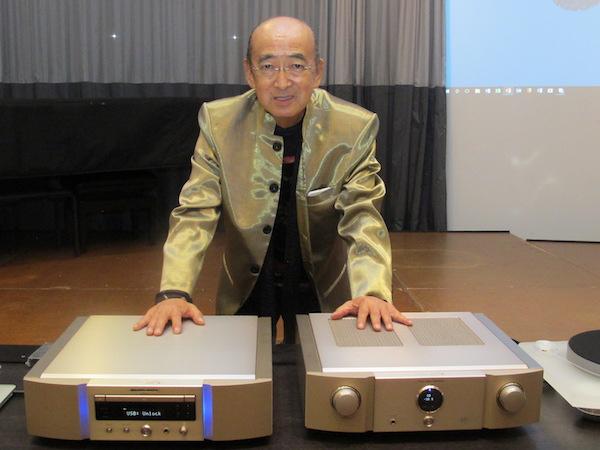 Members of the European press plus AnalogPlanet.com editor Michael Fremer and The Absolute Sound's Julie Mullins were invited to the launch of two new Marantz limited edition products celebrating the 40th anniversary of legendary Marantz "Brand Ambassador" Ken Ishiwata's association with the company. The event was held inside famed Concertgabouw rather than at Marantz's Eindhoven, Netherlands European headquarters.
The "KI" stands for Ken Ishiwata, and ruby is the gemstone associated with 40th anniversaries. Each of the products is limited to 1000 and are considered "collector's items". For those who don't know Ken Ishiwata or the nature of his Marantz relationship, this video will provide the answers. Ken says it's the first time he's discussed the history. The video also includes a mini-tour of the famed concert hall.
You can also read more about Ken in this Jana Dagdagan Stereophile interview.
During Ken's talk he references famed amplifier designer James Bongiorno and he talks about his relationship with company founder Saul Marantz.
As for these two products, both are designed by Marantz teams headed by Ishiwata who also "tuned" the sound of both. The SA-KI Ruby's SACD transport is an all-metal audio-only Marantz design. The DAC has an asynchronous USB input for high resolution PCM as well as DSD/DXD 384/32 bit and DSD11.2MHz. There's more to this product, best discussed in a review. At $4000 it's far less costly than the flagship SA-10 but the build quality appears equally good.
The PM KI Ruby Integrated amplifier features 100 watts per channel into 8 ohms and 200 into 4 ohms. It's a switch mode design based on the PM-10's, which explains how so much power comes packed into such a modest sized chassis. How it sounds though will have to wait for a review. The unit features separate pre-amp and amp power supplies and many other design features.
Of greater interest to AnalogPlanet readers is the new built in MM/MC phono preamplifier, featuring all discrete electronics and no step up transformers. Ken's a big vinyl guy, so he was deeply involved in the design and tuning of the phono stage input as well as the preamp and amplifier sections. Again the price is $4000.
Both of these products are likely to be reviewed in Stereophile and they will most likely sell out and become collector's items. Most curious to hear if Ken managed to get Class D amps to sing!
<!- ------------------------------------>