Michael Chapman Fully Qualified Survivor (Harvest) and 50 (Paradise of Bachelors) ---The Records You Didn't Know You Needed #8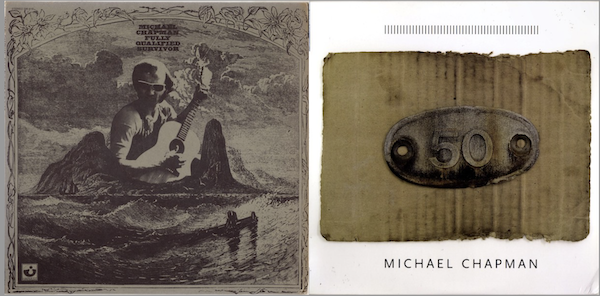 Michael Chapman died on September 10. He was 80 years old. Pitchfork, NME, and The Guardian published obituaries all of which referred to him as a folk singer-songwriter, best known for the 1970 album
Fully Qualified Survivor
. Chapman did not like being called a "folk singer" for the excellent reason that the term was inaccurate when applied to him. After fifty-four years as a professional musician, with an unlikely career resurgence beginning when he was fifty-seven, that produced thirty albums including
50
, which many regard as his best work, it probably also would have rankled him that that he was mainly remembered for
FQS
his second album.
Born in 1941 in Hunslet, Leeds U.K., Chapman went to art school and became a photography teacher, until he quit in 1967 when he discovered that he could get paid more for playing guitar in folk clubs. At the time, Chapman's music was in the early to mid-60s British virtuoso acoustic guitar folk-blues-jazz style pioneered by Davy Graham. On a continuum that stretched, at one end from the tradition focused John Renbourn and Bert Jansch, Chapman's style was closer to the more mainstream singer-songwriter styles of John Martyn and Ralph McTell at the other end. After playing the folk club circuit throughout the U.K., developing a following and garnering press attention, he was signed to and made four albums between 1969-1971 for the ultra-hip, "underground" Harvest label.
The most commercially and artistically successful of the four was the second, Fully Qualified Survivor recorded August, 1969, produced by Gus Dudgeon (Elton John etc.) with string and cello arrangements by Paul Buckmaster (Elton John, Rolling Stones, Miles Davis, etc.). Collaborators on the album included Steeleye Span's bassist Rick Kemp and guitarist Mick Ronson who would shortly thereafter become David Bowie's main man and later a Spider From Mars.
Fully Qualified Survivor is a unique mixture of jazz-ragtime-blues guitar instrumentals, Chapman's stoned, drawling "takes-a-while-to-get-used to" vocals, Dylanesque lyrics, rock-folk-blues-country melodies that bring to mind John Wesley Harding and Music From Big Pink, with hard rock guitar, beautiful string arrangements and superb playing by all. Critics have compared Fully Qualified Survivor to the music of John Martyn and Roy Harper, but I would suggest that in its mix of druggy acoustic folk-rock, string arrangements, and hard rock, it is closer to the first Neil Young album.
The first tune on Fully Qualified Survivor, "Aviator" begins unusually with a long, wonderfully played, seemingly improvised introduction featuring superb melodic bass lines by Rick Kemp and interplay between Buckmaster's cello, the violin of jazz and studio musician, Johnny van Derrick and Chapman's guitar. Nearly two minutes of music passes before the band even plays the melody. Chapman sings the lyrics, which seem to be a description of pot-fueled paranoia, in his straightforward, no drama style, while violin and cello improvise, and Kemp plays propulsively and melodically beneath. "Stranger In The Room" is a putdown song that is lyrically reminiscent of Dylan's "Fourth Time Around." It prominently features Mick Ronson throughout with Chapman singing at the higher end of his range producing a thinner texture that makes him sound more than a bit like 1970 era David Bowie. In fact, the whole track sounds like a tryout of the Hunky Dory sound about a year and a half before that album was recorded.
Ronson's guitar hero/Jeff Beck soloing between the verses is masterful, flashy, and dramatic, but never to the point of self-indulgence. "Postcards Of Scarborough" was Chapman's "hit" and the song for which in the U.K. he was most remembered. It brilliantly tells a story using just a few words set to music that alternates between Chapman on acoustic guitar playing a beautiful nostalgic melody during the verses and Ronson on the choruses playing aggressive electric guitar. The narrator has returned to Scarborough, a seaside vacation town, where he and his former lover had spent some good times, but now, alone, the town is depressing, the food tasteless and the wine stale. The only consolation is "I've got postcards of Scarborough just to keep in my mind, to hide away up there and help me remind, myself of time past and time passing.
Buckmaster's string arrangement is beautiful and dramatic, increasing in prominence throughout the song but never becoming intrusive while Chapman sings with mounting atypical intensity and passion. Ronson plays only on the choruses but his jagged, wailing fills set against the dark tones of the increasingly loud strings add immeasurably to the feeling of anger and loss. "Soulful Lady" unleashes Ronson and with Kemp's forceful, melodic bass high in the mix and Chapman singing in his "Bowie voice", the track sounds a lot like an outtake from The Man Who Sold The World, which would not be recorded for another six months. Ronson, in two brilliant solos, demonstrates his mastery of guitar tone and early 70s blues rock. The first is not a collection of riffs, but a melodic statement that ends with a nice resolution that like a jazz solo, returns to the beginning. While the band is taking the tune out and preceded by some crunching proto power chords, Ronson plays another melodic solo using some Eric Clapton licks, but they are played with Ronson's hard penetrating sound and aggressive rhythm attack, making them seem his own and much more like the Spiders from Mars music that was to come rather than Cream or Blind Faith.
"March Rain" is a song that would not be out of place on either of Nick Drake's first two albums. Chapman's voice and guitar are accompanied only by Buckmaster's cello and another of his wonderful string arrangements. The vocal is slurred and lacks the eerie loneliness that Drake always conjured up but it's still a beautiful and haunting performance. The three solo guitar instrumentals display Chapman's great facility and mastery of folk-blues-ragtime styles. On "Naked Ladies And Electric Ragtime", he accompanies himself with a tapping foot and plays one tricky lick after another, sometimes sounding like at least two players, always with a great dance time feel.
Legendary BBC DJ John Peel whose support and airplay undoubtedly contributed to the album's modest success and helped it make #45 on the U.K. album chart, named Fully Qualified Survivor as a 1970 favorite. It was the only one of Chapman's Harvest albums to be issued in the U.S. Promotion was nonexistent and the press run was so small that even a dedicated reader of the rock magazines and obsessive record collector like myself never heard of or saw the record until the early 2000s. Fully Qualified Survivor was recorded at Regent Sound and engineered by Tom Allom who recorded many folk-rock albums as well as the first three Black Sabbath LPs. He was clearly talented, understood Chapman's music, and recorded it in the mid-60s British folk "no tricks and no frills" documentary style. The soundstage is wide and deep, the instruments sound natural, precisely located in space and the overall sound is warm and slightly sweet. No attempt was made to hide in the mix Chapman's voice or smooth it with EQ. It's front and center, unique and imperfect, real and human. It's a beautiful recording. Clean U.K. and U.S. pressings of Fully Qualified Survivor are a bit pricey but not outrageously so. Light In The Attic reissued the album in 2011 almost certainly cut from digital files, duplicating the rather ugly U.K. fold out cover but not the Harvest label. Though the pressing was quiet I preferred the sound of my U.S. Harvest copy, but it was a close call. The original's treble is slightly more extended, with better low-level detail and more palpable space between the instruments. The Light In The Attic version is out of print and sells for not much less than original Harvest LPs. I'd spend the extra money if finances allow.
After completing the album Chapman asked Mick Ronson to join his band. Ronson refused, preferring to stay with his own band, the Rats, which eventually became the Spiders from Mars. In February 1970, Ronson was introduced to David Bowie and so began one of the great 70s era rock partnerships.
<!- ------------------------------------>