Newvelle Records Hosts Special Attended Recording Session At EastSide Sound Studios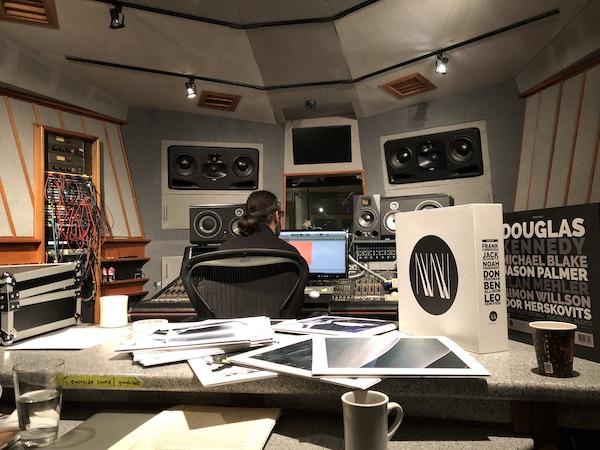 The subscription based vinyl-only jazz label
Newvelle Records
, which just finished production of its fourth season's recorded offerings (the first title, Noah Preminger's
Preminger Plays Preminger
shipped last week), held a special event a the label's "home base" studio: EastSide Sound in NYC today, March 23rd.
Label fans were invited to attend (it cost $$) a catered (Russ & Daughters) recording session, sit in the studio and/or the control room during the recording, watch Grammy Award winning recording engineer Marc Urselli (pictured in the video "thumbnail") mix and master a track and then receive (later) an "acetate" of the track cut by Alex DeTurk.
A few of the label's fans accepted the offer and were treated to a morning's worth of recording—hanging out in the studio and control room—meeting the artists, engineer and author Tim Sultan, who wrote a six chapter story for the 4th season (one chapter accompanies each of the 6 LPs).
AnalogPlanet editor Michael Fremer was lucky enough to hang out and witness, after which he discovered an unusual record store down the block from the studio that you'll see in the video.
Preminger Plays Preminger features music from and inspired by the films of the saxophonist's great uncle, director Otto Preminger and features Jason Moran on piano, Kim Cass on bass, and Marcus Gilmore on drums.
Can't go into details here about the other records in the 4th season but musicians include Tim Berne, Greg Tardy, Bill Frisell, Matt Wilson, Rufus Reid, Kenny Werner, Dave Liebman and many others with whom you're no doubt familiar. Reviews coming up ASAP!