Ortofon's Concorde Elite Moving-Magnet Cartridge Delivers a Performance Worthy of Its Storied Pedigree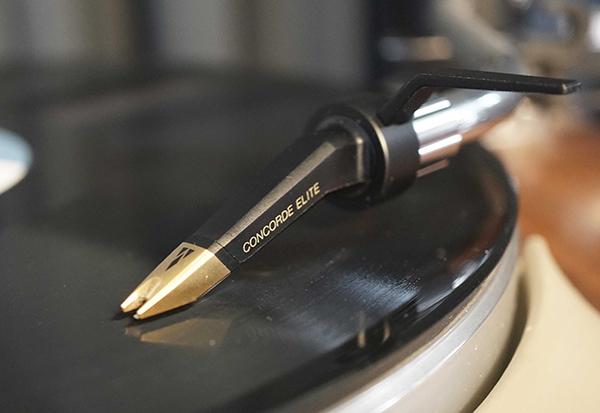 When is a DJ cartridge not a DJ cartridge? Danish manufacturer Ortofon seeks to bridge the DJ and hi-fi worlds with their top-of-the-line Concorde Elite moving-magnet cartridge ($439 SRP), the most expensive DJ-centric cartridge to date with a clear nod to audiophile listening. But does it hold up as a hi-fi cart?
Let's look at that beautiful bean footage, er, all the cartridge details, shall we? As AP editor Mike Mettler reported here back in late October, the Concorde Elite MMC is not only based on the vaunted Ortofon Concorde MkII series, it also "features a new, special-molded stylus body with real gold plating," according to the Ortofon press materials.
A nude elliptical diamond stylus is mounted directly on the Concorde Elite's "rigid 750 µm Aluminum-Magnesium cantilever," eschewing the cheaper and more common method of bonding a stylus to a metal shank attached to a cantilever. The nude elliptical is also lower mass than commonly used DJ spherical designs, which enables better tracking. Detail retrieval is also improved, compared to the DJ standard, the $179 Concorde MkII Club — at least according to Mo Jackson of Beatsource Tech. (The Club has similar specs to the Elite.)
Ortofon further clarifies the "Nude Elliptical stylus is for listening, not for heavy back-cueing and scratching" — something that would seem to define it as a home-listening cartridge. But will audiophiles veer into a DJ soundalike listening contest — particularly when such reasonably and/or similarly priced Ortofon hi-fi classics as the 2M Red ($169), 2M Blue ($239), and 2M Bronze ($419) have so many faithful fans? Let's find out.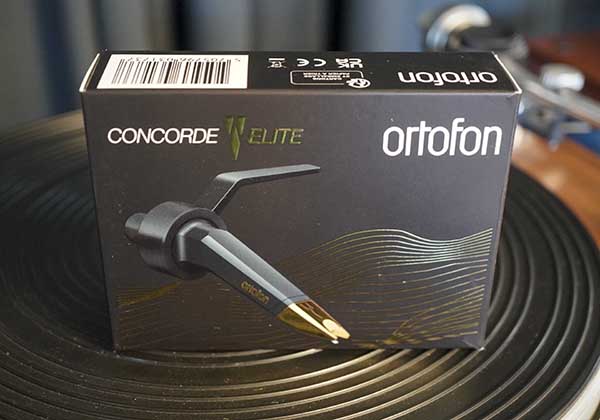 Specs and Tech Notes
First, some more specs. The Elite has a whopping 8.5mV output, a 43-carat, electro gold-plated stylus body, recommended tracking force of between 2-4g (similar to Ortofon SPU carts), a recommended load resistance of 47k ohms, and recommended load capacitance of 150-400 pF. It also has the largest finger-lift I've ever seen, which is interchangeable with other headshells in the Concorde line.
Along with the Elite's new stylus and cantilever design, Ortofon brings with it a new rubber suspension: "The richer, fuller sound conveys the music in the most lifelike manner while paying close attention to damping of excess brightness," according to their info.
"Owing to the upgrades of components, the Elite achieves a new level of sound quality not previously found in DJ-categorized cartridges," continue the Ortofon materials. Since I admittedly know little of the DJ side of this analog thing-of-ours, I gleaned more DJ-centric info at Frank Landry's Channel 33 RPM, Mo Jackson's aforementioned Beatsource, and via an online video from the Polish site InfoMusic, featuring Ortofon product manager Peter Wieth Hjordt.
I also checked in directly with Ortofon product specialist Louis Dorio to get the inside skinny. "The Elite is based on Technics' recommendations for alignment geometry, which is a lot closer to Stevenson than anything else," Dorio noted, via email. "I wouldn't really call it a DJ cart, per se, although it can stand up to DJ use because of the special alloy we used for the cantilever.
"There is a certain turntable customer who identifies the Technics 1200 as being their ultimate table," Dorio continued. "The 1200 was always considered a DJ turntable, until recently. And even with Technics' newest 1200MK7 and 1200M7L models, it stands to reason that a huge portion of the people buying those are doing so just for listening. A lot of customers of those models are coming from a post-DJ perspective, where their familiarity with turntables came from the ubiquity of the Technics 1200 and Concorde series carts," Dorio pointed out.
"Ultimately. with the Elite," Dorio concluded, "we focused on making a great-sounding cartridge that could be seen as a grown up's Concorde (as Concordes were first offered as hi-fi products anyway), knowing that there will be a substantial group of people who would prefer it to a 2M Red, for reasons of convenience and perhaps aesthetic. At the end of the day, it's maybe uncommon, but not unheard of, for a good product to be universal in its appeal, and that's why we haven't made a huge push to label it strictly as one type or another."
How does the Elite compare to the popular 2M Red? "It trounces it — but that's not a fair fight as the 2M Red is a bonded stylus," Dorio replied. "Versus the 2M Blue, it's a slightly closer fight, but the Elite has a couple of things that make it favorable. We used a new suspension that can track approximately 100 μm, and this has offered additional openness and a further reduction of distortion. Also, that really helps the cartridge have a fuller sound, which is much to the enjoyment of those who are looking for something with just a little more meat on the bone."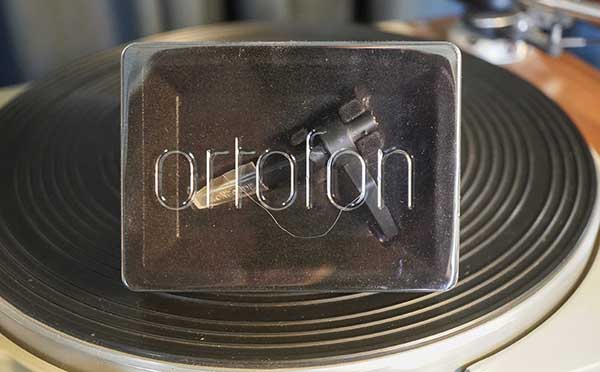 Setup
As with all Ortofon cartridges, the Elite's three-layered packaging is superb, including a clear, embossed cartridge sheath. Unlike both cheaper and more expensive Ortofon carts, however, no brush was included in my review sample.
I mounted the Ortofon Concorde Elite MMC on a Jelco 350 S tonearm attached to a Thorens TD 124 turntable. I then connected the Thorens 'table to the MM input of my Shindo Allegro preamp, Zesto Audio Bia Select 200 stereo power amp, and DeVore Fidelity O/96 loudspeakers. Cabling in this setup was from Cardas, Analysis Plus, Shindo, and Triode Wire Labs, with line conditioning by IsoTek.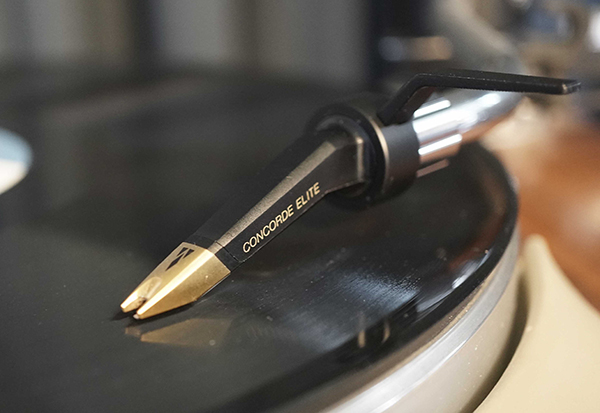 Listening Sessions
For the Elite's evaluation purposes. I played a number of LPs, including the following: Everything But The Girl's Walking Wounded (1996, Virgin 7243 8 41698 1 7); The Beatles' recently remixed and truly wonderful Revolver (2022, Apple 0602445599523); and my discovery of the year, Elvin Jones' Revival: Live at Pookie's Pub (2022, Blue Note B003576101).
The Concorde Elite is a punchy, fun, bass-friendly, reasonably transparent cartridge that shows the 2M Red and Blue the door while rattling the windows at the 2M Bronze. It has a warm midrange-to-bass presentation with excellent left-to-right stereo spread and a well-formed, large soundstage with equally large images. Only when comparing it to my Ortofon SPU Classic GE MkII MC cart did the Elite blink, with the twice-as-expensive GE cart providing superior treble shimmer and sparkle, a more open midrange, and tighter, if not more tuneful, low-end.
Given its pedigree, the Elite has a serious way with bass content, be it via cellos in an orchestra or Elvin Jones' high-pitched, ringing bass drum on Pookie's Pub. It relayed the sticky synth-bass sub lines of EBTG's Walking Wounded with superior weight and extension, while not revealing the top-end detail and air as well as other, more expensive carts.
Note that I'm just talking MCs there, as I don't have other MMs on hand to compare it with (though the perpetual 2M Red we use at the Jazz Record Center leaves an indelible sonic image — one reason it's so popular, along with its price). With the Elite, I felt I was hearing the essence of any of my more expensive carts when it came to depth, soul, tone, and touch — only scaled down, with a flatter presentation. Granted, this cart couldn't compete with my EMT TSD 15 or Clearaudio Jubilee, but the Elite held its own, record after record, its warm tone, big sound, popping dynamics, and charged soundstage delivering the drama and personality of every LP I played with it.
Let's get into some of the tracks I was most impressed with while deploying the Elite. First up, Everything But The Girl's "Before Today" evidenced deep bass blips warm and full, and a bit loose. There was a lack of treble air but strong immediacy. Tracey Thorn's vocal was smoothly delineated, and the treble-oriented percussion rendered slightly flat. The dense center fill drew me in, and the large vocal and instrumental images were noticeable. I was also impressed with a reasonably spatial, broad left-to-right stereo spread.
Next, The Beatles' "Taxman" was admittedly flatter-sounding, and lacking a certain zing gleaned with my more expensive MC carts. But for $439, the Elite rocks hard, as evidenced by way of the slam-down, jackhammer coupling of Paul McCartney's bass and Ringo Starr's drums on "Taxman," with the cymbal decay and overall presence somehow stronger than on my more expensive carts.
There's nothing dull, piercing, or grating to be found here, only a communicative cart with strong layering as heard in the string quartet in "Eleanor Rigby." Perhaps there was a darker overall personality, but with strong liquidity, punch, and tone, especially compared to its nearby 2M Red and 2M Bronze siblings. From memory, the Elite also seems warmer and more dynamic, but perhaps less refined than similarly priced Nagaoka carts.
Finally, Elvin Jones' "Keiko's Birthday March" is an informal, military march that gives way to riotous swinging and soloing. I was especially taken with the Elite's rendering of Elvin's high-pitched, boingy bass drum, its resonant tone and springy elasticity fully revealed. Small room ambient cues were also nicely revealed in a forward-motioned, full-sounding, and densely populated soundstage. Bravo.
Conclusions
I still don't know if punters (as they say in the UK) in the market for a reasonably priced MM hi-fi cartridge will check out the Ortofon Concorde Elite — but they certainly should. Sure, dance and DJ heads who already favor the company's Concorde MkII series will certainly give it a go. And the Elite's universal headshell fit for all Technics-type tonearms will definitely appeal to those who love to compare carts. (And, indeed, Ortofon's Louis Dorio may very well be onto something by his noting how the Technics SL 1200 that once only ruled dance clubs now fills living rooms and listening warrens, and globally so.)
Seeing how this whole wide world of ours seems to be crossing over in one way or another, why not overlap with our choice of hi-fi cartridges? Keeping all this big-picture stuff in mind, it only seems logical to conclude the Ortofon Concorde Elite MM cartridge is truly worthy of your listening time and attention.
For more information on Ortofon, head to the company's official site. If you want to obtain a Concorde Elite MMC for yourself, go here to find a dealer near you.
Author bio: Former musician, former artist, and former legal wastrel Ken Micallef has written numerous hi-fi equipment reviews for Stereophile and AnalogPlanet, and his byline has also appeared within Mojo, Electronic Musician, and The Grammys. You can also find him at YouTube (Ken Micallef Jazz Vinyl Audiophile).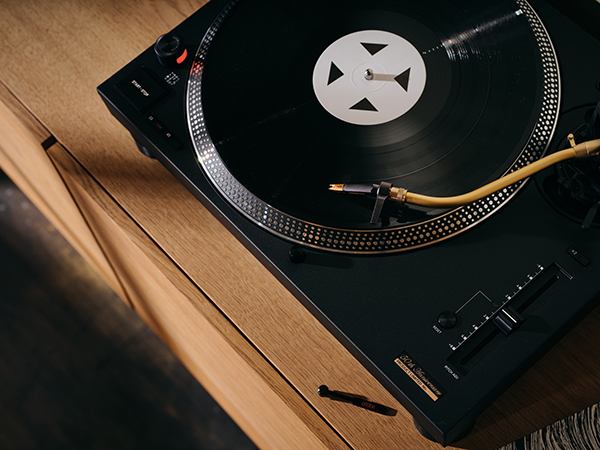 ORTOFON CONCORDE ELITE
MOVING-MAGNET CARTRIDGE (MMC)
SRP: $439
Specs
Stylus Type: Nude Elliptical
Cartridge color (body/stylus): Black/Gold
Replacement stylus unit: Elite
Frequency range: 20 – 20,000Hz
Output voltage at 1000 Hz, 5cm/sec: 8.5 mV
Channel balance at 1 kHz: 1dB
Channel separation at 1 kHz: 25dB
Channel separation at 15 kHz: 15dB
Tracking ability (at 315Hz, at recommended tracking force): 100μm
Compliance, dynamic lateral: 13μm/mN
Stylus tip radius: r/R 8/18μm
Tracking force range: 2.0 - 4.0g
Tracking force (recommended): 3.0g
Tracking angle: 20°
Internal impedance, DC resistance: 1.2kOhm
Internal inductance: 800mH
Recommended load resistance: 47kOhm
Recommended load capacitance: 150 - 400 pF
Cartridge weight excluding screws: 18.5g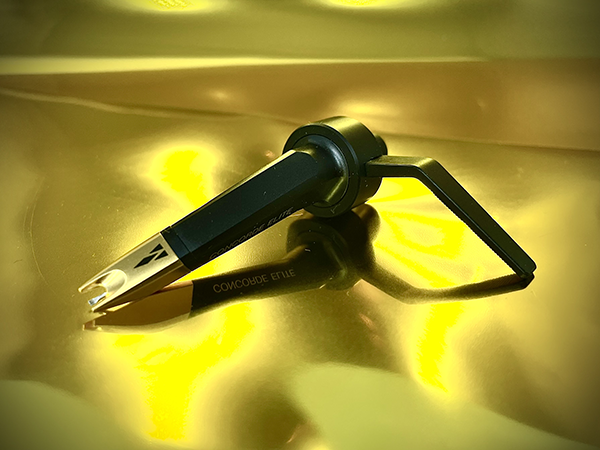 <!- ------------------------------------>