Sonny Rollins "Way Out West" In Deluxe Box Set From Concord's Craft Label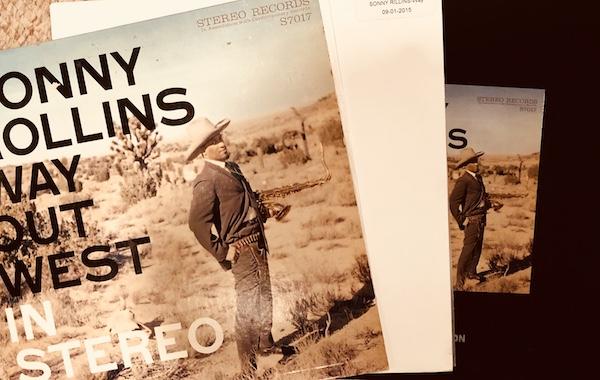 Concord's Craft Records division just released a deluxe two LP box set of Sonny Rollins'
Way Out West
recorded in March of 1957 in stereo and released by Contemporary Records first in mono in 1957 and then by Stereo Records (in association with Contemporary Records) in stereo probably in 1958 or perhaps later.
It just arrived and it's nicely packaged in a clothbound box and sourced from "the original master tapes". It includes a second LP of session outtakes including an alternative version of "I'm a Old Cowhand" and two outtakes of the title tune.
I've not yet played the records but as the photo indicates there's an interesting back story here. The photo at the top shows an original stereo Contemporary Records pressing that I paid $70 for during the "vinyl lull" of the 1990s so I can only imagine what it might be worth today but I bet it was good investment. That, however, is not the interesting record here. The white label test pressing is.
People often complain about record prices and I get that, but consider this story—and it happens more often than you might think. Way Out West was originally slated to be an Analogue Productions reissue—along with a few other Contemporary titles. Analogue Productions' Chad Kassem had licensed the titles, booked time at Bernie Grundman Mastering, flew out to watch them being mastered, had the lacquers plated and ready for the press when Concord pulled the plug. You can be sure this cost Analogue Productions plenty.
What happened? New management at Concord. According to Chad, the individual with whom he had negotiated the deal left and that was that. Now Chad was not angry, though of course he was upset. He wasn't angry because he's seen this play more than a few times, and more frequently as the vinyl market heats up.
I was there for the mastering and it was interesting to hear real time "A/B"s of the tape versus the lacquer. Speaking of "blind testing", I doubt any digiphile could tell which was which. The Roy DuNann recording was spectacularly transparent and the tape was in great shape.
You can see the master tape and watch the video here. You'll see that producer Lester Koenig's son John attended the sessions and that the original LP was compared to the tape and that the two sounded very different for a variety of reasons.
As many of you probably know, DuNann used a primitive sort of "Dolby system" in the recording process whereby he boosted the top end so that in mastering, the top would be cut and along with it would go some tape hiss. When Kassem first reissued Way Out West in 1992, mastered by Doug Sax on his all-tube cutting system (APJ 008) as I recall, neither he nor Doug was aware of this so the record sounded somewhat bright. This time, Bernie made the adjustment.
Was Craft Records producer Nick Philips aware of the treble boost? Was project supervisor Mason Williams (I assume he is that Mason Willams)? I will soon find out as I compare all of these pressings. However, while the new box set issue was "sourced from the original tapes", they were cut by George Horn from high resolution digital transfers. This will be interesting! Review to come very shortly.
<!- ------------------------------------>