Victor Goldstein R.I.P.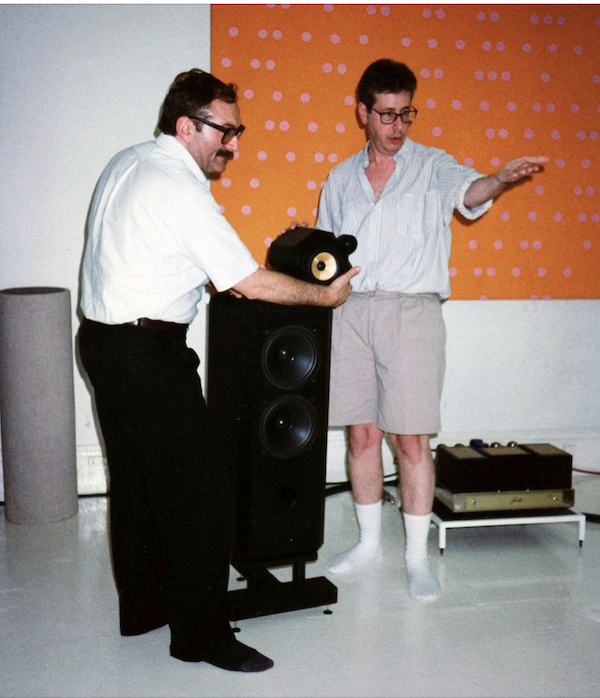 Few analogPlanet readers know the name but no doubt some do and I feel compelled to say a few words about my friend Victor Goldstein, shown here with Stereophile writer Jonathan Scull probably back in the late '80s when Victor was working with speaker manufacturer B&W (photo used without permission but I'm sure J10 will not mind). Goldstein passed away last night, a victim of the Covid-19 Pandemic.
I met Goldstein shortly after joining The Absolute Sound. I was a nobody just beginning to figure out how to negotiate my way around the "high end" and meeting all of the people I'd only seen in magazine photos. For some reason Victor, the sophisticate with the thick Romanian accent (and a degree in nuclear engineering), chose to befriend Mikey, the (fill in the blank). I would often visit Victor in his business apartment located in the same building in which he lived with his wife Judy, a renowned pediatrician. Victor was then repping or doing publicity or whatever for B&W and Jadis among other brands priced beyond my ability to own or, for that matter, to review. Victor's musical tastes were sophisticated and his knowledge of classical music overwhelming. I soaked all of it in. Who else but Victor would have as a tech Da-Hong Seetoo, a violinist and award winning recording engineer?
Victor would take me and my TAS co-worker Frank Doris out for fantastic dinners to the best restaurants in New York—and not because at the time I was in a position to help him with his clients! Perhaps he saw where I was going (wherever that is!) before I did, but whatever it was, Victor took me to the best NYC restaurants like Le Cirque (admittedly on the expense account dime, I'm sure!) introduced me to fine Italian wine, and to Parmigiano Reggiano—the finest Parmesan cheese I'd never heard of but which made what I thought was Parmesan cheese taste like Desenex (not that I've ever sprinkled that on anything but my toes).
At some point I mastered a pretty good imitation of him and he brought me into his other apartment to meet his children. He had me do my imitation and one of his daughters responded "You don't sound at all like my father!", which disappointed me until she added "You sound exactly like uncle (I forget his name)!" Good enough for me!
As the business changed and grew from the personalized to the corporate, Victor kind of withdrew from it and got involved in real estate. A few years ago he re-emerged at audio shows around the country and appeared happy to be back.
The last quality time we spent together was in April of 2017 when he invited me to see The San Francisco Symphony Orchestra in a program that included a John Cage piece, Shostakovich's Cello Concerto #1 and Bartok's "Concerto For Orchestra". His email invite was:
Can I interest you in a concert at Carnegie next Friday Apr.7 at 8PM ? The program comprises the Shostakovich Cello Concerto #1 and Bela Bartok's Concerto for Orchestra.
It is all analog, have no fear!
Let me know please.
Regards
Victor
Before the concert (we sat 5th row) we dined, shared a chunk of Parmigiano Reggiano and reminisced about the "good old days".
Goodbye Victor, "I must tell you!"
<!- ------------------------------------>