"Copies of Beatles Master Tapes" Played at CES and RMAF 2013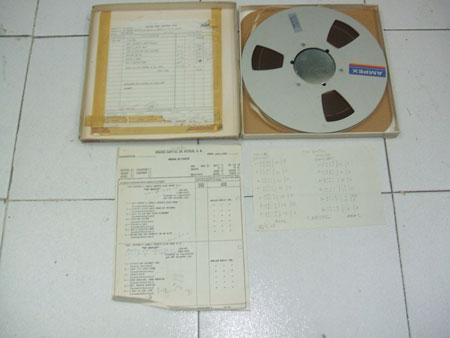 Exhibitors at The Consumer Electronics Show in Las Vegas and at RMAF have been using reel to reel tape as source material. Some use Tape Project tapes, which we know are copies of copies of actual master tapes licensed by and supplied by the record labels. Yarlung is also doing this using masters of self-produced and recorded material.
However, at these shows tapes have been represented to me as being purchased "copies of Beatles master tapes" and "copies of Chess master tapes" among others.
I can't speak about some of these but I can speak about The Beatles master tapes and the likelihood that any of these purported "copies of Beatles master tapes" are the real thing: they are not!
Back in 1997 EMI planned a 30th anniversary CD reissue of Sgt. Pepper's Lonely Hearts Club Band. The plan was to master it both at Abbey Road and at Masterdisk where long time Sterling Sound mastering engineer Greg Calbi was then working (he's since returned to Sterling Sound).
Calbi asked me if I knew where in the New York area one might find a Studer C37 2 track recorder originally used to mix the album. As it turned out I did and I helped arrange for the machine to be at Masterdisk for the project.
I was invited to attend and meet Geoff Emerick who had hand-carried the master tape from where they are stored. I brought with me the Mobile Fidelity version of the album, which, after about a minute's worth, Emerick declared "rubbish" because of the high frequency boost applied throughout (and to the whole set). I then played him the mono Japanese Odeon red vinyl reissue from the early 1980s, which he said was "perfect".
The master tape was not in a cardboard box. Beatles master tapes are not stored in cardboard boxes. They are stored in metal boxes containing a white paper insert. You can see this on the Mobile Fidelity box set album covers.
However those are not the tapes shown on those covers! For one thing, the master of Sgt. Pepper's... was not banded though it is on the Mo-Fi cover. For another, I believe the same tape is shown on all of those covers and the number of bands do not match up with the number of songs on each of the albums.
If you do a web search on "Beatles master tapes" you will not see even one image of an actual Beatles master tape. Not one. That's how carefully these tapes are guarded. Emerick told me the procedure required to get the tape out of the vault and onto an airplane and trust me, no one has made and removed an unauthorized copy.
According to another of my sources, the tapes at Capitol are, for a variety of reasons, at best third generation tapes. Tapes sent to Mexico and other Western Hemisphere EMI affiliates were copies of those tapes, sent by Capitol, not by EMI.
So when I hear at a hi-fi show in hushed tones that I am going to be hearing a "copy of a Beatles master tape" I know it is pure, unadulterated bullshit. And then when I hear what is being fobbed off as such, I know it is pure unadulterated B.S. because back in 1997 I heard a Beatles master tape. So aside from it being totally illegal to sell such a thing if in fact it existed, whoever is representing it as such is full of shit.
Obviously the image used for this story, whatever it is purported to be (I found the picture on line) is not a Beatles master tape or anything close to one.
<!- ------------------------------------>