Beatles Mono Box Not Pressed at GZ Media Or "Seeing Is Not Believing!"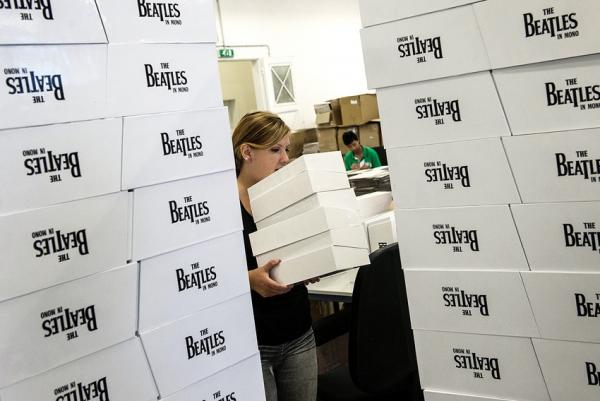 A visit to Czech Republic-based GZ Media recently published on a
website
includes an un-captioned photo of a large stack of the upcoming Beatles Mono box sets. This has flooded analogplanet.com's "inbox" with emails from readers, some inquisitive, some hysterical and a few spewing expletives.
To assure pressing quality consistency UMe claims all of the albums were pressed at Optimal in Germany, yet here's a shot in "living color" proving otherwise. So what's the deal?
I contacted UMe publicity and got the poop: GZ Media fabricated the cardboard boxes. The records were all pressed at Optimal in Germany. So please, those of you sending incendiary emails, please calm down! As promised, the records were pressed at Optimal, the cutting was done all-analog from the original master tapes and the packaging is outstanding and authentic to the originals. Identical in every way? No. For that you'll need to buy a $500 a record Electric Recording Company reissue. Back in the real world, I've handled the jackets and they will satisfy all but the marginally insane. For those, there are original pressings, some of which individually cost more than this entire box set.
In other news, the mono box set will arrive here on Friday and I will labor all Labor Day Weekend and report back as soon as possible.
<!- ------------------------------------>