Beatles "Red" and "Blue" Album Reissues AAA All the Way!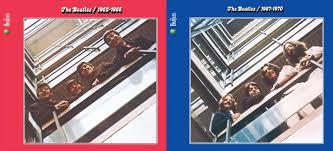 The two upcoming Beatles compilations, the "Red" (1962-1966) and "Blue" (1967-1970) were cut from the original analog tapes used to produced the original LP sets—with a few exceptions, says Abbey Road mastering engineer Sean Magee.
Magee told me that the tapes originally used to produce the two double LP sets were again used with a few changes: mono versions using EQ from the mono box set replaced the few faux stereo tracks originally used. Only crazy die-hards might object to that.
Otherwise, whatever differences there were between those versions and the ones on the original albums remain (which we'll cover in the reviews). Magee said "The cutting notes made by Harry Moss were followed to the letter except for overall levels, which were a touch quieter, but cleaner. All analogue too.
These LPs will be pressed at QRP. So there you go! No more speculating, no more wanking! Just the facts.
<!- ------------------------------------>
| | | | | | | | | | | |
| --- | --- | --- | --- | --- | --- | --- | --- | --- | --- | --- |
| | Equipment Reviews | | The Gruvy Awards | | Blogs | Columns | | Show Reports | | News |