Rega Research's Less Is Much More Planar 8 (Plus Exclusive Interview)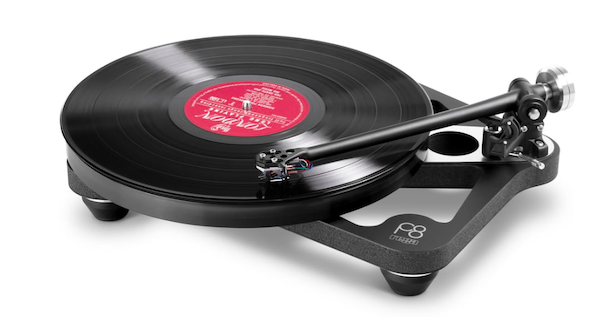 Call it "P8" or "Planar 8" but do not call this new Rega turntable "RP8". That was the
previous
8. Despite the obvious superficial Rega similarities the new Planar 8 differs greatly from its
predecessor
.
You got a very good turntable at a solid price if you bought the older RP8 as a discounted close-out, but you did not get a Planar 8 or anything close to one—and not just because the Planar 8 departs from Rega doctrine by being the first ever to include user-adjustable speed control (nor will it be the last according to Rega veteran Phil Freeman who oversaw the new turntable's design and development) or because out of necessity it's also the first Rega to eschew the "traditional" lower-during-play hinged dust cover. Freeman told me the Planar 8 is "the first of a trilogy of new turntables" and that it was never intended as an evolutionary design. "There were things about the RP8 and RP10 that I felt we could improve", he told me.
The Planar 8 differs most from previous Regas by being the first one to go "full Naiad"—or at least as "Naiad" as possible within price and practicality constraints. If you're unfamiliar with Rega's Naiad turntable, which has been to Rega what an auto show "concept car" is to an automobile manufacturer (except that a few Naiads have actually been manufactured and sold), please watch the five part Rega factory tour or at least the final segment where you will see Rega's clearly revolutionary limited edition circa $40,000 Naiad turntable.
As you'll hear below in the exclusive phoner interview with Mr. Freeman, he and another Rega employee are responsible for building the few Naiads (approximately 15 including prototypes) that have been produced and sold. Procuring the parts is difficult enough. Building Naiads is even more problematic, which is why it will never go into factory production and each is hand-built.
However, Freeman's Planar 8 design incorporates as many of the Naiad's design elements as could be included in a production model at a Rega-sensible price point and that's key to understanding what this new Planar 8 is all about. Freeman calls the Planar 8 a "baby Naiad".
Regarding the lack of a standard issue dustcover, the new design is simply too "skeletal" to accommodate one. Instead, the heavy, sculpted acrylic one Rega provides lays flat over the platter curving upward and over to also protect the tone arm. A hefty locator pin attached to the smoked plexi cover fits into a plinth dimple and holds the cover securely in place.
Five years ago the RP8 cost $2995. The new far more advanced Planar 8 costs $3095. In an era of inflated audio prices ($10,000 cartridges, for instance, though a few 10K carts are worth the $), Rega's willingness to hold the price line is commendable.
The older RP8's semi-skeletal plinth hints at what Rega has done here, which is to carve away even greater plinth real estate while ramping up the shape's severe angularity, the goal being even lower mass combined with increased rigidity.
So much plinth has been removed that an outer hinged dust cover holding frame similar to the RP8's was impossible to duplicate. The Planar 8's plinth is physically considerably smaller than the RP8. With a record on the platter, the plinth all but disappears. The Planar 8's plinth is fabricated from a super lightweight Tancast polyurethane foam sandwiched between two layers of HPL (High Pressure Laminate) forming a structure that's stiffer and 30% lighter than the RP8's. Freeman says it's easier to machine. The trickiest part of using the new foam was making it black (listen to the interview).
Rega reprises here the rigidity enhancing phenolic brace between the tone arm and platter bearing found on earlier models. It does its job without adding much to mass. The lower the mass, Rega avers, the less energy will be absorbed that's best off being passed through the "vibration measuring machine", which is how Rega defines a turntable's mission.
Freeman describes in the interview the brand new main bearing assembly that uses a single-piece aluminum sub-platter/hardened tool steel spindle that spins within a custom brass housing. Key to the new design is the way in which this assembly attaches to the plinth—something Freeman describes in great detail in the interview and which he says greatly contributes to the new turntable's overall coherency and dynamic "slam". Of equal importance in the main bearing assembly design is where the mass is located. Listen carefully to that part of the interview around 41:00. Freeman claims only Rega pays particular attention to this principle of where you locate the mass.
The platter is a new 3 piece all-glass design using two different kinds of laminated glass (the platter is dimensionally identical to what's used on the RP8 platter but it's a completely different glass formulation). Viewed from the side you can see the 3 different types of glass that's CNC machined and precision-bonded. Added mass at the platter's rim is said to create a speed fluctuation smoothing "flywheel effect".
Drive is via Rega's 24V motor powered by a Neo outboard power supply, with each motor and power supply individually matched and "tweaked" to minimize unwanted vibrations. And of course you can adjust the speed by approximately 1% using a supplied tool to push a recessed button on the rear of the power supply to set it to "program mode" and then adjust a recessed potentiometer.
Rega continues its research into drive belt materials and fabrication and here uses a new material formulated by a just retired chemist said to provide even greater speed consistency than previously attainable, that Freeman describes in the interview. Rega normally uses belts of polychloroprene but working with this chemist they began using belts made of EPDM (ethylene propylene diene terpolymer—also used for shallow-pitched roofs). EPDM produces a more even stretch and compression, which gives the turntable greater speed stability according to Freeman. The Planar 8 uses a pair of EPDM belts that ride on the sub-platter and dual-grooved machined aluminum pulley. Despite the improvements, Freeman says Roy Gandy continues to work on new molding techniques and materials. Eventually, Freeman told me, the goal is to use various iterations of EPDM belts throughout the line, in part because the material lasts longer and of course because it performs better.
The new RB880 arm is an evolution of the older RB330. Looking at it from the side you can see a new stainless/aluminum composite vertical bearing housing that is said to greatly improved performance. The arm uses low tolerance, hand-adjusted Japan-sourced ABEC bearings. No you cannot adjust azimuth but you can adjust VTA/SRA using either individual spacers between arm and plinth (which necessitates removing the arm) or the ingenious Acoustic Signature integrated spacers, which only requires that you loosen the 3 arm mounting bolts and slip one of the available thickness spacers, between the plinth and arm and then tighten. Or, you can remove the standard issue Rega dust attracting felt mat and use a thinner one to "raise" VTA/SRA or a thinner one to "lower" it!
Cables are low capacitance and terminated in nicely machined lockable RCA plugs. As is Rega's way, the ground does not "float" (no separate ground wire), which means you cannot use the 'table with balanced-only current amplifier type phono preamps such as the Channel D Lino C 2.0 currently (no pun intended) under review.
Because there's no suspension and just Rega's usual trio of semi-soft footers (these were originally developed for the Planar 6), on what you place the Planar 8 and where it's placed relative to your speakers will greatly affect its performance. Freeman says the elastomer (Santoprene™) used for the feet is sufficiently "grippy" to keep the 'table stable and is sufficiently soft to provide a "sensible" degree of isolation but not too soft, so it won't damp the entire turntable, which he says would be "…really quite bad." It's quite complex molding with many hollow sectional areas within. It's quite light for a foot of its size according to Freeman.
Available Cartridge Options and Set-up
Sans cartridge, the Planar 8 costs $3095. With $795 Ania MC (as supplied for review) the cost is $3695 or with the new $1895 Apheta 2, the cost is $4295.The packages save you $195 and $695.
The Ania is Rega's newest MC cartridge. It uses the same complex, hand-wound coil/iron cross former found on the more expensive Rega MCs, housed in a highly rigid, transparent PPS (Polyphenylene sulfide) body instead of the Apheta's of aluminum. This saved a considerable amount of money, but presented serious engineering issues you can read about on Rega's website.
The new design features a powerful neodymium magnet and a coil structure that's hand-wound on an iron cross former that's 50% smaller than the one used on the original Apheta, and thus far lower in mass. The design does without the usual steel suspension tie-wire and rubber damper. The Ania tracks effectively at approximately 1.9 grams (1.75-2.0) and features an elliptical stylus attached to a tapered aluminum cantilever. Output is .35mV, suggested load is 100 ohms.
Like all Regas, the Planar 8 sets up easily, especially if ordered with cartridge pre-installed. I won't go through it other than to post here the PlatterSpeed app results showing that the platter ran slightly slow, which was confirmed using a reliable strobe disc. You'll have to trust me that once adjusted the Planar 8 ran at the correct speed. Also, as you can see, speed stability was very good with variations being of the gentle, not likely to be heard variety. In other words, record eccentricities are more likely to produce audible speed issues than is the turntable's rotational stability.
Pre-speed adjusted speed measurements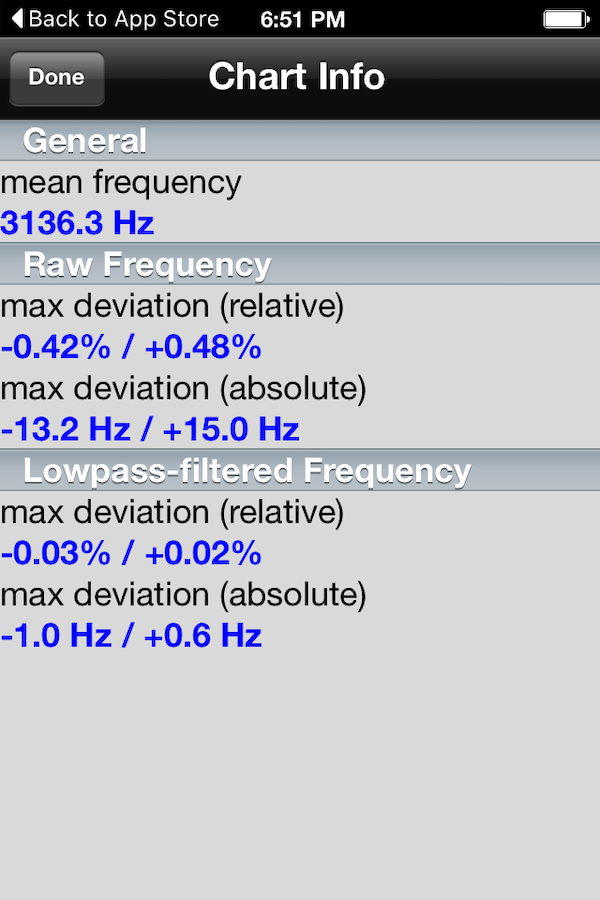 STELLAR SOUND!
That Rega has clearly outdone itself with this new Planar8 was obvious on the very first record played, which happened to be the highly recommended Yuko Mabuchi Trio Volumes 1 and 2 (Yarlung YAR 88157-161V/YAR7 1621-161V 45rpm 180g LPs) recorded to tape using a single AKG C24 stereo tube microphone live in a small club setting.
The combination of the relatively inexpensive Ania cartridge and Planar8 was in every way superior to the original Apheta/RP8 combination especially in terms of obvious frequency response linearity and the turntable's nimble bottom end. The Ania is a breakthrough Rega budget cartridge in my opinion (in my world $795 is "budget" priced, for which I apologize). You can get warmer and softer and more bulbous for $795 but more honest and observationally linear? I'm not sure!
This combination delivered uncommon tonal neutrality at this price point but even more impressive was the dynamic expressiveness, especially of the micro-variety that gives music a sense of "real life" as opposed to recorded. Low-level detail resolution was also outstanding. The combo delivered well the subtle sense of the acoustic space picked up by the C24 microphone, putting the listener convincingly (me) in the club.
Moving to another well recorded jazz album that needs a review (and will get one): The Jamie Saft Quartet's double LP Blue Dream (RareNoise RNR095LP). Conceptual shorthand: imagine taking Coltrane's classic 60's era quartet, removing Coltrane and inserting Ben Webster (tenor saxophonist Bill McHenry).
This group produces a great deal of drive, power and drama on an album of pianist Saft original tunes. The tunes are a mix of mid-tempo ruminations (Saft originals) and elegant ballads (standards). What the Ania/Planar8 didn't deliver in terms of large scale slam and bass weight compared to the far more costly reference rig (with phono preamp to match), was more than compensated for by its imaging and staging finesse and overall tunefulness. Bradley Christopher Jones's acoustic bass was very well-presented as was the harmonic structure of Saft's piano—top to bottom along with the instrument's attack and especially the uncommonly deft decay of the notes.
Backgrounds were impressively black and the presentation of the "springy" title tune, which features fast bass runs and splashy, rapid cymbal strikes demonstrated the turntable's energy evacuating abilities.
Meaningful Mods
Not being a fan of the dust attracting felt mat, I switched to a new less costly version of "The Perfect Interface" from Stein Music that costs $248 or around half the price of the original. Yes, it's thinner than the felt original but not so much so that the sonic differences could be attributed to VTA/SRA changes. I preferred "The Perfect Interface"'s even cleaner lines and blacker backgrounds and plan on posting audio samples so you can decide if you agree, or if I'm hearing things!
I also used a variety of cartridges including an old Transfiguration Temper MC, a new Goldring Ethos MC and few MMs that will be covered later in separate reviews. The Planar 8's essential tonal neutrality, its impressive "rhythm'n'pacing abilities and its microdynamic expressiveness revealed each cartridge's individual sonic personality without imparting a global "flavor" caused by the turntable itself.
I used a variety of mid-priced phono preamps as well including the $2400 VPI Voyager (review in Stereophile coming up) and Pro-Ject's versatile and surprisingly rich sounding $599 DS2 USB, which you'll "hear" when it's reviewed using its built in A/D converter. While that unit shaved off macro-dynamic scale (to be expected at $599), was more than made up for by its pleasing warmth.
The point is, the Planar 8 provided an impressively "blank slate" that allowed each associated component be it cartridge or phono preamp to express itself. If you go back and read the RP8 review, accessible via the hyperlink at the beginning of this review, you'll get another glimpse of what this new Rega can do, though this new Planar 8 does everything a turntable is supposed to do, only much better in every way. If you want a warmer, richer sound, get it the right way by picking a complimentary transducer or perhaps a vacuum tube-based phono preamplifier. The Planar 8 will get out of the way.
Conclusion
Rega has taken its core rigidity and low mass beliefs to another level here, producing a turntable that weighs 30% less than the already light weight RP8. If you don't agree with this philosophy there are other "weightier" alternatives. However, I think Rega proves its point here by producing an even better turntable than the model it replaces.
Now that you can adjust speed, a major objection is removed. Rega's stated belief in rigidity over adjustability is not a gimmick or a cop-out as some in the comment section under the RP8 review charge. The proof is in the listening and in the off the record conversations I've had with many knowledgeable mechanical engineers. Yes, azimuth and VTA/SRA are desirable tonearm attributes but not at the expense of rigidity because Rega is correct: turntables are vibration measuring devices. If you need to adjust SRA/VTA as I explain in the review, it can be done without sacrificing rigidity.
The comments under the RP8 review indicate deep Rega resentment among some readers. People complaining about "cheap" cartridge clips are misguided. The ones Rega uses are low mass, but not "cheap" and with care they should not break off. I've never broken one off because I don't ever force the clips on. I carefully widen them if need be by inserting in them a toothpick. The wire to clip joints on the RB880 arm appear to be greatly improved over earlier "blob of solder" types. I'm not sure if anything in the $3000 price point provides better value than Rega's new Planar 8 both for how its made and especially for how it sounds. It's not quite built like the Naiad, but then it doesn't cost $40,000 or whatever that unbuildable design costs. Thankfully much of the R&D applied there has been brought down to earthly prices. If your goal is to play and enjoy records and not worry about "tweaking", the Planar 8 is easy to recommend. At this price point it's a major sonic and structural step up for Rega and it runs at the correct speed!
Please listen to the interview with Rega's Phil Freeman:
Phil Freeman on Rega's new Planar 8 turntable
.
<!- ------------------------------------>