Fluance's RT85 Turntable Is a High Value Proposition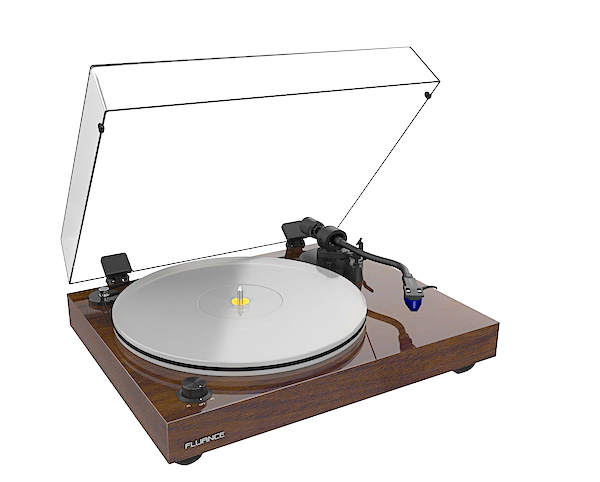 Canada-based Fluance's
$250 RT81
reviewed here a little over three years ago was a pleasant surprise. It offered reasonably good mechanical and sonic performance as well as useful convenience features and attractive looks. Fluance's new RT85 Reference turntable doubles the cost to $499.95. Is it twice as good?
It doesn't take a turntable forensic genius to note that the RT81 is manufactured at the same Taiwanese factory that produced the $1099.99 Thorens TD 402 Direct Drive Semi-Automatic turntable that back in November took a review beating here.
It turns out, so the company claims, that the review sample was meant only as a photography sample and should not have been sent for review. That explains at least the loose tone arm bearings that contributed to pretty miserable sound.
That $1100 turntable included a $50 ATVM95E cartridge. The $499.99 Fluance RT85 comes with a $236 Ortofon 2M Blue. How can Fluance manage a $236 cartridge in a $500 turntable? Perhaps as the old joke goes, they lose money on each one sold, but make it up with volume.
Of course, that's not it but no doubt Fluance has chosen a relatively low margin business model that gives consumers high value. This is a vinyl-centric website not a business site so back to business!
The Fluance RT85's plinth-mounted servo-controlled D.C. motor isolated via a six-point rubber decoupling ring and powered by an outboard "wall-wart" type power supply drives the 12", 3 pound acrylic platter at either 33 1/3 or 45rpm, via a flat belt placed around its periphery. The spindle bearing protrudes from a plinth opening hiding from view the bearing's support structure, which must be relatively high mass given the 'table's almost 17 pound total weight. The plinth itself, available in either gloss wood or gloss black finish, though of relatively high mass MDF (compared to wood) can't alone account for most of that weight even considering the platter and motor weight. The plinth sits one three height-adjustable elastomer feet.
As you can see in the photos, the combination of a tapered spindle base that appears to be of brass and a brass bush within the platter hole add both precision and stability to the platter/bearing interface—a nice enhancement considering the 'table's price point not to mention the $236 cartridge!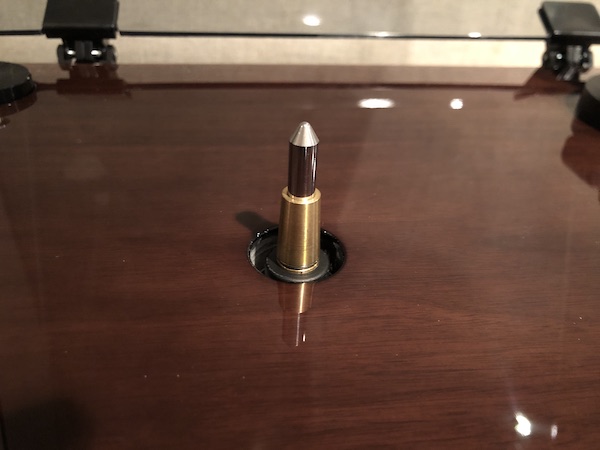 The static balanced "S"-shaped approximately 8" arm terminated with an H-4 Bayonet mount head shell has an effective length of 224mm, an overhang of 19.2mm and a relatively high effective mass of 28.2grams by my calculations, the arm is slightly too heavy for the cartridge's relatively high compliance, putting the system's resonant frequency at around 7Hz or one Hz below the ideal 8-12Hz range. However, in practical terms it is not problem). The pre-installed cartridge is sensibly set for Löfgren B alignment.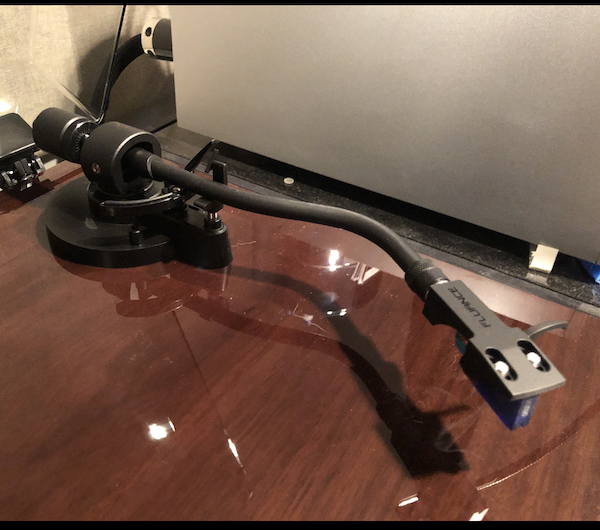 The arm is not adjustable for either VTA/SRA or azimuth but at this price point it can be argued that rigidity is preferable to adjustability.
Fluance gets props for its specification-rich, well-written instruction manual. The arm features the same defeatable auto-start/end of record stop system found in the far costlier aforementioned Direct Drive Thorens TD 402.
Speaking of which, please look at these Platterspeed app measurements: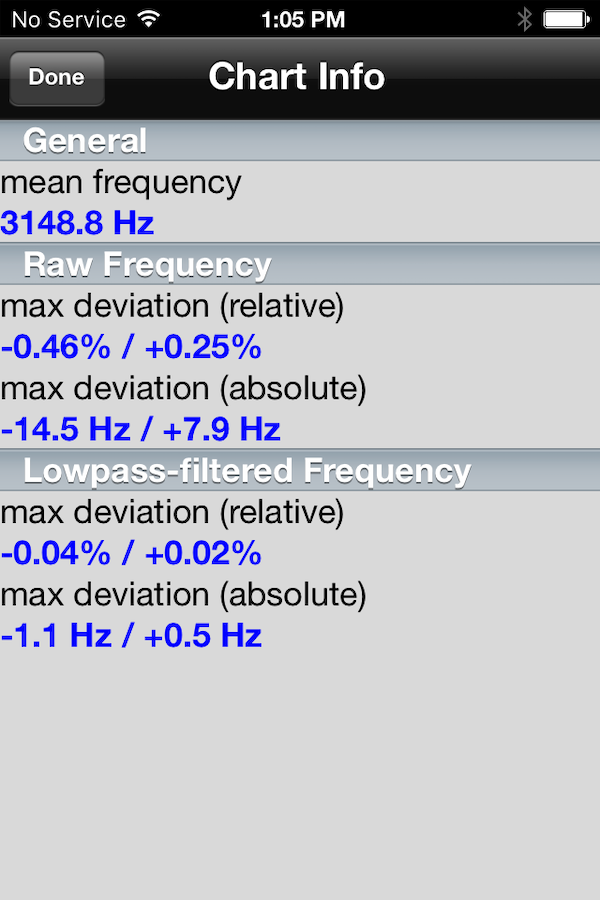 As you can see, the low-pass filtered results (green line) are remarkably consistent and even the raw frequency results are within a small range. The numbers back up the chart. These are outstanding results at this price point and beyond and of course the platter spins at the correct speed (1.2Hz lower than spec is a meaningless difference).
Accessories include: a tinted, hinged dust cover, a bubble level, 90pf low capacitance RCA output cables, and a ground wire. A protractor is printed on the manuals back page, which, if you carefully cut out and punch out the spindle hole, should be reasonably accurate. The RT85 does not include a built-in phono preamp, which I think is a good idea. It keeps the cost down and lets the buyer choose his or her own. The RT85 comes with a two year parts and labor warranty.
<!- ------------------------------------>