Pro-Ject T1 Phono SB Turntable—Born of Frustration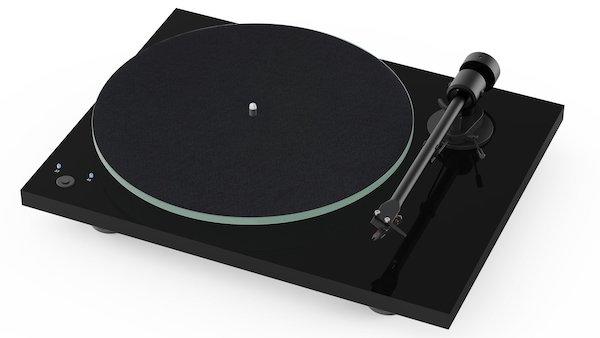 Pro-Ject's Heinz Lichtenegger pulled me aside at High End Munich 2018. He appeared agitated—not the usual easygoing (but intense) demeanor of a guy who in the early 1990s bet the farm on analog and won—bigtime.
"These cheap plastic turntables from China are hurting my business…." he began. His biggest concern was not the small bottom line incursion into his expansive product line that's grown to include digital and tube electronics, amplifiers and speakers, but rather that people buying cheap plastic "starter" turntables would have a bad vinyl experience.
Cynics might think his primary concern was the bottom line, but they don't know Heinz. Though at the time he feared he'd not be able to compete in that market segment with a product worthy of the Pro-Ject name, he's come up with the T1—a physically attractive, high performance, well-constructed turntable that's competitively priced and built to "no plastic" higher construction standards.
The T1 is available in 3 editions: the standard "no frills" model ($329), the T1 Phono SB that adds an electronically regulated precision-speed A.C. motor with push button 33 1/3/45rpm speed selection and a built-in switchable MM phono preamplifier ($399) and the T1 BT that adds Bluetooth streaming ($449). The review here is of the T1 Phono SB, though the less costly T1 is very similar and also includes an Ortofon OM5e cartridge that tracks at 1.75 grams.
As Mr. Lichtenegger promised, you won't find plastic here. The CNC machined MDF plinth has no hollow spaces inside and the high-gloss black exterior's finish (also available in gloss white and walnut) is uncommonly well-finished for a turntable at this price point. It sits on vibration absorbing feet.
More importantly, the drive system includes a machined aluminum pulley, a precision flat belt, plus a newly designed sub-platter mounted into an ultra-precise 0.001mm main bearing with a hardened steel axle and brass bushing as found in the Essential III turntables. The platter is a new full-sized blasted-glass design.
Pro-Ject designed a new one piece 8.6" aluminum tonearm for the T1 riding on precision bearings with an effective 218.5mm length and 8 gram effective mass. It can accommodate cartridges weighing between 5-10 grams. Tracking force range is between 0 and 5 grams. There's a built-in anti-skating compensation of some sort I was told and no adjustments for azimuth or VTA/SRA, which is fine for this price point where rigidity is more important the adjustability.
Accessories include a hinged dustcover, felt mat, overhang and tracking force gauges a 45rpm adapter and a set of "Direct soldered" low capacitance Connect it E phono cables.
Holy Crap! Look at These Speed Measurements!
You don't expect great speed consistency or accuracy at this price point, but you expect reasonably good, right? I couldn't believe what I saw when I looked at the Platterspeed app's report: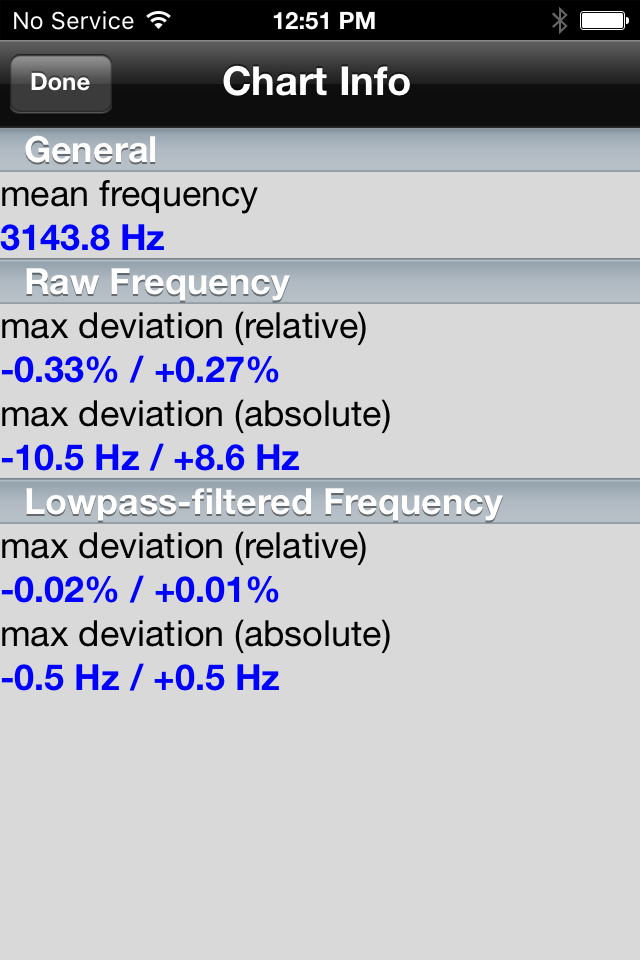 You see measured speed consistency performance from few if any $399 turntables. Yes, it runs slightly slow but only slightly and the low pass filtered relative and absolute deviations are eye popping to the point where I had to repeat them before believing.
Set-up and Use
The T1 sets up easily. The cartridge is pre-installed and tracking force pre-set. I checked out the overhang and tracking force and both were correctly set—something you can't take for granted. The feet can't be leveled so make sure your platform is.
The T1 is out of the box and playing records in a matter of minutes, making it a great first turntable choice. A somewhat hidden switch mounted on the RCA jack junction box switches between the built-in phono preamp ("line-out") and direct out of the arm to connect to an outboard phono preamp. It comes set for the built-in phono preamp. Speed change at the push of a button is a great convenience.
Warm, But Well-Controlled And Quiet Backgrounds
One of the first records I played was My Point of View (Blue Note BST 84126/B0031882-10) a new and highly recommended "Tone Poet" reissue. It was Herbie Hancock's second outing and features an incredible lineup: Donald Byrd, Grachan Moncur III, Grant Green, Hank Mobley, Chuck Israels and Tony Williams. No kidding! It's worth getting if just for "A Tribute to Someone" a gorgeous ballad highlighted by Donald Byrd. The opening track "Blind Man, Blind Man" (which today would have to be re-titled "Vision Impaired Man, Vision-Impaired Man" is a funky complex number Herbie says in the notes is in the same genre as "Watermelon Man" not that you'd have to be told that to get it, but it's got a lot of doubling going on and I was pleased to hear how well this set-up revealed it—especially where Green and Hancock are in lockstep. The bottom end was well-controlled and the designer or whoever "tuned" the system wasn't shy about letting the bottom end express itself without worrying about a loss of transient bass control, even though the plinth was somewhat "lively to the tap" (but not nearly as "live" as some others at this price point and higher).
The overall timbral balance was super-satisfying if slightly on the warm side but not too much so. Mobley's horn on "A Tribute to Someone" came right out and fully expressed itself on the right channel, while Byrd on the left floated nicely free of the speakers. Seriously, you'd never know you were listening to a $399 turntable—at least until you played the same record on one costing a great deal more. No sonic apologies necessary from this well designed budget 'table.
I'm not sure if anything else at $399 performs this well, which is a tribute to both it, the quality of the Ortofon OM5e and the competently designed built-in phono preamp. I didn't try it but no doubt if you buy this turntable, when the stylus needs replacing you can upgrade to far costlier, higher performance MM cartridge and seriously up the already fine performance.
Why not have a listen for yourself? Here are two excerpts from a new Yarlung Records two part 45 rpm release, Yuko Mabuchi Plays Miles Davis Volume 2 (Yarlung Yar 45591-171V). This live recording recorded to tape in 2018 at the uniquely named Brain and Creativity Institute's Cammilleri Hall features the talented pianist Yuko Mabuchi backed by JJ Kirkpatrick on trumpet, Del Atkins on bass and Bobby Breton on drums. AKG C24 and C12 plus Schoeps M222 vacuum tube microphones captured the quartet. Bernie Grundman cut lacquers directly off the tape recorder—no board in between.
Clearly Mr. Kirkpatrick is in the most difficult position here: it's a pianist's tribute to Miles. She's the star so what's he to do? I think he plays it just right, nicely laying back. The recording does likewise, producing notable front to back depth. One version here uses the T1's built-in phono preamp. The other uses a new $149 iFi Zen MM/MC phono preamplifier. Hear which you prefer (this is not a blind 'test'):
Conclusion
Everything about this low cost, full featured Pro-Ject turntable impressed: the design, construction, feature set, measured performance and of course the sound. Plus, it really looks great! Made in the Czech Republic. No plastic parts. Easy recommendation.
Specs:
Speed: 33, 45 (electronic speed change)
Principle: Belt drive
Speed variance:
33: 0.7%
45: 0.6%
Wow & Flutter:
33: 0.25%
45: 0.23%
Platter: Heavy 8mm, blasted-glass platter with felt mat
Main bearing: Stainless steel/brass
Signal to noise: 65dB
Tonearm: 8.6" aluminum
Effective arm length: 218.5 mm
Overhang: 22.0 mm
Effective tonearm mass: 8.0 g
Counterweight for mass: 5 - 10g (pre-mounted)
Tracking force range: 0 - 50mN (17.5 mN pre-adjusted)
Outputs: RCA Line, RCA Phono
Included accessories:
Dust cover, felt mat, high quality Connect it E RCA Phono cable
Built-in Power Supply: 110 - 240V/50, 60Hz; 15 V DC 800mA
Power consumption: 4.5 Watt max
Dimensions (WHD): 16.3" x 3.9" x 13.8"
Weight: 8.4 lbs.
<!- ------------------------------------>