Resonance's Bill Evans RSD "Double Play"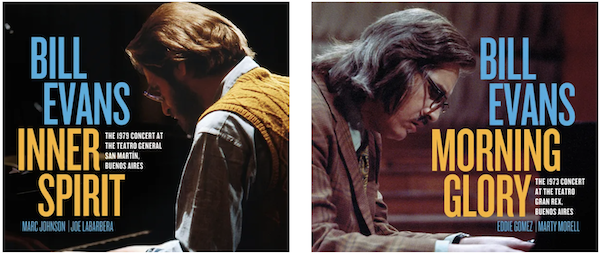 For an artist who passed away at a relatively young age (51) Bill Evans left a
rich and varied recorded legacy
—more music on disc than even the most dedicated Evans fan could possibly consume, yet more rare and often precious gems continue to be discovered and released, particularly by Resonance Records, whose Co-President Zev Feldman is a huge Evans fan.
Evans's prodigious recorded output is easily explained. Unlike many if not most jazz artists, Evans preferred studio solitude to playing in noisy clubs, though of course some of his most treasured recordings were live performances and I'm sure I don't have to name them for most analogPlanet readers.
These two live Buenos Aires, Argentina recordings, Morning Glory from 1973, and Inner Spirit from 1979—less than a year before his death—came to Feldman's attention four years ago through music journalist Roque De Pietro who put him in touch with recording engineer Carlos Melero who was in possession of both tapes.
The recordings had been bootlegged with poor sound and no royalties paid to the musicians and their families. Resonance, of course, honors the musicians and their families and pays royalties, and always goes all out to tell the back stories, which in this case are fascinating and useful for any Evans fan. Sadly, while prepping these albums for release, both engineer Melero and photographer Tito Villalba who documented both tours and provided photos, passed away.
Morning Glory the title of the album documenting the June 24th, 1973 concert at the Teatro Gran Rex—a 2500 seat former movie theater opened in 1937—featuring bassist Eddie Gomez and drummer Marty Morrell took place on a cold Sunday morning at 10:00 A.M.—something you'd not know listening to the performance (thought the album title is a hint), which opens with Evan's contemplative "Re: Person I Knew" (an anagram of producer Orrin Keepnews), which first appeared on the Riverside album Moon Beams. With the exception of Evan's "Waltz For Debby" and "T.T.T." the set consisted of mostly bright covers Evans had regularly performed live and on studio recordings. The group had recently returned from a successful tour of Japan that of course yielded a live album (The Tokyo Concert), and was in high spirits. Plus Evans had kicked his drug habit and was on Methadone and about to get married. The encore was a solo performance of "My Foolish Heart."
Engineer Melero concealed his Revox A-77 and as he recalls in the notes, he had time to ask for permission to record show but didn't. Afterwards Evan's long time manager Helen Keane asked for a chrome tape cassette copy. Melero use a pair of Neumann U87s for the piano (a Steinway concert grand), an AKG dual capsule D224E for the bass and for the drums a pair of AKG C451Es. Melero mixed through a Studer-Revox C279, which he told journalist Roque Di Pietro in 2008 "…to this day, I mourn the loss of."
The tapes required "sound restoration" by George Klabin and Fran Gala, Resonance's go-to tech team and Bernie Grundman cut lacquers from their high-resolution digital files. Unlike some Resonance releases that are of great musical interest but must sonically be "listened through" (such Bill Evans Live at Ronnie Scott's recorded by drummer Jack DeJohnette), the mix here is excellent as you might expect from the above description and the mono mix sounds pleasing with good depth provided by the hall acoustic.
For Bill Evans devotees the 12x12 accompanying booklet alone is almost worth the purchase price, with great photos and fascinating annotation including reminiscences from both Gomez and Morrell plus . The booklet's full sized color cover photo of a smiling, happy Evans is unlike any I've ever seen of him.
Inner Spirit is the one to have if you're only considering buying one. The unfamiliar intro to the opener, the familiar "Stella By Starlight", will surely clue Evans fans into knowing they are about to hear a very different, edgier Bill Evans.
He was in terrible physical condition and would be gone less than a year later, but his strong, probing playing does not reflect that. A glitch in the annotation by WSJ columnist Marc Myers has Evans playing next Gary McFarland's "Gary's Theme", but that's not here (unless it's on the CD version and was cut on the 2 LP set to save space?).
Some readers appreciate personal stories leaking into this kind of coverage so I'll pause here for one: my mother's decorator's daughter married Gary McFarland. This was around 1962 or 1963 and I'd bought McFarland's Verve album Big Band Bossa Nova and really enjoyed his innovative arrangements. My mother didn't know that, but she was telling my father all about the "tragedy" at the dinner table: "What a schlimazel (Yiddish for tragedy)! The daughter just married some goy (Christian), an Irishman noch (yet), a musician, I don't know how he's going to make a living, he's got one eye pointing one way, one eye pointing the other way…." I was 15 or 16 and it confirmed what I was beginning to think about where I was brought up. A few years later my father broke a Modern Jazz Quartet record over my head and that doubly confirmed it.
Evans was in poor health, the audience turnout was low, he'd just separated from his wife and even if you knew none of that, you'd know you were hearing a very different pianist not trying to put a spring in his musical step. Notes cascade downward, he's hitting the keys harder, the dynamic shifts are more pronounced, the silences between notes more profound. This performance presents a Bill Evans every Evans fan needs to hear. Unlike the 1973 concert, some of the "standards" —like Rodgers and Hart's "My Romance" will be almost unrecognizable here, but nonetheless dazzling.
That's all I'm going to write other than to write that it would be worth your while to stand on line to pick up a copy of Inner Spirit. There will be 6500 hand numbered copies of both records available on RSD April 23rd.
<!- ------------------------------------>