Rega Research io Integrated Amp With Built-in Phono Preamp—A Cautionary Tale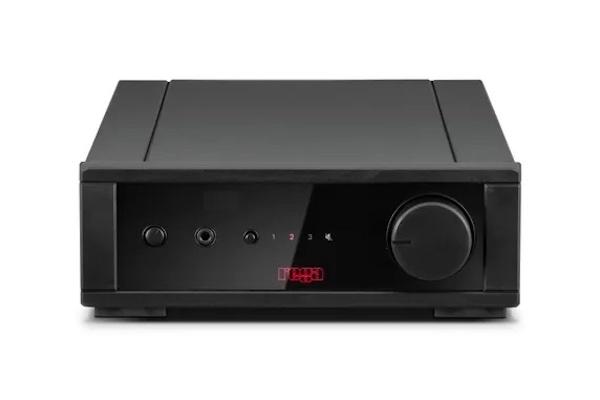 The $725 ($995 CAD) io is Rega Research's entry level integrated amplifier. At 30 watts per channel into 8Ω—compared to the more costly Brio's 50—the io aims toward listeners using easy-to-drive loudspeakers and/or headphones. Featuring the Brio's moving magnet phono preamplifier and class A/B power amplifier stage, the io strives to borrow at a lower price point the Brio's sonic characteristics: wonderful detail, wide dynamic range, and raw musicality. It shares the more costly Brio's high quality "Alps Alpine" potentiometer and linear power supply. Rega even offers a lifetime warranty against any potential manufacturing defects. With its integrated phono preamplifier, two line level inputs, 3.5mm headphone output and remote control, the io offers everything a beginner hobbyist may require… at least theoretically.
The unit's back panel neatly houses the three inputs (two analog RCA line inputs and one phono input, plus ground lug). The integrated moving magnet phono preamplifier is set for a sensible 220pF capacitance. The back panel also holds the AC input and banana plug and bare wire compatible speaker terminals. The attractive glass (or glass-like plastic) front panel houses the unit's volume controller, input selector, on/off button and 3.5mm stereo headphone jack, which outputs 1.6V at 32Ω, 2.4V at 54Ω, and 5.7V at 300Ω. The source impedance is 109Ω. The io's power amplifier stage drives the headphone jack using relays to avoid signal degradation when using headphones.
Rega houses the unit's components within a sleek 160 x 68 x 290mm metal black chassis weighing 2.9kg, the design of which matches the compact remote control. Powered up, the front panel input indicators and company logo glow deep red. Though not the unit's selling point, the io easily passes a visual test and stylistically fits well into any reasonably modern home. However, from a financial standpoint the io must make a sonically strong case against much more affordable and readily available AV receivers.
The AV receiver's deceptive appeal is why entry level integrated amplifiers struggle like no other product type; AV receivers, with their ridiculously low price tags and unbelievable functionality provide tough competition for traditional integrated amplifiers. Believe it or not, many inexperienced audiophiles believe upgrading electronics is not a worthwhile investment. Of course, many who rightly ridicule such foolish beliefs have spending power beyond the entry level price point.
Therefore, an entry level integrated amplifier's key task is demonstrating to skeptics that it offers sound quality far superior to that of competing AV receivers. Failure to do so means another AV receiver is sold. Is Rega's entry level offering a recommendable piece or not? Will it send AV receiver shoppers down the more costly, purpose-specific audiophile rabbit hole we all love diving into?
Over the review period I used both the KEF LS50 Metas (recommended 40-100 watts at 8Ω) and the ELAC Uni-Fi 2.0 UB52s (recommended 40-140 watts at 6Ω). Both are relatively inefficient 85dB loudspeakers. Though the io's 30 watts at 8Ω falls under the KEF LS50 Metas' recommended 40 watts at 8Ω, many dealers regularly recommend an io/KEF LS50 Meta pairing. Questionable as that is, especially when the Brio pairs much better, the KEF LS50 Meta analysis here serves to inform the many KEF LS50 Meta shoppers. For vinyl playback I used the MoFi StudioDeck turntable and an Ortofon 2M Black LVB 250 phono cartridge. Though my speaker wires are generic, I used AudioQuest Golden Gate RCA interconnects and AudioQuest Evergreen RCA interconnects.
The KEF LS50 Metas
The $1599.99 ($2299.99 CAD) KEF LS50 Metas are stand-mount loudspeakers boasting outstanding transparency and holographic imaging. It's this transparency that—through extensive listening—will reveal the Rega io's sonic characteristics.
After two months of constant observational listening, I found The Bee Gees' "Spirits Having Flown" best revealed simultaneously the Rega io's strengths and weaknesses. Instrumentally, the song's initial verses feature both electric and acoustic guitars, bongos, standard rock/pop drums, an electric bass and of course the Gibb brothers' vocals, primarily Barry's. All throughout the verses, the LS50 Meta/io combo perfectly reflected the tune's calming Caribbean-inspired energy. The combo presents with great detail and lifelike proportions Barry Gibb's gentle, airy vocals, while the instruments, whether acoustic or electric, all sound involving and timbrally natural.
The io also delivers decent soundstage width and depth; for example, John Lennon's "Oh My Love" with its extreme right and left channel piano tracks is a perfect track to evaluate a system's ability to convey soundstage width. The LS50 Meta/io combo places each piano track beyond the right and left speakers, just how John Lennon wanted it. However, having repeatedly heard this track—almost religiously so—I must confess I've heard relatively similar-league amplifiers such as Cambridge Audio's $699 AXR100 amplifier place the tune's pianos even further beyond the speakers' extremes. Soundstage depth is equally sufficient, placing singers well behind the loudspeakers. However, when playing multi-layered orchestral pieces like Jacob Collier's "Once You" where soundstage depth entirely determines the orchestra's believability, I've surprisingly heard better using within this same system lower-priced, higher-output receivers like my $650 7.2 channel Onkyo TX-NR626 that outputs 115 watts at 6Ω (two channels driven). That may sound unbelievable, but it's a true observation no doubt produced in part by the Onkyo's almost quadruple power output. Though, the differences are quite subtle and the Rega io's soundstage depth and width supports a believable, three-dimensional illusion. The io takes an intentional approach playing such orderly and acoustic-driven music; calm and pleasing songs like our first example "Spirits Having Flown" please and calm the listener, as the artist wanted. However, large-scale dynamic shifts produce problems.
The "Spirits Having Flown" chorus, in which the volume quickly jumps, introduces a blazing synthesizer; the io suddenly faces a significantly more difficult task and can't quite achieve the desired result. Once the dynamics shift, the air previously surrounding the instruments disappears. Consequently, spatial cues disappear and the musical presentation loses its previously-held distinctiveness. More noticeably, at high dynamic peaks the vocal quality suffers immensely. It's not subtle. What was previously airy and detailed is now piercing and obnoxious. No matter what pressing or format I listened to, the results were the same. Nothing source-wise could alter the io's disturbing dynamic mishandling. Clearly the amp "ran out of gas"; a 30 watt per channel amplifier should not drive a speaker demanding a minimum of 40 watts per channel. Still, I thought to hear what might happen, especially when dealers often recommend the pairing.
The ELAC Uni-Fi 2.0 UB52s
While reviewing the ELAC Uni-Fi 2.0 UB52s I applauded their ability to reveal a recording's flaws while otherwise sounding natural and three-dimensional. I also noticed just how relaxed ELAC loudspeakers sound. As we're dealing with upper frequency troubles, though, a relaxed speaker may evade the high frequency "hardness" Rega's io produced through the KEFs .
Though the Uni-Fi 2.0 UB52s produce a somewhat more relaxed sound on top and might mask some of the sonic difficulties more easily heard through the KEFs, the equally inefficient 85dB ELACs proved too difficult a load for the io to drive when presented with heavy dynamic workloads during well-mastered reference tracks. Again, the paired loudspeakers revealed a choking amplifier, though the problem was less obvious on the more forgiving sounding speakers. As before, vocals were most seriously affected. Perhaps the Rega io would perform better with instrumental music.
I listened to Immanuel Wilkins' elegant "Fugitive Ritual, Selah" off his recent album The 7th Hand, which is a lower volume track. I wanted to hear how the io handled a more manageable large-scale dynamic load. Here, the amp showed me what it's really made of; throughout the song, I heard nothing but pinpoint imaging, gripping transients, and a sublime low end presence. The io made crystal clear subtle volume changes in Wilkins' guiding saxophone melody. Facing this more manageable load, instruments possessed "air" again. I could practically feel the saxophone's damp, woody reed. The music simply had texture. This listening test demonstrated the io's strongest sonic capabilities. Unfortunately, across a wider musical spectrum, these were short-lived moments—at least when asking the low powered io to drive a relatively inefficient speaker.
The Headphone Output
When comparing the Rega io's speaker output with its headphone output, it's shockingly clear what listening crowd this piece serves. Put briefly, while pairing loudspeakers demands more careful thought,the Rega io's headphone output offers a practically foolproof headphone user solution.
Listening through entry level and therefore fitting 55Ω AKG K240 semi-open "studio" cans, the headphone output duplicated all of the good qualities showcased during lower volume loudspeaker experiments. Through the K240s, large and small scale dynamic shifts were more evident, instrumental separation was more obvious, transients remained superbly clean, and most importantly there was no diminution of dynamic peaks. Could the io duplicate through more efficient easier to drive speakers what it managed through the headphones? I can only speculate. It didn't manage that through the on-hand speakers, but through headphones the io demonstrated all of the sonic attributes Rega's integrated amps have always delivered.
Integrated vs. Dedicated Phono Preamplifier
As expected from a company that began as a turntable manufacturer, the Rega io features a phono preamplifier. What I didn't expect from one built into a moderately priced integrated amplifier was one capable of producing palpable midrange richness and three-dimensionality. Singers appeared well-defined in three-dimensional space. Instruments were solid, well defined objects. In these regards the Rega io simply excels. However, compared to my Six Acoustic York phono preamplifier, the io's phono's backgrounds were obviously noisier. The Rega io also sounded rougher around the edges—the York overall sounded more refined. The York also produced superior soundstage depth, width, and height. Of course, the York costs twice as much as the Rega io. Those without a dedicated phono preamplifier will find the io's built-in will serve them well until they are ready for a more costly dedicated unit.
Conclusion
Based on my experiences with the Rega io, it definitely makes for a superb headphone amplifier. Headphone listeners will adore the Rega io's sonic characteristics alongside its small, sleek physical footprint. Those seeking low-level background music may also appreciate the piece's potential. However, given its relatively low power output one must take great care in choosing loudspeakers. Neither the 85dB efficient KEF LS50 Metas nor the ELAC Uni-Fi 2.0 UB52s were well served by the io. Perhaps driving more efficient speakers the io might not produce the listening fatigue I experienced. Those crafting new systems must carefully pair their new Rega io with suitable and efficient loudspeakers. Those with a preexisting system including higher-output AV receivers likely haven't thought as deeply about loudspeaker pairing. If you're ditching your AV receiver for Rega's io, please ensure your loudspeakers are either efficient or you've budgeted for new, more efficient loudspeakers. Pairing inefficient loudspeakers with the Rega io will only send beginner audiophiles back to their AV receivers where a recording's detail, dynamics, and three-dimensionality often die. What's certain is that dealers recommending the io to drive the KEF LS50 Metas are doing their customers and Rega Research for that matter a great disservice.
(Nathan Zeller is a Beatles fanatic and passionate audiophile found in Western Canada. Currently, he's curating his record collection, trying to decide what music truly reaches him. It's an exhausting, though extremely rewarding process.)
<!- ------------------------------------>