AMG Giro MK II Turntable With 9W2 Tonearm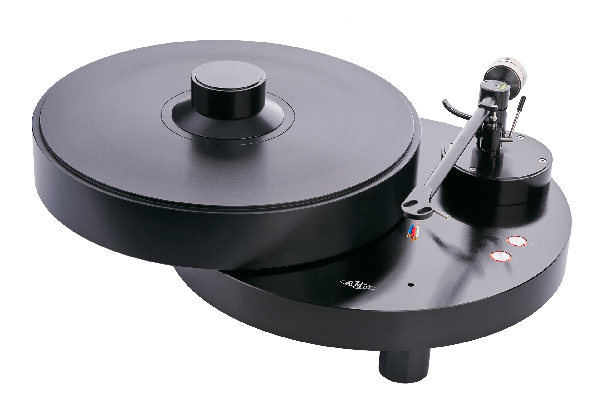 It's time for us to show some love to AMG (Analog Manufaktur Germany), who make Großartig (great, that is) turntables and tonearms. The recently upgraded Giro MK II turntable is the focus of our current platter affection.
AMG, which was founded in Bavaria in 2011, is, as noted above, known for high-quality turntables and tonearms, and the MK II is an upgrade of the company's original MK 'table that was first introduced in 2015. The company doesn't overtax its production lines, as the other two higher-end turntable offerings in their current line are the ones dubbed Viella (28kg) and Viella Forte (48kg). Meanwhile, AMG's tonearm lineup includes 9in and 12in models available as both standard (9W2 and 12J2) and upgraded Turbo versions (9WT and 12JT). The other entry in this tonearm lineup, the 9W1, is a slightly longer 9in arm compatible with Rega's mounting geometry, but it is not typically paired with AMG 'tables.
The platter mass of the 12.8kg MK II turntable has been increased to 5.6kg, and together with the newly developed two-tier coupling area between the platter and subplatter, it is said to (quoting AMG here now) "ensure significantly improved speed stability resulting in a more realistic and engaging musical presentation."
Other features of the nonsuspended, mass-loaded, belt-driven MK II include speeds of 33 1/3 and 45rpm, an ultra-quiet Swiss DC motor equipped with new damping elements, a newly added tonearm base that can be fitted with a wider range of tonearms (that said, the aforementioned 9W2 is a popular/preferred option), decoupled spindle/bearing construction, 40-percent heavier POM (polyoxymethylene) platter, and three adjustable spiked feet (one under the main bearing, and two on the right side of the plinth under the tonearm area).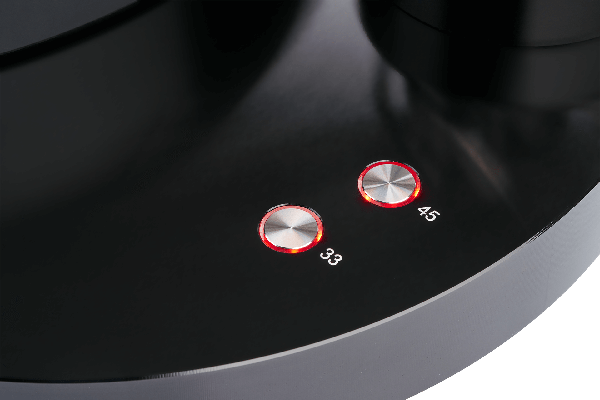 The Giro MK II has an SRP of $8,500, and the 9W2 tonearm has an SRP of $3,800. Though the MK II doesn't come with a standard tonearm cable, AMG offers four options, all made for them by Cardas: Basic ($300), Standard ($600), Reference ($1,500), and Turbo ($2,250). You can also, of course, go with your own cable (as well as your cartridge of choice).
For more about AMG, go here.
To find out where to purchase an AMG Giro MK II turntable from authorized dealers via U.S. distributor Sierra Sound, go here.
AMG GIRO MK II TURNTABLE
($8,500)
Turntable Specs & Features
Speeds: 33 1/3 rpm, 45rpm
Platter: 12in (304mm) diameter, 1.97in (50mm) thick, 12.3lb (5.6kg) weight
Motor: DC
Dimensions (w/h/d): 16.8 x 12.4 x 6.77in (426 x 315 x 172mm)
Weight: 28.2lb (12.8kg)
Finish: Black anodized aluminum
Warranty: 2 years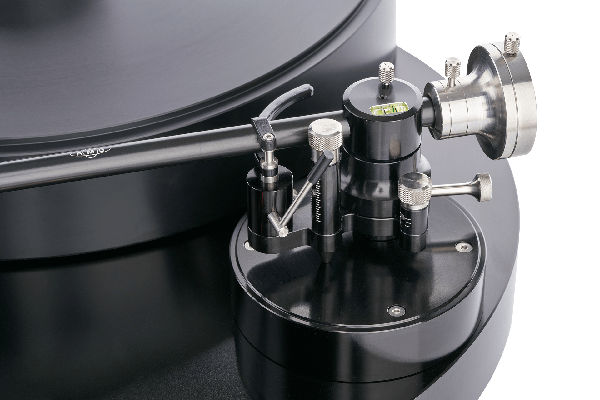 Tonearm Specs & Features (9W2)
Dual-pivot bearing aluminum tonearm
Effective length: 229mm
Pivot-to-spindle distance: 211mm
Overhang: 18.1mm
Offset angle: 24.07°
Effective mass: 9.1gm
<!- ------------------------------------>