Another Splendid Time Is Guaranteed For All Beatles Fans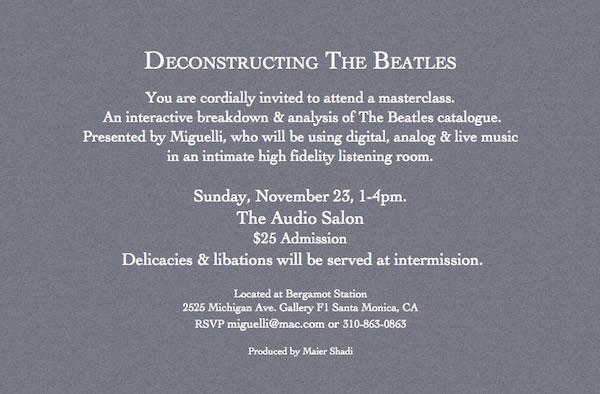 The Audio Salon
In Santa Monica California announced today a Beatles event that sounds fascinating. I'd go if I lived out there.
The producer Maier Shadi is the store owner. He also was kind enough to provide and install the great system used at The Grammy Museum Theater last September to present to the public The Beatles Mono Box set.
The system we used included a Spiral Groove SG-1.1 turntable, Wilson Audio Specialties Alexia speakers, Constellation Centaur mono block amps, a Constellation preamp and the battery powered NAGRA BPS phono preamp.
Most in the audience had never heard music reproduction of that caliber and so the combination of AAA Beatles and that system wowed them. Each tune got applause as if it was being performed live. Good audio can do that. I don't have to tell you.
So this event promises to be one that will sound great and I'm sure Mr. Shadi will have good "delicacies and libation". I asked him who was "Miguelli" and he responded:
Singer/songwriter/producer Miguelli has worked as a vocalist/musician on tour and in the studio with artists as diverse as Beyonce, Billy Joel, Sting, Al Jarreau, Don Henley, Janet Jackson, David Foster, Queen Latifah, Ed Sheeran, Bobby Caldwell, Etta James, Ruth Brown, Joshua Kadison, Mumford & Sons, Barbara Streisand, Vinx, Norah Jones, Joe Lovano, & Seal playing guitars, keyboards and as musical director.
At Avocado Street Studios he has written music for the trailers of "Spiderman 2 & 3", "Bad Boys 2", "Walking Tall", "About Schmidt", "Batman" "The Dark Knight", "Desperado", "Wonderboys", "Iron Man 2", "Fantastic Four", "Chasing Ice", "12 Years A Slave" & "Frankenweenie".
Miguelli holds a doctorate in musicology of contemporary music & jazz history from UCLA, but also screams his head off like a teenage girl at Shea Stadium when it comes to The Beatles.
I'd be there if I lived in L.A.
<!- ------------------------------------>