Boulder Releases, Ships 2108 Phono Preamplifier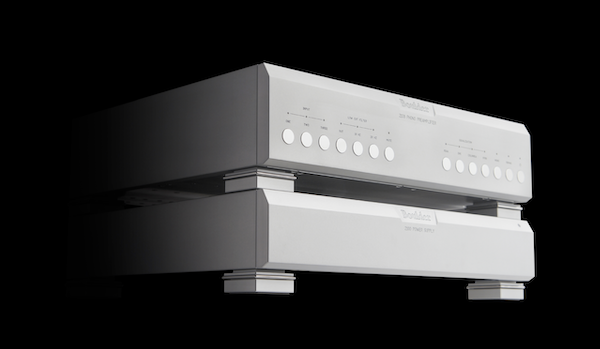 22 February, 2019: Louisville, Colorado
—Boulder Amplifiers announces the immediate release and shipment of its reference level phono preamplifier, the 2108, which is a substantially updated and "re-visited" version of the 2008 that shook up the phono preamplifier market with its versatility, high performance, and high cost.
Boulder claims "Vast improvements have been made in sound quality through the use of better ground paths and planes, revised circuit topology, and lowering of the static noise floor. Increased use of surface-mount PCB technology, manufactured on Boulder's own SMD manufacturing machines and ovens has also yielded improvements in noise radiation, propagation delay, parasitic capacitance and the elimination of lead inductance in selected circuits. It also offers improvements in unit-to-unit quality and consistency with the added benefit of improved long-term reliability."
The 2008 model's additional curve option (FFRR, Columbia and EMI) is standard on the new 2108. The new design included +10dBs of MC gain without a noise floor increase, said to produce substantially improved low-level resolution and dynamic transient response.
The fully balanced, dual mono design includes 3 inputs, each of which has a customizable "Personality Card" that can be tailored to meet the electrical needs of a specific phono cartridge. Dual outputs allow for one to be used for recording.
Other features include a selectable low cut filter with high-pass cut off of 10Hz or 20Hz as well as true mono mode and a set of RCA jacks on the rear panel for a cartridge demagnetization "pass through" function, that can be actuated without removing the tone arm leads from the preamp.
The 2108 Phono Preamplifier costs $52,000 domestically, with export pricing varying by country due to taxes and duties.
<!- ------------------------------------>