A Conversation With The Great Charles Lloyd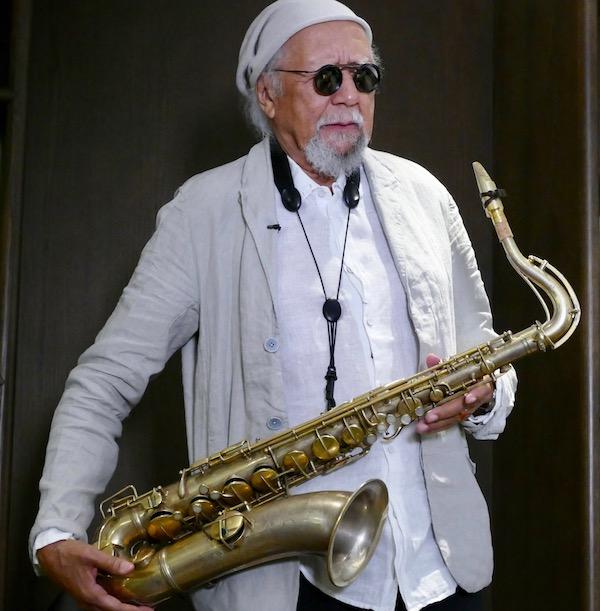 Charles Lloyd
, all I knew was what I heard on record over his 60 or so year vinyl and CD recorded output. That told me Lloyd was adventurous, eclectic, at one time idealistic, spiritual, and you might say over-optimistic, and someone willing and eager to mix it up within various musical genres. He's played with some of the world's greatest musicians both as a band member and as a leader. The latest release, the deluxe box
8
recorded two years ago, celebrated in concert his 80th birthday. Were it not for the Coronavirus outbreak he'd either now be on tour, or preparing to tour and too busy to talk, so getting this interview was kind of a lucky break.
Charles Lloyd's discography is long and varied. As both leader and band member he's recorded for Impulse, Columbia, Atlantic, ECM and now Blue Note. During the conversation I learned of one with Chico Hamilton and Gabor Szabo on Reprise that he really liked and I'd never heard of. A copy arrived last night.
To prep, I went back and listened to what I've got here, which includes two on Impulse with Chico Hamilton, one on Columbia, four on Atlantic and of course a few of the latest on Blue Note.
Ultimately, I decided to concentrate on the two with Hamilton on Impulse, the one on Columbia and the Atlantic period. Why those? There are three very different versions of "Forest Flower" among the three that I wanted to talk about ("Forest Flower" is divided into two parts: "Sunrise" and "Sunset"—which reminds me, Lloyd plays on Cannonball Adderley's Capitol album Fiddler on the Roof [Capitol ST-2216], though "Sunrise, Sunset" isn't among the tunes.
Sure, most listeners know the legendary Monterrey version, which is the one that brought Lloyd popularity well beyond the jazz world but the magic one for me is the early one with Hamilton's group. In between was the one on the Columbia debut Discovery!, which is a powerful album but one that sounds as if Lloyd was being pushed onto someone else's musical bus (or maybe he hopped on voluntarily). The "Forest Flower" there was less spiritual and more muscular. The album features a great line up of musicians in two groupings. The Atlantic era was where Lloyd recruited Keith Jarrett, Jack DeJohnette and Cecil McBee. That stellar group toured the world and recorded often. I though it would be interesting to talk about that group.
Here's the recorded conversation. I apologize for the over modulated voic (mine) but Lloyd's sounds clear. The two levels were very different and I chose to make sure Lloyd's sounded right. After Lloyd and his wife/manager Dorothy Darr listened back and requested a few edits, she suggested I share with you the Chico Hamilton edition of "Forest Flower" on Man From Two Worlds (Impulse A-59) recorded in 1963, with Gabor Szabo and Albert Stinson on bass. So I digitized the vinyl at 96/24 and it's beneath the interview and will remain there unless and until UMe requests i remove it!
You never know what to expect when you call up someone to conduct an interview. In the case of
<!- ------------------------------------>