Eric Leefe Takes the R&R Hall of Fame's Stage For Concert and Documentary Friday January 26th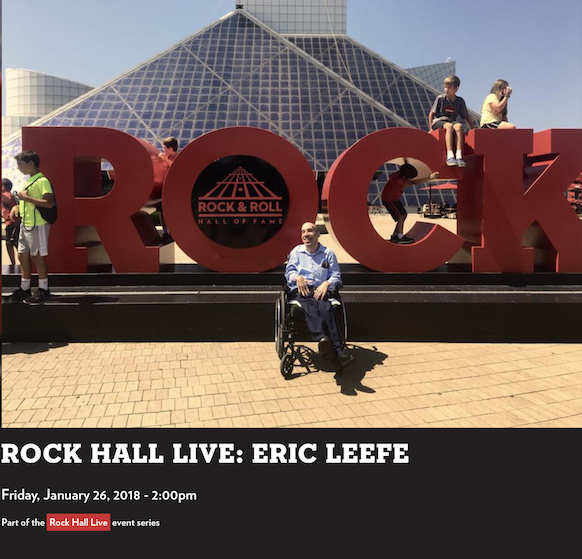 My friend musician
Eric Leefe
will play The Klipsch Audio Mainstage at Cleveland's Rock & Roll Hall of Fame this Friday January 26th at 2PM.
Despite the advancement of his lifelong Cerebral Palsy that confines him to a wheelchair, Eric soldiers on making music. Last year he released a CD Rough Around the Edges, which you can listen to on Spotify by going to the Rock & Roll Hall of Fame's website.
In his younger days when he was in better health Eric gigged regularly, including at CBGB's, in a band featuring Brian Setzer's brother on drums. Eric's father was an RCA recording engineer. For this special appearance, which he claims will be his last (but I don't believe him because he's said that before!), he will be backed by The Rock Hall's education band, the Backbeats.
The concert will be filmed for an upcoming documentary. If you are in the Cleveland area, please try to attend! (I was going to fly out for this but something came up and I can't).
Rock on Eric!
<!- ------------------------------------>
| | | | | | | | | | | |
| --- | --- | --- | --- | --- | --- | --- | --- | --- | --- | --- |
| | Equipment Reviews | | The Gruvy Awards | | Blogs | Columns | | Show Reports | | News |