Hana Umami Blue Moving-Coil Cartridge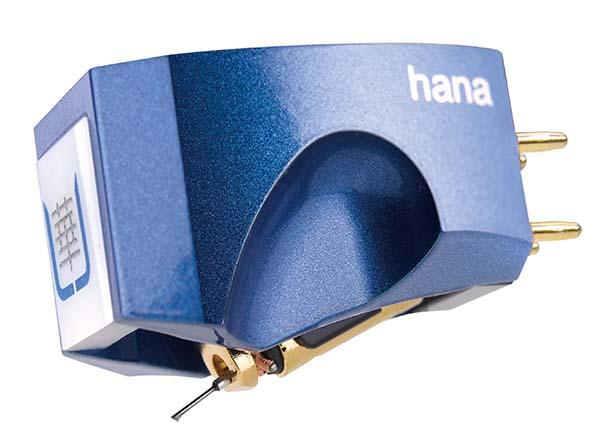 Hana is helping to kick off the month of March in the exact right way by announcing their new Umami Blue cartridge, which follows in the fine moving-coil footsteps (so to speak) of their vaunted Umami cartridge series.
The Hana Umami Blue high-end moving-coil (MC) cartridge comes from Excel Sound's master cartridge designer, Maseo Okada. According to Hana, the Umami Blue "combines the essential ingredients of the Hana Umami Red with the Alnico-based generator of the Hana ML." The Umami Blue also incorporates the Auricle body design that's exclusive to the Umami series.
The Umami Blue's body features a white POM inlay on its front facia to provide damping properties, and it's said to act in homage to the aforementioned Hana ML, the company's first cartridge to use a POM body. Tapped and threaded mounting holes in the Auricle body are further said to "assure secure attachment to the tonearm."
A special Melamine Thermosetting Process (MTP) is used to enamel the Umami Blue's body — which is CNC-machined from Duraluminum — with a brilliant blue glossy finish. The Umami Blue also shares other key Umami Red elements, including a precision-cut Microline Nude diamond stylus, Boron cantilever, and high-purity copper wires.
Finally, the Hana Umami Blue MC cartridge has an SRP of $2,500.
For more about Hana cartridges, go here.
To find a Hana dealer near you, go here.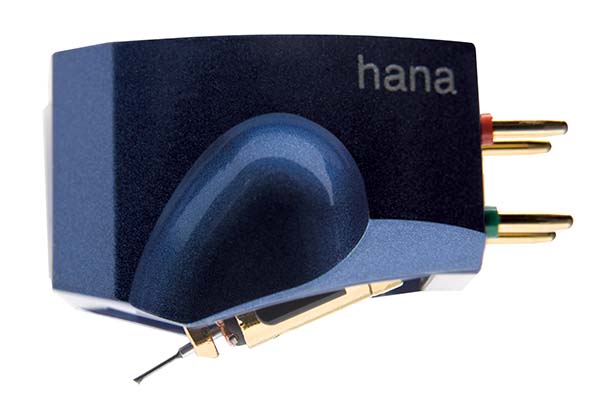 HANA UMAMI BLUE CARTRIDGE
($2,500)
Features & Specs
Frequency response: 15 to 50,000Hz
Output balance: 0.5dB/1kHz
Channel separation: 30dB/1kHz
Coil impedance: 8Ω with 0.4mV output
Load impedance: >80 Ω
Tracking force: 2g
Trackability: 70μm/2g
Dynamic compliance: 10 x 10 (–6) cm/dyne (100Hz); estimated at 17 x 10 (–6) cm/dyne at 10Hz
Output pins: 24k gold-plated
Weight: 10.8g
<!- ------------------------------------>