Harold Bronson's "My British Invasion" Is An Eyewitness to Musical History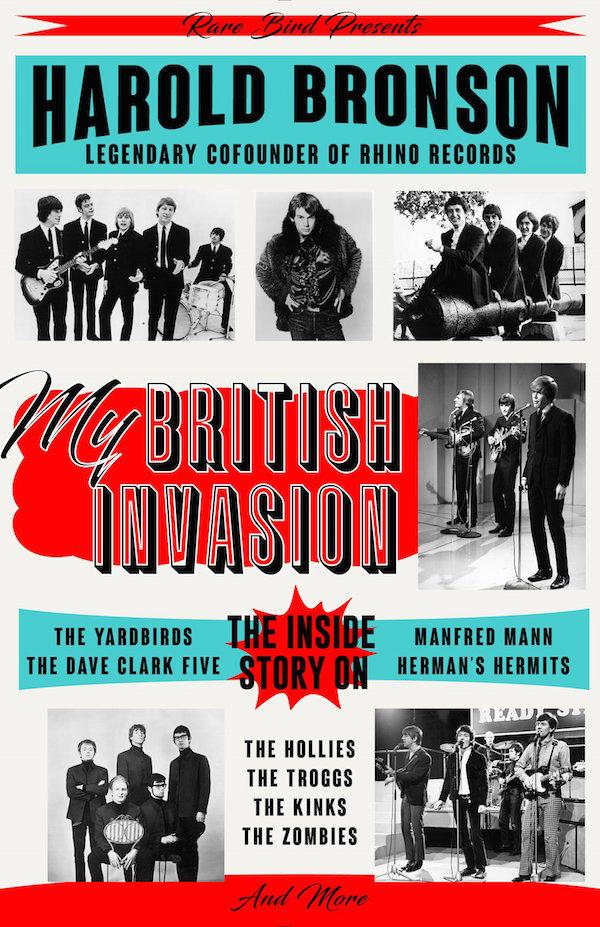 Wavy Gravy (A/K/A) Hugh Romney was reputed to have said "If you remember the '60s you weren't there." The same was true really of the first half of the 1970s, which played out as if it was the late '60s. After all, Woodstock was 1969 and one could argue that
that
was the year that as a cultural phenomenon "the '60s" both began and ended.
Well Harold Bronson, co-founder of Rhino Records was definitely there in the 1970s and he seems to remember just about everything, including date, time, place and more.
In his at once fascinating and frustrating personal memoir, Bronson manages to drop names on every page without at all sounding like a "name dropper" because he's not one.
Bronson began his music biz career in rock journalism while a student at U.C.L.A. writing for the Daily Bruin newspaper. The story begins in the fall of 1971 when Bronson turned 21 and was a year away from graduating.
The way in which this youngster moves with ease from academia into the music business world, meeting executives, interviewing and befriending artists without a star-struck moment, might strike you as unbelievable unless you know Mr. Bronson, in which case you'd think "This does sound like the unflappable Harold".
The names and adventures fly by page-by-page and if you didn't know it was all true, you might think it impossible, but Harold was the right person at the right time. Right person because he never got too caught up in the crazy. He was always the observer who dipped his toe in cautiously, though he also tried his hand at music making and was in a band.
Living in L.A. in that era and being involved in the music biz meant Bronson got to see all of the musical greats passing through town or anchored there but he also got to meet and hang out with the executives—the publicists, the A&R people, the group managers and others.
Bronson moved easily through and within this crowd. He writes about them critically but for the most part non-judgmentally. If you're familiar with the original Rhino catalog of reissues you'll know who Bronson liked and befriended: Kaylan and Volman of The Turtles, Peter Noone of Herman's Hermits and others whose music the label reissued.
The book is a fun read in many ways because of the people Bronson met, the concerts he saw and the activities in which he engaged but don't expect any emotional highs or lows because that's not who Bronson is. He has as a person and as a writer an even keel that doesn't seem capable of being rocked and that's one of the book's charms.
You read it and say you met who? Didn't that get you excited? He was in the U.K. when Gerry Rafferty was recording the Stealer's Wheel records and got to interview him. That would have floated my boat. If any of it did his, little of it comes through on the printed page. But the difference between Bronson's low key voice and the amazing events and people you'll witness through his eyes makes the book that much more fun to read.
Then there's the chapter about Johnny "Rotten" Lydon where we find out Bronson at one point almost became The Sex Pistol's bass player! Pondering that had me laughing out loud!
The chapter on writer/producer Mike Chapman (The Sweet, The Knack, Blondie, etc.) was among the most interesting because it presented a slice of musical time that I for one was not tuned into but there are many more of those.
On the negative side, Bronson could have used a less lazy editor—if there even was one—because his writing falls into a few familiar traps that could have easily have been untangled. He uses way too often the "as" construction: "As I'd not yet…." to the point where it becomes almost comical. "As breakfast had not yet been served", etc.
This is not the writer's fault for not seeing it. It's an editor's fault for not pointing it out but it's not fatal. Also if you've come here for insightful analysis, you won't get much of that. And occasionally I think Bronson loses sight of who might be interested in the book as he (oops there I go!) explains and defines a few things that anyone who buys it will definitely know.
I almost fell off my hammock when he referred to Led Zeppelin and then defined the band as if anyone doesn't know Led Zeppelin (maybe his bubbe doesn't?). There are a few of those but I'm being picky because that's my job.
This is a personal memoire after all. It's not "The British Invasion". It's "My British Invasion" and if you are a fan of the music of that era and of the records because records play a big part in the story, and you want to read a personal story that weaves together so many groups and so much music that was produced and consumed during that magical era (Harold's "British Invasion" was some years after the first one in the mid-60's), you'll find this an easy and very enjoyable read because Harold Bronson was there and you get to see it through his eyes. P.S.: it's worth getting the book for his chapter on The Zombies—if you're a fan of course. I still don't know how he remembered all of the things he's written about here.
<!- ------------------------------------>