Insider Report: Need Shelving? Pangea Audio Serves Up New Vulcan LP Storage Rack and Three-Shelf Audio Gear Rack Options, Just in Time for the Holidays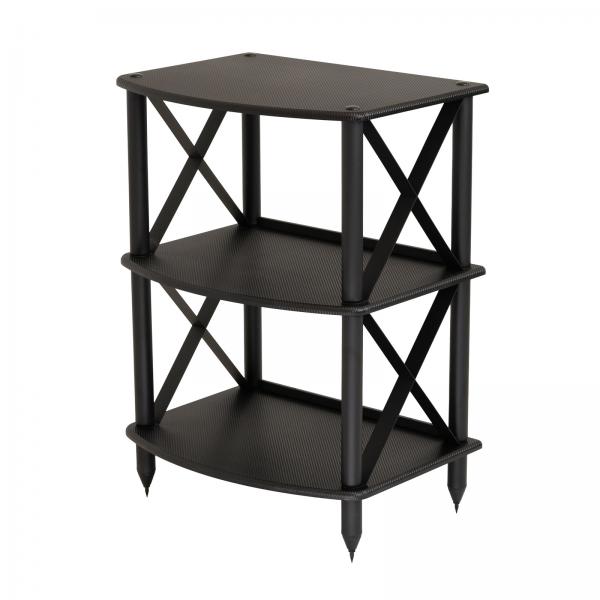 I don't know about you, but I am constantly running out of room to shelve all the new LPs and vinyl box sets I purchase at my local record shops, not to mention what arrives in the mail on a seemingly daily basis (Sundays included). I'm constantly re-prioritizing what gets shelved in my designated A-level wall-to-wall shelving units, so I could sure do with some more vinyl shelving options placed nearby my main listening room and home office area to handle all the new arrivals. With an eye on practical holiday shopping ideas for the AP faithful, I'm pleased to report Pangea Audio offers a new Vulcan LP storage rack, as well as a new Vulcan three-shelf audio gear rack to boot.
To wit: Now shipping from Pangea Audio are both the new Vulcan LP storage rack with a top shelf for optional turntable placement, and the Vulcan three-shelf audio gear rack for smaller systems.
Building on the sleek, rugged design of Pangea Audio's Vulcan audio furniture line, the new Vulcan LP rack ($249.95 SRP) stores up to 200 LPs (i.e., 100 LPs max per each of its two shelves), is available in four colors (black, carbon, espresso, rosenut), and sports a heavyweight top platform to support all but the largest turntables on the market (maximum suggested turntable weight is 90 lbs).
Measuring 33.5 x 23.75 x 18 inches (h/w/d), the Vulcan LP rack is built to hold up to 160 lbs worth of records. Pangea Audio incorporates an X-brace to add strength and rigidity to the frame. As LPs are added to the shelves, the X-brace is said to tighten to increase strength in tandem with weight. The top turntable platform is 0.75-in thick, and it supports more weight than standard Vulcan turntable shelves.
For further information about Pangea Audio's Vulcan LP storage rack, go here.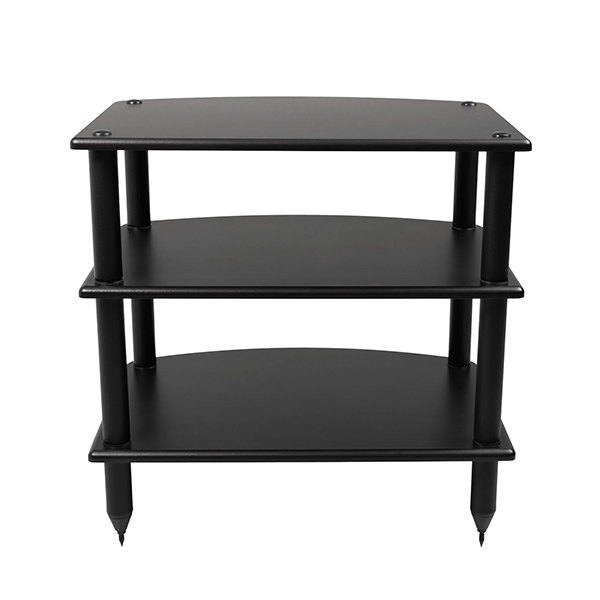 Meanwhile, if you're looking to shelve any audio gear separately from your LPs, it's fair to say smaller systems deserve the same strength and rugged design as their larger counterparts. To that end, Pangea Audio's Vulcan three-shelf rack (usually $169.95 SRP, but currently listed at $149.95 SRP) features all the benefits of the company's popular four-shelf rack including a modular design for adding optional shelves, feet, drawers, and support tubes.
The Vulcan three-shelf rack features steel support tubes connected by threaded rods, said to create a strong, ultra-rigid rack that can be assembled in minutes. Up to three additional shelves can be added if your equipment needs continue to evolve, and the rack comes in three color options (black, carbon, rosenut). Pangea Audio's extra shelf kits are available at an additional charge of $79.95, while assorted replacement post kits cost $34.95.
For further information about the Vulcan three-shelf rack, go here.
As you likely know, Pangea Audio also offers a wide selection of multi-tiered shelves, racks, floor stands, amp and speaker stands, casters, drawers, isolation discs, glide feet, and other related turntable accessory options to meet your own particular shelving and housing needs. Go here for more info about Pangea Audio overall, and go here to find a Pangea Audio dealer near you.
Feel free to chime in below in the Comments section to let us know how you currently shelve your own LPs and audio gear, and what you might be looking for this holiday season — and beyond! — in terms of add-ons and/or upgrades accordingly. Happy shelving!
PANGEA AUDIO
VULCAN LP STORAGE RACK
($249.95)
Specs
Holds 200+ LPs
Modular design for adding or subtracting shelves
Steel frame with MDF shelves
Four color options (black, carbon, espresso, rosenut)
0.75in-thick top shelf
Two 0.625in-thick LP storage shelves
Steel bolt-together stand design
Steel X-braces to support LP shelves
Durable scratch resistant vinyl shelf finishes
Tapered cone feet with carpet-piercing spikes
Set of four mini sonic saucers (to protect wood or tile floor finishes)
Tool-free assembly
Number of shelves: 2 LP storage shelves, plus a top platform
Space between shelves: 13.1in
Total recommended stand storage weight capacity: 270 lbs (122 kg)
Dimensions: 33.5 x 23.75 x 18in (h/w/d)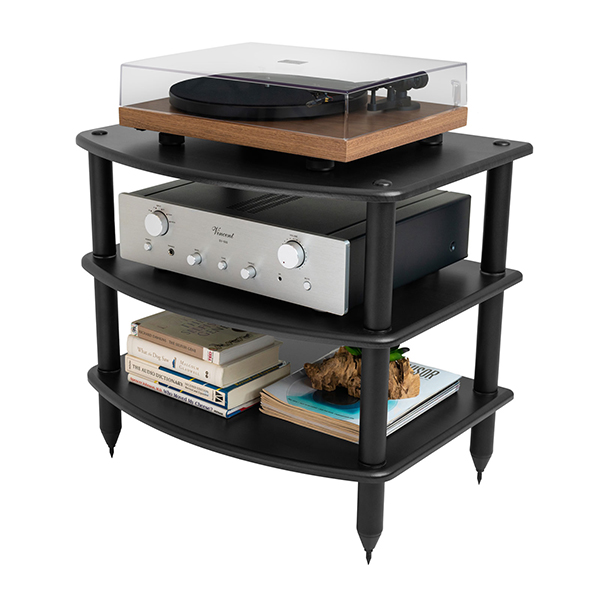 PANGEA AUDIO
VULCAN THREE-SHELF AUDIO GEAR RACK
($149.95; currently discounted from $169.95 list SRP)
Specs
22.5in-tall three-shelf audio component rack
Modular design for adding shelves (up to six shelves total)
23.75 x 0.625 x 18in-thick shelves (w/h/d)
Three color options (black, carbon, rosenut)
Open-air design for component ventilation and easy gear installation/removal
Four steel, scratch-resistant, resonance-resistant black sand powder coat painted support tubes
Tool-free assembly
Steel bolt-together design
MDF shelves wrapped in easy-to-clean vinyl material that resists scratching, scuffing, and most liquids
Front and sides of shelves contoured for streamlined look
Includes cone point feet and spikes for energy transfer and easy leveling
Set of four mini sonic saucers (to protect wood or tile floor finishes)
Optional shelves, feet, drawers, and support tubes available
Overall dimensions: 22.5 x 24 x 18in (h/w/d)
Height between top shelf and second shelf: 7.25in
Height between second shelf and third shelf" 8.75in
Width between shelf supports (side-to-side): 19.4in
Width between shelf supports (front-to-back): 11in
Shelf thickness: 0.625in
Weight capacity: Up to 75 lb (34 kg) per shelf
<!- ------------------------------------>