"Kirmuss Restoration Process" Easier to See on an Edison Cylinder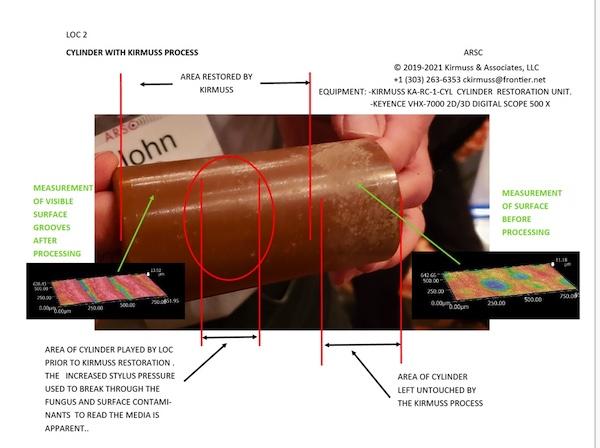 Readers skeptical of the Kirmuss Vinyl Restoration process should examine the above photo. Lately Mr. Kirmuss has been using it to restore Edison cylinders. The results are easier to see here than on a vinyl record.
Kirmuss plans on demonstrating this process at the next ARSC (Association For Recorded Sound Collections virtual gathering. He says 30,000 cylinders are in need of restoration.
I can't see the restoration on vinyl records, but I can definitely hear it. Yes it's time consuming but on your most prized records it's well worth the effort, IMO.
<!- ------------------------------------>
| | | | | | | | | | | |
| --- | --- | --- | --- | --- | --- | --- | --- | --- | --- | --- |
| | Equipment Reviews | | The Gruvy Awards | | Blogs | Columns | | Show Reports | | News |