This Movie May Bore You "Tho" If you Collect Reel to Reel Tapes, Prolly Not!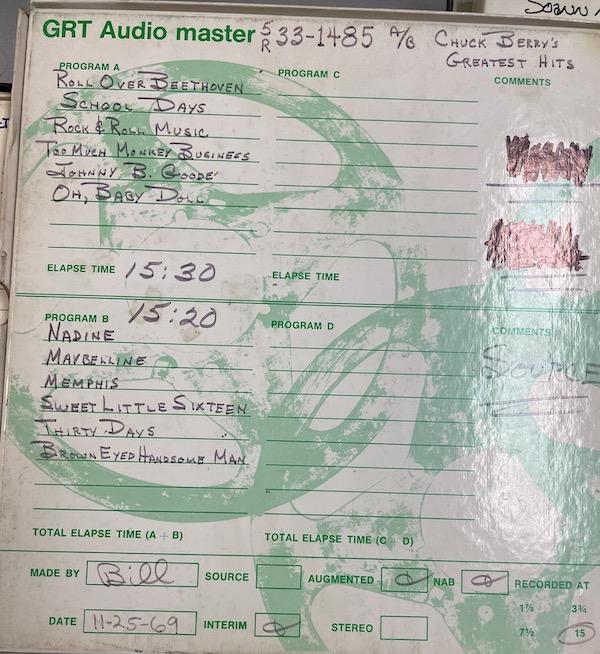 A few weeks ago I visited a woman in Portland, OR whose husband ran tape duplication services for GRT Records (GRT owned the Chess catalog in the early 70s and provided tape duplication services for many labels).
She's had a rough few years and needed help with this collection of 200+ 10" reels, which I'm trying to help her sell. I flew out to Portland to help her. Glad I did. Without intruding upon her personal space, I won't go into details of what she's faced and is now dealing with but I'll tell you that she's a former jazz disc jockey, jazz photographer and was friends with among other musicians Count Basie. She was also a professional clown who twice played the White House. Once for Carter and once for Reagan. Feel free to make your own clown wisecracks here. I'm not going to touch that one!
This video is a reel by reel video catalog of the tapes and nothing more. You might find interesting some of what I found! Or you might be bored. You have been warned!
Also, I flew in and arrived late at night the evening before I started shooting this and it took me a few minutes to get up to speed as you'll see and hear.
I'll say this: she baked and played some of these tapes and they are wow!
I'll also say this: anyone who thinks I'm vain will have to change their mind after watching this video. I'm close up, no makeup, jet-lagged and showing me at my most unflattering angles, but The show must go on! so there you have it....
Plus, once rested and showered I looked like this:

<!- ------------------------------------>