Preaching And The Blues: The Folk Blues Career of Son House Page 3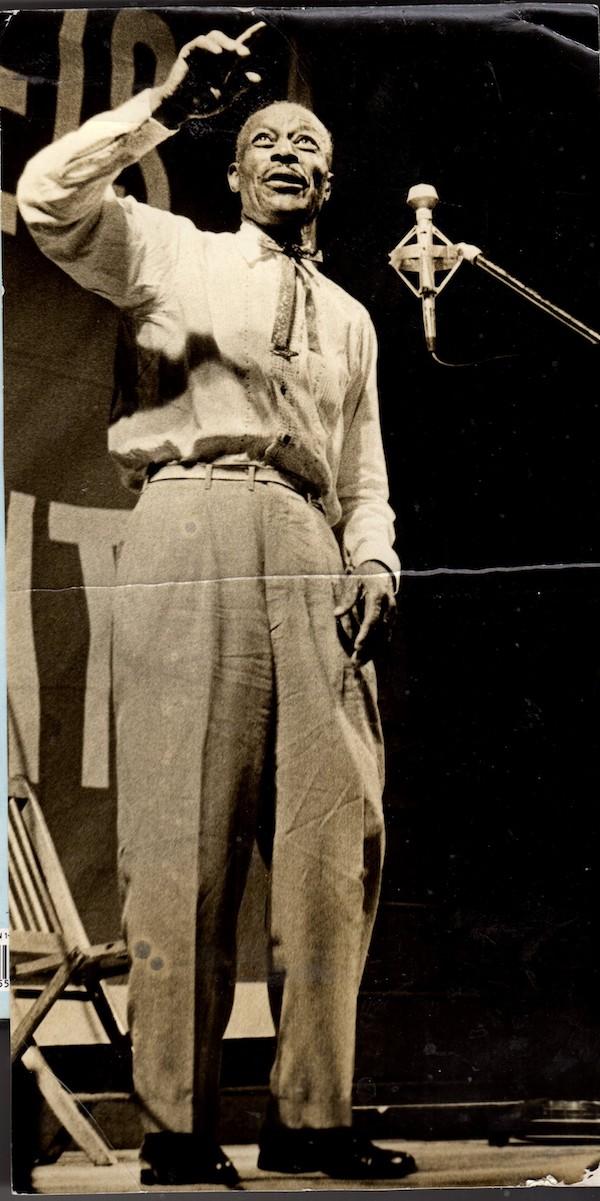 Preaching and The Blues: The Folk Blues Recordings of Son House
Son House's rediscovery recordings are few and miscellaneous. There is one Columbia studio LP,
Father of Folk Blues
; 2 LPs of home recordings,
The Real Delta Blues
and
The Vocal Intensity
; a British live LP,
John the Revelator
; a live LP of dubious origin,
In Concert
; and assorted tracks, mostly live, scattered over various LPs. Here are the recordings on vinyl and a personal response to each.
The Real Delta Blues [14 Songs From the Man Who Taught Robert Johnson] (Blue Goose BG-2016)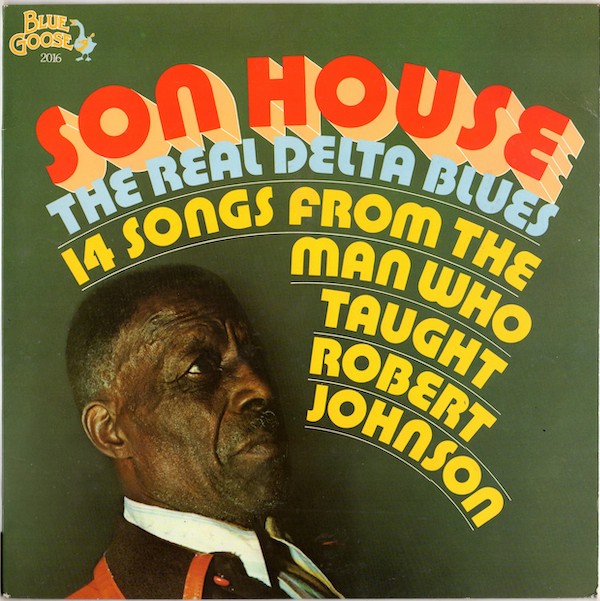 Nick Perls recorded House extensively and these are selections from those recordings issued on Perls' own Blue Goose label. Information on the recordings is scanty. Blues Records 1943-1970 cryptically lists the time and place as "Rochester, N.Y.? c.1964." The liner notes on the LP are even more vague, stating that the recordings were made "in the early sixties…in private homes and a now defunct Washington D.C. coffeehouse." I hear only minor variation in sound quality between these tracks. Perls, a talented audio engineer, recorded many blues artists at his home in New York City's West Village in the living room, using a minimalist two mic style. I strongly suspect that most of these House recordings were made there, probably in late 1964 or early 1965 and, thus, they predate the Columbia LP. Whatever the origin of the recordings and despite the unfortunate hyperbole of the title, this is a superb LP and an excellent complement to Father of Folk Blues. Perls issued this LP in 1974 and was careful not to include any tunes that were available on the Columbia LP, but in 1992 Columbia issued on CD three previously unissued versions of songs that are on the Blue Goose LP. House is in great form and more relaxed in this informal setting than he was in the studio. Tempos are a bit slower, more elastic and the right hand on the guitar, while unmistakably the House flailing crunch, is lighter than on the Columbia LP. His voice is not the one that he used in the studio that could project to the back pew or be heard over the noise of partying jukers but is softer and more intimate. On "Lake Cormorant Blues" which seems to be an early, working-it-up version of the House classic "Levee Camp Moan," his singing is superb with subtle phrasing and varying of his vocal texture which makes the song seem more of a heartbreak song, rather than the harder-edged, "telling her off" version on Columbia. In the second half of the song, after the slide-accompanied first line of each verse, he plays a hard-grooving Mississippi boogie figure of the type Robert Johnson made central to his style, and it works much better than the choppy rhythm on the Columbia "Levee Camp." The version here of Patton's "Pony Blues" is one of House's great performances and a major addition to his canon. Voice and guitar meld perfectly, intertwining and echoing each other with a propulsive forward momentum. The Columbia version was not on the Father LP but came out on the Complete 1965 Sessions CD set. It falls well short of the Blue Goose version's near-seamless beauty, and House sounds tired and bored. "Trouble Blues" was reportedly recorded in House's apartment when he was rediscovered. It's a bit tentative, but an astonishing performance by a man who hadn't played for more than a decade. The tempo is very slow and the vocal is very soft, the House version of a croon, and very mournful. The slide playing throughout is subtle and beautiful and, by House standards, delicate. At the beginning of the third verse he seems to run out of lyrics, or maybe it was planned, he hums along with the slide, and it's absolutely gorgeous. "Mississippi County Farm Blues," was probably performed to satisfy a Perls request and is a beautiful, loose version of his 1930 Paramount recording which House must have been performing from hazy memory as the record was not found until 2006. Perls had many hours of tape to choose from, knew country blues and House's music, and he chose the best performances for the LP. All the music is excellent and much of it is among the best House recordings. While lacking some of the studio intensity and focus of the Columbia recordings, The Real Delta Blues is a more intimate and honest presentation of House's music, like he is playing for himself and is equally essential.
Perls was probably the world's foremost 78 RPM blues record collector and founded and owned Yazoo Records which reissued 20s and 30s blues in the best possible sound quality. He knew what country blues was supposed to sound like and how it should be recorded. The sound quality on this LP is very good and "no frills," the way blues is supposed to sound. Perls used a minimal set up; a Sony C37 for the voice and another mic, probably an AKG, on the guitar running into, reportedly, an Ampex. Voice and guitar sound full, dynamic, and are perfectly balanced in a solid center image with the voice located appropriately above the guitar. While the record cover proclaims "stereo," Perls was either joking or meant two identical channels. While not quite as extended in the high frequencies or as dynamic as the Columbia LP, the recording quality is excellent.
The Real Delta Blues has never been issued on CD. What seem to be recent facsimile LP reissues are for on sale on eBay. The origin of these is unclear. Shanachie Entertainment which currently owns the Blue Goose catalog did not respond to a request for information. Caution is advised.
The Legendary Son House: Father of Folk Blues (Columbia CL2417/CS 9217)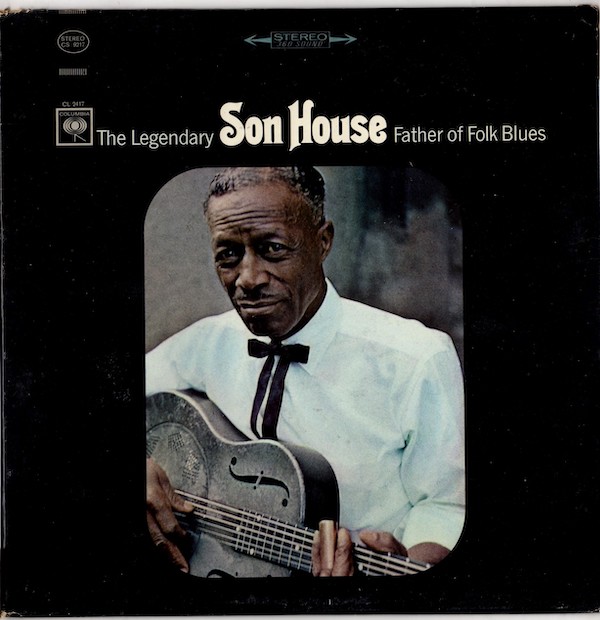 Malachi Lui in March 2019 wrote a review of the Analogue Productions 45 RPM version of this album for AnalogPlanet. Mr. Lui's review is excellent and spot on, so I will confine myself to a few general comments on the Columbia version of the LP.
It is terribly unfortunate that Alan Wilson passed away in 1970 for many reasons and one of the less tragic, but still sad, ones is that we will never get to read his account of his involvement in this session. I strongly suspect that he spent much time rehearsing House for the session and helped him tighten up his playing and singing so that he could make a record for a major record company that might appeal to a "folk" audience and not just the few dozen country blues fans who would not be bothered by floating time, irregular meter, "blues intonation" and use of long-forgotten Black Mississippi slang. Of all the recordings of House, the Columbia LP is the one on which his playing and singing are the most technically "correct." The rhythm feel is noticeably tighter and more accentuated than on any other recording. I also detect Wilson's touch in the arrangements of the songs, especially "Death Letter" and "Empire State Express." Both songs are more coherent narratives than other House songs and use verses that are not from the blues storehouse. They are similar to the country blues styled songs Wilson wrote for Canned Heat, that mixed his own lyrics with traditional verses to tell a story.
Columbia had an option to record a second album which was never exercised. Given that the Father LP documented nearly the whole of House's repertoire and he seemed unable to or uninterested in learning new songs, it's difficult to imagine what another studio LP would have been like. An all-gospel LP might have inspired House and been artistically successful, but Columbia would have turned it down for lack of potential sales. Possibly, Columbia might have wanted an LP pairing House with young folk musicians or, worst of all, one modernizing his sound. The possibility of The Psychedelic Son makes the mind reel. The Father LP is a near-perfect expression of House's music and it's hard to imagine that another wouldn't have tarnished his legacy.
I've heard both mono and stereo original pressings of the Father of Folk Blues. The soundstage throughout is nearly identical, the only difference is that Wilson's harp on "Levee Camp" and guitar on "Empire State" are moved slightly farther from House's voice and guitar in stereo. While the Columbia LP mono or stereo is excellent, I have also heard the Analogue Productions 45RPM, and it is far better sounding in all the important ways.
In Concert (Stack-O-Hits 9004)
This is a live recording of House at Oberlin College on April 15, 1965. He had finished recording the Columbia LP the day before. How did a recording of Son House made while he was under contract to Columbia end up on a label that specialized in cheap comps of well-known artists? I don't know, and I won't speculate. The cover and labels incorrectly list the titles of all the tunes except "Preachin' Blues." For example, "Death Letter" is called "Judgement Day." The liner notes claim that Alan Wilson rediscovered House in 1960 and that House died in "the late 1960's!" I guess the budget didn't extend to hiring one of those snobby blues experts that get all fussy about the names of the tunes and unimportant facts. A proofreader would have been helpful too, because the liner notes inform us that House was a major influence on other great "signers" [sic] like Robert Johnson and Muddy Waters. Who knew that calligraphy was such a common interest among Delta blues musicians? Now that all the sniping is done, I'll say that the album is quite good. House sounds focused (i.e. not impaired by drink) and plays the "hits" of the Father LP for an appreciative audience, staying quite close to those versions. The most interesting track is the last one entitled "Change Your Mind" which is really "Son's Blues," an improvised blues which widely varied from performance to performance. This time, emotionally, it's the reverse of "How to Treat a Man" on the Liberty LP. She left him and he's heartbroken. House is in great voice, making masterful use of his uniquely beautiful falsetto and creating a deeply mournful mood. The album which can be had for relatively low prices is worth purchasing for this track alone. These tracks plus a second version of "Levee Camp Moan" were issued on a two-record set on the King Bee label which I have not heard. (Note: a reissue titled Live At Oberlin College, April 15, 1965 of unknown, possibly unofficial origin recently surfaced.)
Sound quality is not stellar but quite good. It was probably a soundboard recording using the stage mics. While lacking hall sound and any sense of depth, the voice and guitar are well balanced.
The Vocal Intensity of Son House (Roots SL-504)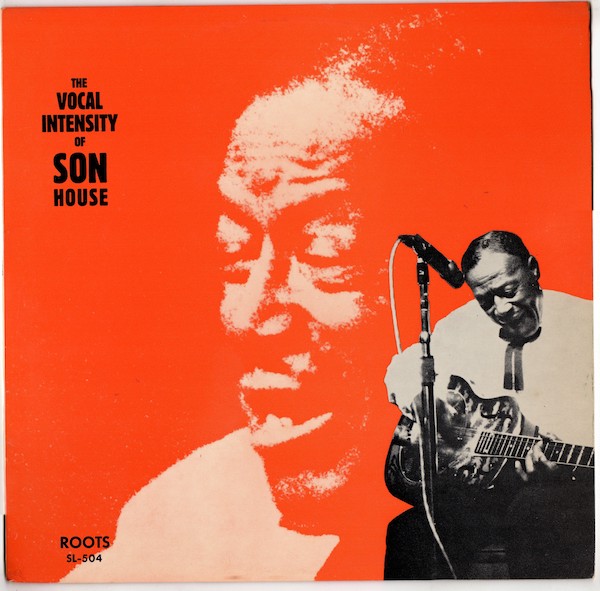 This Austrian LP of recordings of House made at his home in Rochester in September 1969 has never been issued in the US. House is far from his best and on many of the tracks sounds so drunk that his singing and playing is affected. "Son's Blues" is over twenty minutes long, and the expectation that this could be another "How to Treat a Man " from the Liberty LP is thoroughly dashed as House never develops any intensity or momentum. His guitar playing is full of flubs and his time is not so much "floating" as inconsistent. If there could be a boring Son House track, this would be it. House, as always, musters up some passion on "Preachin' Blues," but there are many better versions. It's almost seven and a half minutes long and House loses concentration or just forgets after the first few verses and sings stock verses until the end, which are not related to the theme. The other tunes are barely passable, unfocused, and tend to ramble. This is the House album for completists which is politely saying it's not very good, but if you're obsessive and don't listen to advice…
If anybody's still interested, the sound's not that great either. The balance between the voice and guitar varies and is never really ideal. I suspect the mic used for the voice was not top quality as House sounds thin and lacks presence and resonance.
These recordings plus other tracks were issued on CD by the Document label as At Home: The Legendary 1969 Rochester Sessions.
John the Revelator (Liberty UK LBS 83391)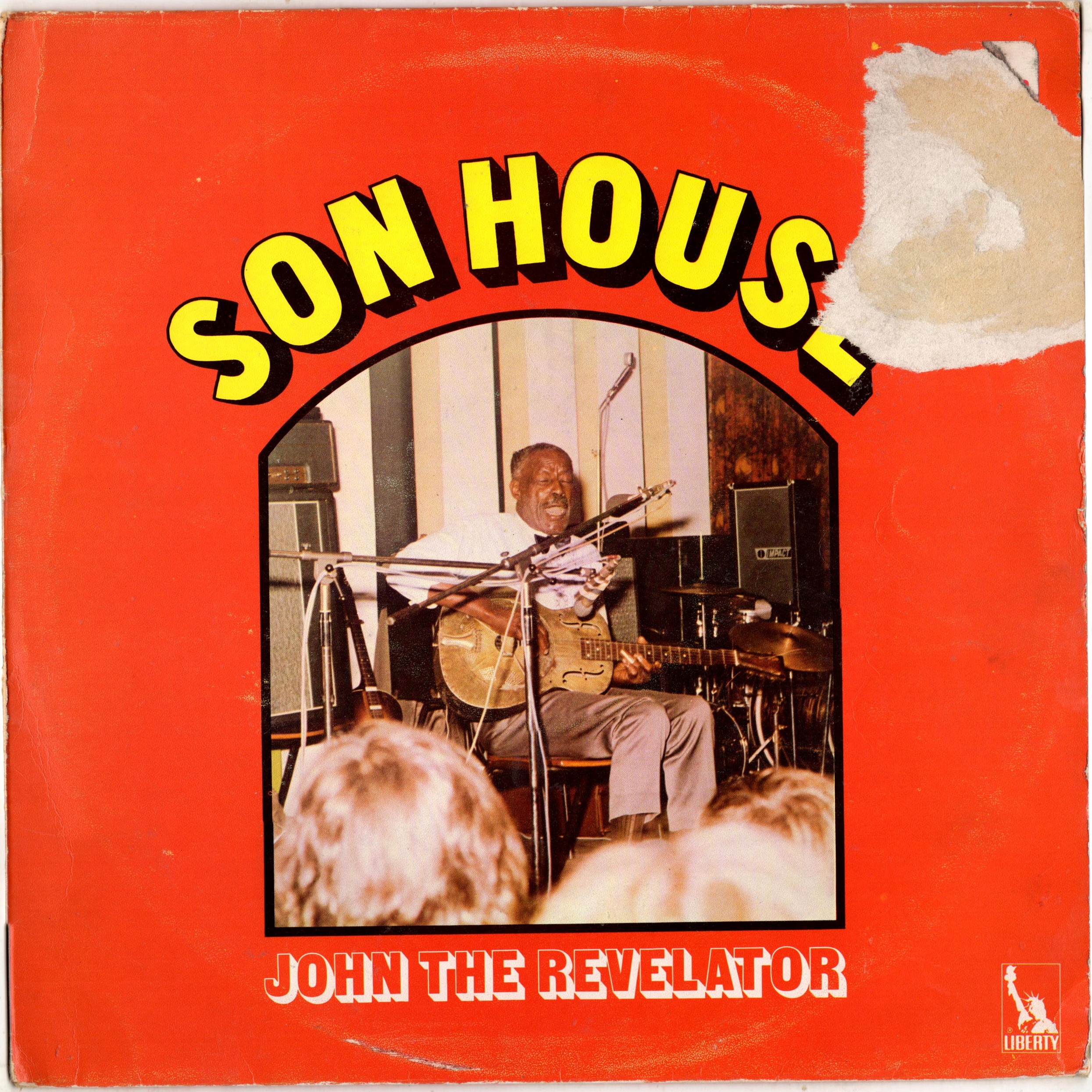 This LP was recorded live at the 100 Club in London on June 30 and July 14, 1970, on House's last European tour and never got a U.S. vinyl release. His voice sounds older than on the Father album, has lost some of its flexibility and range, but is still powerful. The guitar doesn't ring out like it did five years before but his playing is solid and his rhythm is as strong as ever. On all the tunes, House seems focused, relatively sober, playing and singing well, but on "How to Treat a Man," he is truly impassioned as he tells his woman they're through. It's sixteen minutes of increasingly deep and near unbearably intense emotional fury as House is completely gone to a place you and I will never see. Somehow, he makes the line, "You just as sure honey as two and two is four" profound, angry and sad but also compassionate. Then follows it with "When I leave this time, I don't expect I'm comin' back no more." and it might be the most heartbreaking line he ever sang.
It's truly a masterpiece and one of the greatest House performances. Guitarist Dave Kelly accompanies House on the tune and was smart enough to let genius be genius, limiting himself to fills between House's guitar phrases. "Death Letter" is also a strong performance and House's vocal is very forceful and passionate. Alan Wilson, only two months before his untimely death, plays harp on two tracks and his sensitive playing fits in very well with House who was not easy to accompany.
The recording quality is superb. Despite the "stereo" notation on the jacket, it's mono and that's all that's necessary. House's voice and guitar are full, 3-D solid, nicely balanced, and they recorded his stomping feet which are right where they should be at the bottom of the soundstage.
Capitol issued these recordings on CD in the US as Delta Blues and Spirituals. The LP is pricey these days but if you can afford it, you know what I'm going to tell you to do.
Miscellaneous Tracks from various LPs:
Son House and Robert Pete Williams Live! (Roots SL-501)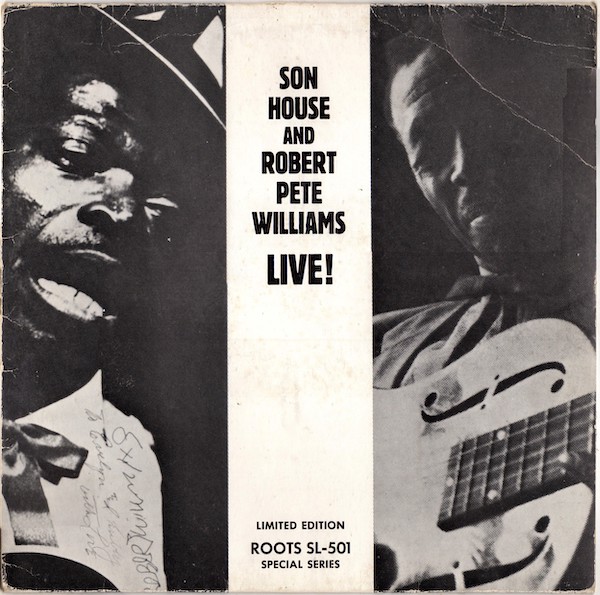 This Austrian LP, never issued in the U.S., features four tracks by House on Side 1. The cover claims that the tracks were recorded live in 1965 at some unspecified location. They sound to me like 1964 Rochester "tryout" or Cambridge rehearsal tracks recorded by Perls with dubbed in applause. I'm not going to speculate how or why this could happen. "Depot Agent" sounds like an early version of "Empire State Express." "County Farm" seems to be an unedited version of "Mississippi County Farm" on The Real Delta Blues. "Pony Blues" has applause in the middle and then there's a tacked on version of the instrumental "Hobo" from TRDB. "Death Letter" is clearly a rehearsal of an early version with mostly stock verses. House can be heard at the beginning saying, "About like that?" referring to the tempo.
It's all a bit mysterious. The music, by House standards, is uninspired. He sounds tired, drunk and is clearly practicing. The sound quality is below average and muffled. A rare record but a disappointing one.
Side 2 is a Robert Pete Williams recording. He and House do not perform together.
Rare Blues (Takoma TAK 7081)
"Preachin' Blues," from November 21, 1964, is included on this excellent collection of tracks by various artists recorded live in Chicago. House sounds nervous here and the passion he usually mustered for this song is missing. He seems to forget some of the words and fills the song out with some stock verses at the end. Sound quality is acceptable but slightly distant and lacks dynamic range and presence.
Festival - The Newport Folk Festival 1965 (Vanguard VDS-79225, VSD-77/78)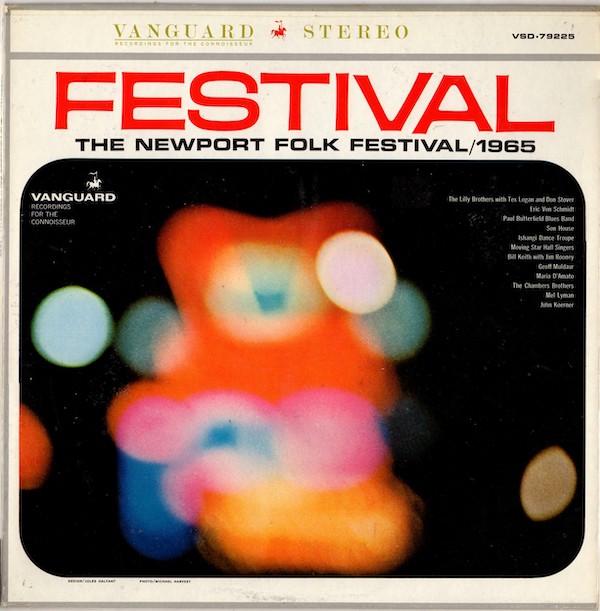 This was the "Electric Dylan" year. House appeared in the second half of the opening concert and reportedly the audience, most of whom were there to hear Joan Baez and Donovan, was polite, but not enthusiastic. Vanguard released "Son's Blues" and "Death Letter" on the Festival LP. House sounds nervous performing in front of a crowd of 10,000 and his usual intensity is missing. "Death Letter" is strangely abbreviated. One hopes that the stage manager didn't have the unforgivable effrontery to signal Son House to cut it short. The next day he appeared at an Alan Lomax "Blues Origins" lecture/concert and performed "Pony Blues" accompanied by Texas bluesman Mance Lipscomb. House's vocal is forceful and passionate, but once again the performance is abbreviated and lurches to a stop just as House seems to be getting warmed up. Lipscomb's guitar lines constantly clash with House's, making it all a bit of a mess. All three tracks were issued on the Great Bluesman Newport comp. The recording somehow seems to have limited the bottom part of House's voice so that he sounds oddly high pitched. [Although recorded in 1965, Vanguard didn't release the recordings until 1967. There's also a Newport Folk Festival 1965 documentary called Festival with some Son House performance footage.—Ed.]
Living Legends: Son House, Skip James, Bukka White, Big Joe Williams (Verve Folkways FT-3010)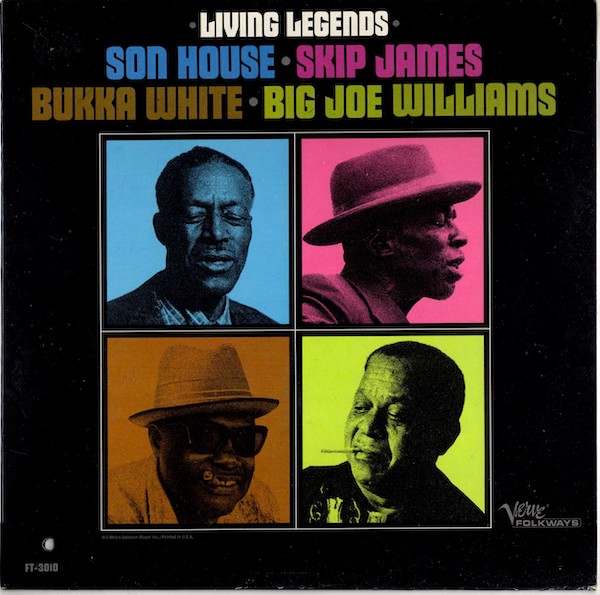 All four artists were recorded at the Café Au Go Go in New York on August 9, 1966, and obviously, giants still walked the earth. It must have been an amazing evening of music and they all sound superb. The House track, "Levee Camp Moan" is House at his transcendent live best. The texture of his voice and his phrasing are astonishingly varied and subtle. Taking the tune at a slower tempo than on the Columbia LP allows more room for the rhythmic complexities of his vocal and for the beautiful sound of his slide guitar to ring out. The recording quality in mono is superb. [There also appears to be a stereo edition—Ed.] House can be heard, playing and singing in a room with his feet stomping and the guitar moving away from the mic as he leans back. If I were fortunate enough to get three magic wishes from the Record Genie, I would gladly expend one of my wishes to have Verve find the tapes of the complete sets by all the artists and issue an all-analog box set.
American Folk Blues Festival '67 (Fontana [Germany] 885 443 TY)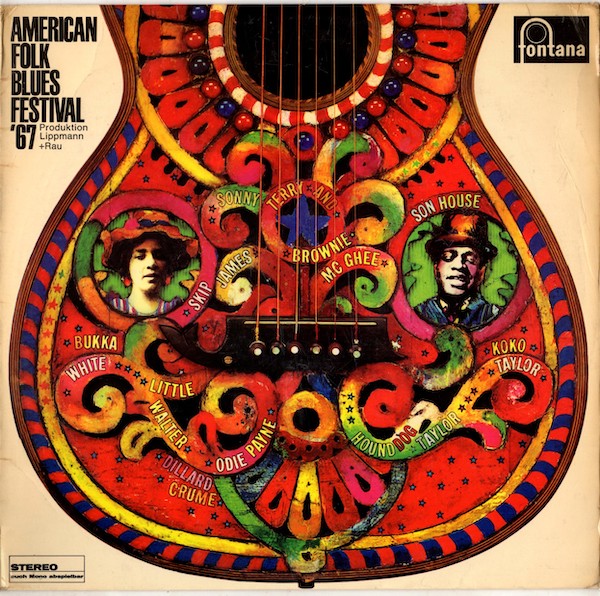 This is a live recording in Berlin on October 15, 1967, of a blues package tour that featured House. His track on the LP is "Death Letter." called "Got A Letter This Morning" on the cover and label. It's an uninspired performance. His vocal lacks his usual power and commitment as if he were tired or very drunk. Some of the tracks by other artists are very fine but this is not an LP to seek out for House.
Giants of country blues Guitar 1967-81 (Wolf 120,911)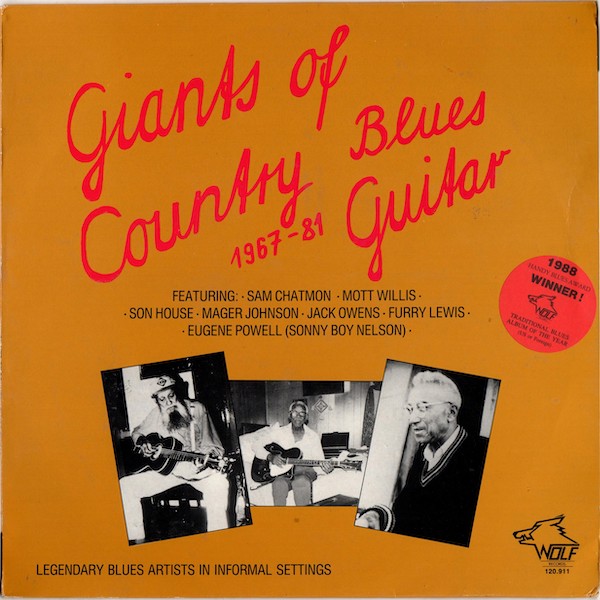 This album contains one House track, "Baby Please Don't Dog Me Around" from the same 1969 Rochester "at home" sessions that are on the Vocal Intensity LP. See my comments above. This track was probably deemed not good enough to be released on that album.
country blues Guitar Festival by Stefan Grossman (Kicking Mule KM 145)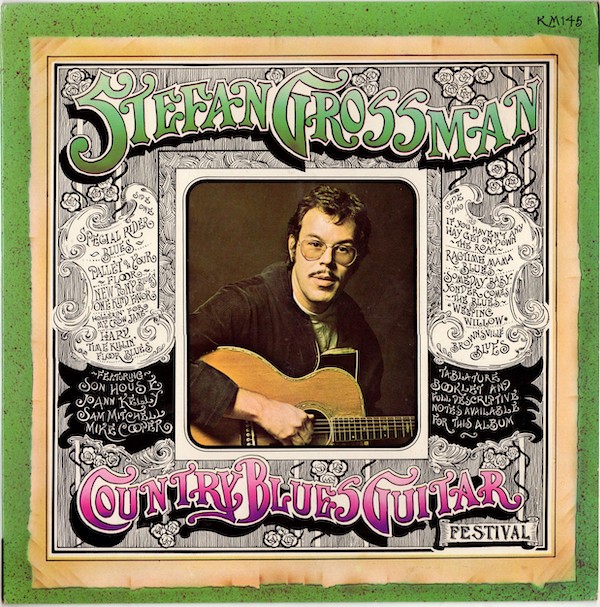 House sings but does not play on "New Pony Blues" and "Yonder Comes the Blues" and is accompanied by Grossman, a master of country blues guitar styles. Paul Rowan on harp is added on "Yonder." The recordings were made in London in July 1970 and according to reference works are House's penultimate recordings. House's vocals are very good, but he sounds constrained by Grossman's playing which, while technically superb, lacks the loose spontaneity and rhythmic freedom of House's. These are two enjoyable tracks that are nicely recorded but they lack the essence of House's music.
The Rest (CDs):
No words are more dreaded here on the AnalogPlanet than "CD Only"? Unfortunately, there are some House recordings that fall into that distressing category. There's a Document CD of a live performance from January 1965. The music is good, sound not so. There's a double CD, In Seattle 1968 on Arcola Records (the archival CD label, not the Warp Records subsidiary) which has some interesting interviews, some unusual tunes and some great music. It's a worthwhile purchase. The last released recordings of Son House are on Been Here and Gone by guitarist Woody Mann on the Catfish label. There are six tracks that feature House's singing accompanied by Mann's guitar that were, according to the CD booklet recorded in "1971/1972." Unfortunately, House sounds extremely drunk, slurring his words, laughing and chuckling nonsensically and even occasionally whooping. There are only a few fleeting moments when he is the greatest of all the Delta blues singers.
Copyright 2020 by Joseph W. Washek
<!- ------------------------------------>