The Records You Didn't Know You Needed---#6: Tubby Hayes The Fontana Albums (1961-1969) Eleven LP Box Set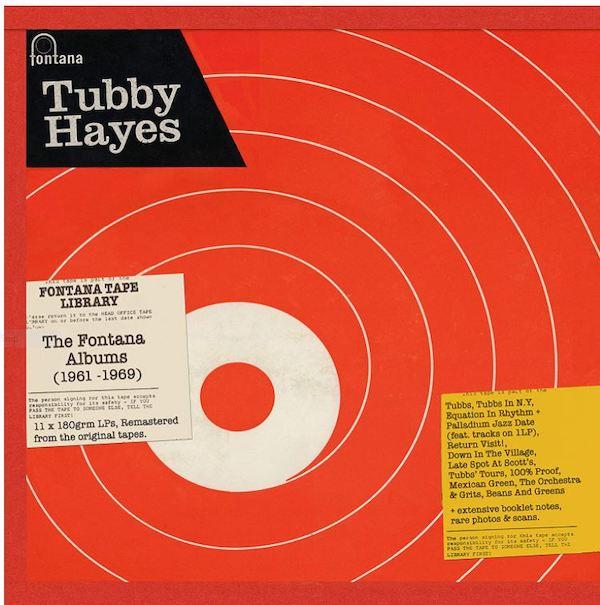 On March 6, 1961, world-class tenor saxophonist and vibes player Tubby Hayes (1935-1973) regarded as the finest musician on the British modern jazz scene signed a contract to record for the U.K. Fontana label. He had previously recorded for small jazz specialist label Tempo. Though the new contract didn't provide for an advance or a money guarantee, Fontana was a major label that issued all types of recordings and could provide for his records better distribution and promotion including possible U.S. distribution. Hayes was the first bop generation British musician awarded a major label contract. Hard as it may be to imagine today, the signing was not only jazz news, but major music news worth of a "Melody Maker" cover story.
Between 1961 and 1970 Fontana issued nine and a half Hayes LPs including two recorded in America, two quintet live albums, two big band albums, one and a half quartet albums, two stray big band tracks, an album split between quartet and big band, and a pop/easy listening album, while also extensively documenting all facets of his music. During the 1960s no other British modern jazz musician of his generation was so extensively recorded.
In December 2019, Fontana Jazz/Decca Records, part of Universal Music Operations Ltd., released in the U.K. an eleven LP, numbered boxed set that included all the Tubby Hayes original Fontana albums as originally released plus an extra album of material from the recently discovered and never released Grits Beans And Greens sessions. The label simultaneously released an MQA CD box set that included additional unreleased outtakes and a pop single.
Optimal pressed the LPs on 180 gram vinyl. The most important information is as follows, quoting from the back of the boxset, "Remastered at Gearbox Records' Studios, London, directly from the original tapes using a Studer C37 ¼ inch stereo tape machine.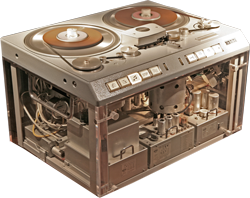 Equalized through an all-valve mastering desk built bespoke for Decca studios in the late 1950s, Vintage Lang Pultech EQ, Prism Maselec EQ, and Telefunken U73b valve limiters from 1959. Lacquers cut on a beautifully restored Haeco Scully Lathe from 1967 with Westrex (Western Electric) head and cutting amps: the same go-to lathe that Rudy Van Gelder used." Caspar Sutton-Jones remastered at Gearbox Records.
The sturdy, heavy cardboard slipcase type outer box slides the eleven LPs in on the right side. An additional inner slipcase further secures the LPs inside the box. Included is a 32 page LP sized booklet of liner notes and photos. The extensive notes by Simon Spillett, saxophonist and Hayes biographer, are among the very best I have ever read.
The covers of the LPs duplicate the original Fontana covers, but they appear to be scans and not made from original artwork. The skin tones in the color photos are slightly "off" compared to the originals. The reissue jackets are not "flip back" like the original Fontana LPs and a line visible on the back jacket bottom indicates that the cover art was scanned. While attractive and not flimsy, the covers fall short of what audiophile specialist labels like Sam Records manage with similar vintage covers (Sam Records' Fred Thomas was friends with the late jazz photographer Jean-Pierre Leloir who shot most if not all of the Sam Records reissue covers¬_ed). All the LPs are encased in "rice paper" sleeves.
All eleven LPs in my box #440 look beautiful. The vinyl is deep black, glossy, and unmarked with no sign of non-fill. The recreations of the Fontana labels are accurate and well done. Most importantly, all the LPs play very quietly, without any significant noise. These are superb pressings and of comparable quality to records being pressed by any of the admired audiophile labels.
I was fortunate to own and have available for comparison, clean original pressings of all the Tubby Hayes issued Fontana LPs. It took me about twenty years to complete the set. I started back in those ancient, long forgotten days of mail record auction lists in the 1980s. Mole Jazz, a London record store, occasionally featured Hayes records on their auction lists and I began bidding on them. After several years of escalating bids, I finally won Tubbs, the easiest one to find and I realized that this was going to be an expensive and lengthy quest. After years of buying, upgrading condition and forever increasing my bids, the advent of eBay made the task quicker, if not cheaper. I bought for $201 in about 2010 Down In The Village, the last one I needed. Total cost for the set was probably over $1000. Today it would be considerably more.
Old man story time is over. Back in the present, the mega online seller, that doesn't need free advertising and is run by the newest astronaut, sells the Fontana Albums box set for less than $200. I bought my set upon issue from an online U.K. seller a year and a half ago and paid more.
All of the Hayes Fontana albums were well recorded. The uncredited engineers did an excellent job. In N.Y., recorded at Columbia's legendary Studio A, is a standout audiophile quality recording. The two live albums are excellent as well and capture the sound and excitement of the band playing in a small club with "front row seat" dynamics and imaging.
I compared all my original LPs to their box set counterparts. Some of my originals were mono and all the records in the box are stereo except for Tubbs In N.Y. and Late Spot At Scott's (stereo tapes of In N.Y. did exist but are apparently lost or owned by U.S. Columbia). Ignoring the noise caused by the lesser quality vinyl used by Fontana to press the original albums and the wear and tear that even clean originals have undergone in the past fifty to sixty years, the box set album sound was at least as good, and in most cases better than the originals. The box set albums had noticeably greater dynamic range, more extended highs and due to decreased surface noise better low-level detail. The sound was warmer, smoother, and more well balanced. Bass was tighter, lower, and didn't have the fuzzy distorted sound typical of poorly remastered records. The box set LPs of Tubbs Tours and In N.Y. (did Fontana only get a copy tape?) sounded very slightly harsher on the high end than the original, probably because the remastered LP fully captured what is on the tape. It was a bit of a disappointment that the box set's Late Spot At Scott's is in mono because the companion LP recorded the next night, Down In The Village, sounds so great in stereo and was a big improvement over my mono copy. Mexican Green, an already exciting and intense album was even more so because of the box set pressing's increased dynamics. The beautiful, clean, mint pressings of the box set albums were definitely a more enjoyable listen. After some thinking, but not a lot of anguish, I sold my originals. I haven't regretted it.
I think, eleven superbly remastered and pressed LPs of very good music, much of which has been unavailable on vinyl for decades, in a box with a great booklet is an incredible bargain at the current online price. The set is supposed to be limited, though I couldn't discover what is the limit. If you have any interest in British Jazz, early to mid-60s hard bop or just great jazz played by one of the masters, and finances allow, I think I have made clear what I think you should do.
<!- ------------------------------------>