Rekkord's RCM Record Cleaning Machine Is Slated for Late-February Availability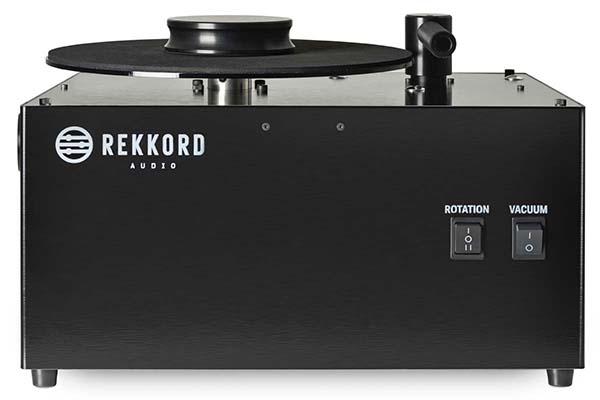 The more we listen to our vinyl, the more we notice how much our LPs need regular cleaning, regardless of whether they're new or used copies. Record cleaning devices range in terms of performance and options, of course, and we will be reviewing a number of them in the coming months here on
AP
. In the meantime, one such device that caught our eye recently is the one now being offered by noted German manufacturer Rekkord, who are set to serve up the appropriately named RCM recording cleaning machine later in February.
The Rekkord RCM, which sports a vacuum motor, is said to "completely" clean records in two rotations, and it utilizes eco-friendly, non-alcoholic cleaning fluid. The aluminium surface is said to be able to withstand excessive fluid spill without compromising the chassis. Rekkord further notes the best cleaning results are achieved with one rotation forward, followed by one rotation backwards.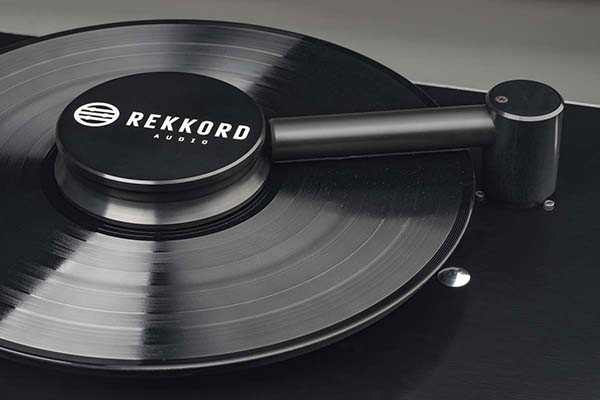 The RCM's heavy puck stabilizes the record during cleaning, so the vacuum arm and motor can work evenly across the entire record's surface. It also seals the record label from cleaning fluid to avoid any potential label damage.
A water-resistant microporous rubber layer protects the platter from absorbing water, intending for the record's bottom side to stay clean after every cleaning run. The solid, chip-lathed vacuum arm is mechanically stable, and focuses all suction power directly onto the record surface without damaging it. Records are paired with the included self-adhesive arm strips.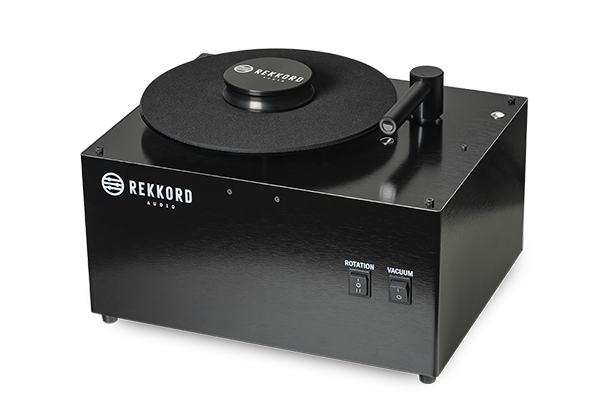 The RCM's 2 liter (2l) internal container collects used fluid, and it's relatively easy to empty. Most of the included cleaning-solution fluid will evaporate in the container, so the frequency of emptying said container is projected to be minimal at best.
The Rekkord RCM record cleaning machine has a Euro SRP of €699, which translates to about $760 U.S., given the current exchange rate. Availability is expected in mid-to-late February 2023. Though we are awaiting confirmation of who might be handling the RCM's U.S. distribution, you can still follow the links below if you want to see about pre-ordering one, either way.
For more about Rekkord go here.
To find an authorized Rekkord dealer, go here.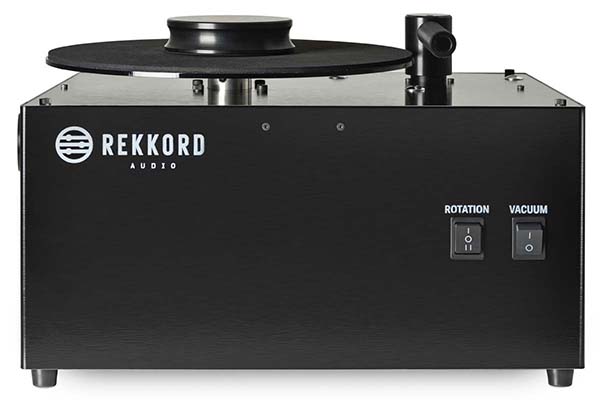 REKKORD RCM RECORD CLEANING MACHINE
€699 (in Euros; $760 U.S.)
Features & Specs
Cleaning speed: 30rpm
Power connection: 110/120V or 230/240V, 50 or 60Hz
Power consumption: 230V/800W, 120V/650W
Dimensions (w/h/d): 418 x 269 x 328mm
LP dries within 1-2 rotations
Aluminum puck
Chip-lathed vacuum arm
Replaceable self-adhesive arm strips
Water-resistant platter with microporous rubber layer
4mm aluminium composite panels
2l (liter) tank for vacuumed cleaning liquid
Removes static load
Removes cleaning fluid, residue-free
Eco-friendly, non-alcoholic cleaning fluid (100ml)
Brush
Power cable
Made in Europe

<!- ------------------------------------>