Talk Talk's Mark Hollis RIP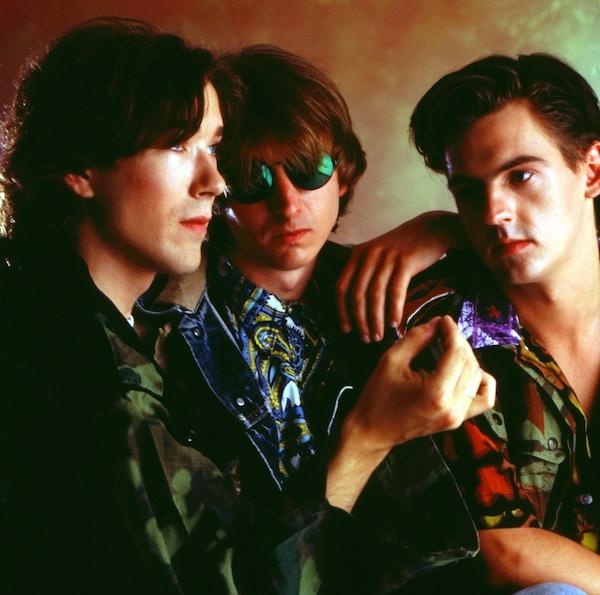 Talk Talk's Mark Hollis (center in photo) has died at age 64 after a "short illness". Readers unfamiliar with the group's astonishing later albums and who lump the group in with late '70s synth bands might not understand why this is news but those who know Hollis's later Talk Talk albums
Spirit of Eden
and
Laughing Stock
surely do. Hollis later released a self-titled solo album recorded with two microphones that ends with two minutes of tape hiss.
While those albums sold poorly upon release they have become costly collectibles both because of the powerful music and the astonishing sound produced by veteran recording engineer Phill Brown, who AnalogPlanet editor Michael Fremer was fortunate to interview two years ago at his U.K. home. Please watch for a greater understanding of Mark Hollis and the uncompromising music he made. Though many Talk Talk fans clamored for the albums to be reissued, especially on vinyl, Hollis wasn't interested in revisiting the past. Now perhaps at some point the albums will be re-issued.
Turntable designer Mark Döhmann and Audio Skies (Pear Audio Blue turntables) distributor Michael Vamos are two big Talk Talk fans, both of whom never needed an excuse to use the group's later albums as demo show material for both the music and the astonishing sound. Vamos sent this heartfelt obit:
Its a day of mourning for music lovers everywhere - (Mark Hollis), ingenious lead singer, songwriter and musician of Talk Talk is dead!!!
People may only remember Talk Talk from their hits, "It's My Life" and "Life's What You Make It", but Talk Talk's last two albums, Spirit of Eden and Laughing Stock are absolute musical masterpieces and something far beyond the norm.
Mark Hollis was Talk Talk's lead singer, main composer and songwriter and played a score of instruments. Talk Talk gained quick success as a Brit Synth pop band in the early 80's, starting with their self-titled single "Talk Talk" from 1980. They released a total of 5 albums, each album becoming more complex and sophisticated. They gained widely critical and commercial success with their third album, The Color of Spring. After their success, their record label told them they could do whatever they wanted. They must have rubbed their hands together with a big grin and exhaled: "Finally!". Because they took their label's words to heart and spent the better part of 87 and 88 recording the radically different Spirit of Eden.
They did not tour Spirit of Eden, there are no pictures on the albums, and the first track starts with several minutes of organ sounds - not a hit in sight. A new genre was born! A mix between jazz and rock, with pauses, tempo shifts and with Mark using his voice as an instrument as part of the soundscape, instead of the traditional lead singer with the music as background. For their last album they changed labels and went even further off the edge of the world, with the even better Laughing Stock in 1991. Mark Hollis released his self-titled solo album in 1998 and then retired completely from music and the spotlight to be with his family.
Talk Talk's last two albums served as a major inspiration for many current bands, including Radiohead and The Doves. I remember hosting a gathering of drunk friends, and suddenly playing the track: "Renee". Guests fell silent, stopped moving, mesmerized by his voice - for a moment we felt like Renee - all listened in silence, mesmerized and hypnotized. Listen to "Renee" and marvel at his voice - hell, listen to any track by him and marvel.
A lot has been said about the brilliant music of their last albums, but Mark Hollis has (sorry, had) one of the most evocative and haunting voices I've ever heard. You can hear the quiet force of his voice, but regardless of how much air he moved, his voice never distorted, A kind of raw force wrapped in warm flowing honey.
In a seldom late interview Mark said "Learn to play one note well, before you play two". His quiet insistence on only doing what he truly loved and not giving in to commercial concerns is quite inspiring and can be widely seen on their last two albums and his own solo album. They are filled with amazing musical treasures, that might not come easy or be for everyone, but if you need a time-out, they will always serve you as welcome oasis in a distracting and hurried world.
Good night sweet prince: And flights of angels sing thee to thy rest!
(Audio Skies will be playing full album sides of Talk Talk's albums in all their rooms, several times a day at the upcoming Axpona show, with special after-hour events to honor Mark Hollis)
—Feb 25th, Michael Vamos
<!- ------------------------------------>