"Turn Up The Radio!" Is Your Father's Day "Go To" Gift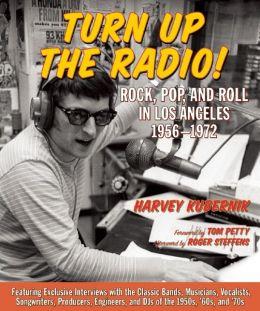 The big problem with "Turn Up The Radio!" Harvey Kubernik's latest book about the L.A. music scene's "golden age" is that as you turn the pages it's almost impossible to not just want to look at the pictures.
You'll read Tom Petty's excellent introduction no problem, but from there Kubernik's recipe—a rich stew of radio personalities, recording studios, recording engineers, studio cats and of course the musical geniuses that fueled the whole thing between 1956 and 1972—becomes deliriously bogged down in eye-popping photos and memorabilia that you've more than likely never before seen and you'll wonder how that can be?
For those of us who cannot separate the music and the musicians from the recordings and the records, and the recordings and records from the engineers and the studios themselves, this book is a concentrated dose of "wow".
"Wow" because so much of what we consider crucial to understanding, appreciating and loving the era is so often neglected and tossed aside as peripheral and not relevant to the "musical purity" in which too many self-righteous music critics bathe. Not Kubernik!
He's created a swirl of all of the elements we and no doubt the musicians too consider key to the never again to be seen, heard or experienced era that we sometimes encapsulate as "the '60s", but of course it really does stretch back to the '50s and forward to the early '70s—and if you were a "hair" band fan or a K-ROCK-er in the '80s arguably through that time too .
As Petty concludes in his intro "Harvey has done a great job on L.A. and its musical jar of lightning. Enjoy." You are guaranteed to do just that just flipping through the pages and seeing people you've no doubt read about but perhaps never have seen. People on the radio side like B. Mitchell Reed or a mustached so young looking Casey Kasem or Art Laboe. There's a photo of Laboe with a young Ricky Nelson surrounded by girls that because of Nelson's charisma looks photoshopped but of course is not.
There's a photo of Etta James that you'll not soon forget and one from 1962 of Nat "King" Cole with Western Recorder studio's famed engineer Bill Putnam that's equally stunning, though only to those of us for whom a recording engineer shares billing equality with the artist and that would be someone who loves records as much as the music engraved in the grooves—and there's nothing wrong with that!
Kubernik splices together anecdotes from Lou Adler, Bones Howe, Bobby Womack, Kim Fowley to move the needle on Sam Cooke and Herb Alpert. Sometimes the weave shows some seams but for the most part Kubernik's blend of artist, record business, radio stations, studio chatter and the like is absolutely sensational, propelled by the great photos.
There's a photo of an unrecognizable Sonny Bono holding a Fender bass labeled "Sonny Bono at a Gold Star Studios session for A Christmas Gift for You from Phil Spector, on which he played percussion and sang background vocals, Hollywood, 1963." Above it the late Jack Nitzsche recounts helping to put together the first Los Angeles Phil Spector sessions. It's page after page of amazing photos and clarifying text that helps explain why there was never a time like this before and never will be again.
The next chapter covers The Beach Boys, Jan and Dean, and Herb Alpert's rise from making records as "Dore" Alpert to playing kettledrums on "The Ten Commandments" soundtrack to going to a bullfight in Mexico with Jerry Moss and you know the rest.
The book is filled with what some would call trivia but you might call glue that holds together what you'd previously known only as disconnected pieces of the puzzle. Andrew Loog Oldham supplies Stones stuff, of course there's a chapter on The Byrds and the folk-rock that developed in Los Angeles and even if perhaps you read some of it in a previous Kubernik book, the context makes it fresh again.
Every band you'd expect to be here is from The Mothers of Invention, to The Turtles, to the Mama's and the Papas, to (of course) Arthur Lee and Love, The Monkees, Buffalo Springfield, etc.. Kubernik talks to Bruce Botnick and tells readers that Bruce recorded the Doors catalog and was at the mixing board for Buffalo Springfield, the Turtles, the Beach Boys and Marvin Gaye. He gives credit where credit is so often not given but is so often due.
There's even a box about David Bowie's famous Santa Monica Civic Center Ziggy Stardust concert that was long bootlegged until it got an official and far superior sounding release.
Kubernik ties it all together with quotes from Bowie about the show, and from Rodney Bingenheimer and even from Kim Fowley.
Bowie says by that time he was Ziggy and that he really "....treasures this bootleg." Kim Fowley relates having been invited to the post concert party at Wolfman Jack's where Bowie stood in the middle of the room with Fowley and Bingenheimer but most attendees were too scared to walk up and say hello. Said Bowie "I'd really like to meet everybody, but they're afraid to come up and say hello. Yet tomorrow at school and in work, they'll tell everybody they were hanging out with me tonight."
In the afterword, Roger Steffens perhaps best known as a Bob Marley chronicler, writes of Kubernik "He's one of the very few people who can assemble so many different strains of music history together in such a compelling weave, because he was not only in it but of it. He knew everybody!"
That's obvious from reading this and Harvey's other books. After reading them, especially this one that swirls them all together into a dizzying but coherent whirl you'll think you too knew "everybody".
<!- ------------------------------------>