Primary tabs
Analog to Digital Converter Shootout: Which Sounds Best? (All Files Now Corrected and Available)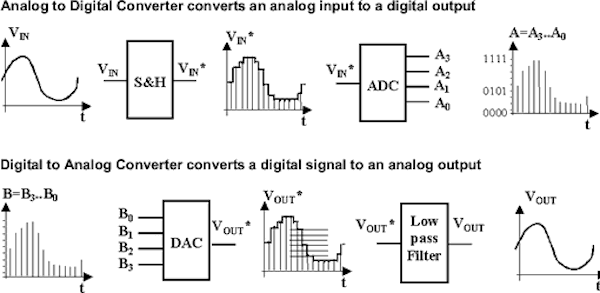 Ed. note: ALL of the files are now as intended including "File 6" thanks to a replacement A/D converter from that company. So please listen to all files and vote for your favorite! lOne more note: there is a very low level of 60Hz hum, not really audible other than on headphones. This is a trade-off I accept because of the open sound of the cable compared to better shielded cables that are not as open.
Here's your opportunity to compare ADCs (analog to digital converters) priced from $300 to $3995. They offer a wide range of features and enhancements that will be discussed in the reviews to be posted shortly.
Meanwhile, below are seven 96/24 files produced by five A/D converters. Why seven from five converters? One, the M2TECH Joplin offers a choice of 96/24 or 96/32 resolution (it can also do the conversion at 384/32 resolution but for the purposes of this shoot out we're sticking with 96kHz).
Of course, though the conversion is at 96/32 the files are both 96/24 but it would be interesting to hear if recording at a higher bit rate and decimating it to 24 bits sounds better or worse than the one converted directly to 96/24.Two files were created using the Lynx Hilo but using different recording chains as described below.
So, what you will be hearing is a three minute excerpt from Vanish an upcoming Yarlung Records release by the percussion group Smoke & Mirrors, used with permission. The record was produced from an analog master tape. The image here is from the DSD version recorded simultaneously using that format.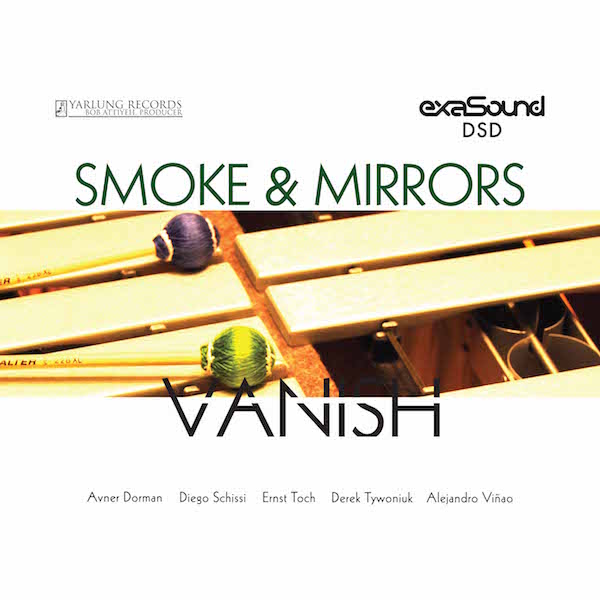 The recordings were made using the Continuum Caliburn turntable and Ortofon's new A95 cartridge mounted on the Continuum Cobra tone arm. The Ypsilon VPS 100 phono preamp and 10L step up transformer was used for six of the seven files. Vinyl Studio software for Mac recorded those six. The USB cable was WireWorld's Platinum Starlight, while the Lynx Hilo connected via an Apple Thunderbolt cable. Do USB cables really make a difference? Perhaps in the near future we'll test that with downloadable files.
One of the files was created using Channel D's Seta® PIccola battery powered phono preamplifier sending a "flat" (no RIAA equalization) signal to the Lynx Hilo A/D converter and recorded using Channel D's Pure Music software, with RIAA applied in the digital domain. So two of the files use the same converter but very different chains.
Lowest to highest price, the A/D converters are the HRT Linestreamer+, ($299.95), the P.S. Audio NuWave Phono Converter ($1,899), the Channel D Seta Piccola ($1,899, or $2098 as supplied including optional RIAA module), the M2TECH Joplin ($2,499), the Lynx Hilo ($2499) and the Ayre QA-9 ($3995).
These units have a wide range of operating features. For instance the P.S. Audio includes a built-in MM/MC phono preamplifier, two earlier versions of which was previously reviewed by analogplanet. The M2TECH includes a MM phono preamplifier as well as a variety of EQ curves. The Lynx Hilo is a pro audio product that's both an A/D and D/A converter. Some of these units are DSD capable but more about that in the capsule reviews coming up.
We chose PCM over DSD because more readers probably have PCM DACs. So here are the seven files. Please listen and vote. These are large files and will take some time to download depending upon the speed of your internet connection.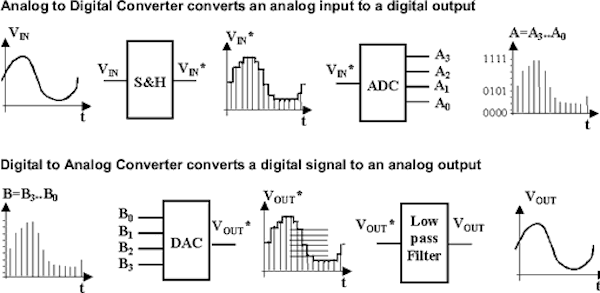 <!- ------------------------------------>