Two Months With Widex's Moment 440 mRIC R D Hearing Aids
"You are committing audio reviewer suicide" friends insisted when towards the end of 2018 I told them I was going to review some inexpensive
Hearing Aids
. Guess what? All of the comments under the review were positive and my reviewer creds are intact. Plus, my now 91 year old mother-in-law can now hear much better since I'd really bought them for her benefit.
Early in 2020 a publicist for Widex, a Danish manufacturer of "high performance" hearing aids contacted AnalogPlanet asking if we'd like to review a newly released hearing aid aimed at music lovers, musicians and audiophiles. Widex, a family owned business, merged in 2018 with Singapore-based Sivantos Group, another "hearing tech" company that is itself a "spin off" of Siemens Audio Solutions.
Sivantos also owns Signia, Rexton, TruHearing, Audibene, HearUSA and Hear.com—none of which most of us have ever heard of. The $8 billion dollar merger created the world's 3rd largest "hearing conglomerate". I have no idea who is #1 and who is #2 but suffice it to say, for a variety of obvious reasons including an aging population and stupid people listening to music at stupid SPLs both at concerts and in their ears, the hearing aid business is enormous, growing and has over the past few years been consolidated.
I bit on the offer, especially since this audition would include an audiologist exam—something I've never before had.
Then Covid-19 struck and the audiologist visit had to be canceled. But Widex had a remote solution. The company sent the 440 mRIC R D for me to "play with" while they set up a remote exam using a device they prepared that I'd wear around my neck that would connect the audiologist with the 440 mRICs using a special app, and she would be able to deliver the test tones into my ears and analyze the results. Of course, such a test is best administered in a "quiet room", not in a home office where ambient noise was far higher. But safety first.
Data in hand, she was able to customize the performance to best suit my needs, though the app itself offers a wide range of adjustability. Widex only sells to authorized dealers capable of performing the required hearing tests. Though somehow others manage to get ahold of Widex products. As with "gray goods" in audio, buying from non-authorized sources may save you a few bucks but it voids the warranty and leaves you without service options.
The Moment 440 mRIC R D
These appear to be Widex's top of the line RIC. RIC means "receiver in the ear". "CIC" models mean "completely in the ear" (I'm learning the lingo). They are remarkably compact and so fit behind the ears and just about disappear. No one noticed I was wearing them until I pointed it out (to the few people I've come into contact with since the pandemic began). There are two versions: the "M" (supplied) for people with moderate hearing loss and the "p" for those with more severe loss.
The built-in Lithium-ion battery last between 16-20 hours and can fully recharge in 4 hours. The batteries can be replaced if necessary, through an authorized dealer at a cost of "hundreds of dollars", which seems reasonable to me. To re-charge the batteries, you place the hearing aids in the charger wells.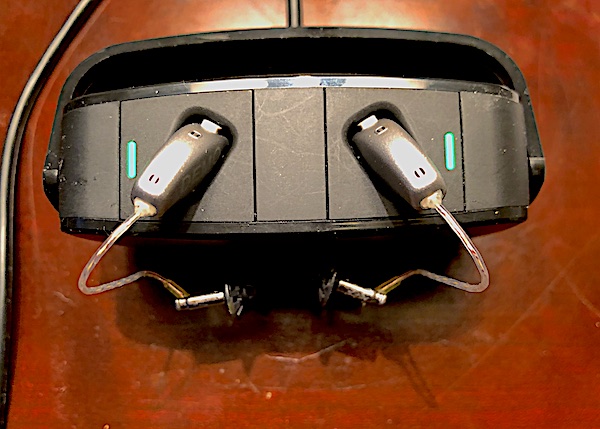 The 440 mRIC R D features 15 channels (which refers to how finely the device can capture, process and reproduce sound; the more channels the more "fine tuning" possibilities), and 5 customizable programs, all of which can be accessed and controlled on an iPhone or Android platform phone using the easy to use and graphically pleasing SoundSense app.
Key to this product, introduced this past July (2020) and clearly why I was contacted about it, is its unique, according to Widex, .5 millisecond processing time. In other words, the processed amplified sound reaching your ears arrives a scant half-millisecond after the "live" sound does. Everyone reading this understands comb filtering, time and phase coherence and the deleterious effects of time delay on sound quality. Comb filter effects produce, among other things, a bright, tinny sound and in worst case scenarios spatial distortions and/or just a "feeling" of discomfort.
Widex claims a dynamic range for its hearing devices of at least 108dB and a 33kHz sampling rate with 18 bit depth. Keep in mind this device is not designed to reproduce frequencies above 9.2 KHz. (7.5kHz for the "p" version) so don't let the sampling rate throw you! I was sent an article from an online hearing aid "blog" that contains a familiar complaint from a musician: "I've had analog hearing aids for years and my banjo sounded great. They broke recently and I am now trying my fifth set of digital hearing aids. They distort the sound of my music and nothing that the audiologist does seems to help."
The problem with digital hearing aids is that they are mostly designed for voice amplification and can't handle wide dynamic range musical input and so distort. We all know that in this regard (clipping) analog is far more forgiving. The article includes results of a six week blind study done with ten hard-of-hearing musicians using two Widex technologies, one of which had the wide dynamic range "True Input"™ technology incorporated in the Moment 440s and the other which did not. The "True Input" technology was preferred by a 60% margin at both high SPLs and 20% at low.
Interestingly, in another blind study testing the efficacy of Widex's "PureSound"™ under 0.5 millisecond delay technology, 85% of participants with hearing loss preferred it as did 100% of participants with normal hearing.
The Bluetooth connection to the app also allows streaming from phone calls and music apps. Though the sound quality is at best "serviceable", it's super-useful and convenient for streaming news and information shows from Sirius or TV apps, and of course for phone calls.
Self-Set Up First
The long delay between delivery and virtual exam allowed me to set up and use the 440 mRIC R Ds on my own for weeks. You can learn more about Widex on the company's website as well as, of course, the multiple product lines it offers—so many, in fact, and not particularly well organized on the site, that navigating it can get unnecessarily confusing. So many typefaces and sizes, so little TIME.
Fortunately, the top of the line Moment 440 mRIC R D Widex unit I have been using is anything but confusing to set up and use. Pairing with the phone was easy as was playing with the app's many settings. The batteries never came close to running low even after a full day's use (the app monitors the charge level) and it was easy to pop the Moment 440's out of my ears and place them in the recharger unit.
How comfortable are they to wear? These things are so small and light and easy to insert they go in in seconds and basically disappear. I used "open" inserts and left them in all day for many days (removing them of course for critical reviewing). One day over the summer on one of the hottest August days I'd had enough of the heat and decided to go for a swim. I threw on some trunks and ran to the pool and got on the diving board. Just as I was about to jump, I realized I had these things in my ears! If you wear glasses, having these in your ears is equally forgettable though I'm sure I'd have a hard time convincing you of that. I get it: it just seems kind of alien to stick something in your ear and leave it there all day.
Aural Exam
After evaluating the test results, the audiologist told me that my hearing was still "pretty good" with only some "moderate" midrange loss typical of people my age, aggravated for sure by mild Tinnitus. My "top end" was also good for my age but she hesitated to provide specifics because of the less than ideal test environment.
None of this surprised me. I once could hear ultrasonic burglar alarm sensors at the supermarket. I no longer can, though I'm not even sure those are still used. And no problem 20 years ago hearing the 16kHz "flyback" transformers used in old CRT televisions. I used to be able to walk down the block in the summer and without looking in the window hear who was watching television. I doubt I could hear that today, though of course there's no way anymore to test that. But you know, the fundamental of a cymbal crash is around 7kHz (though the spectral content goes well above 100kHz), so youngsters, don't expect cymbals to sound soft and mushy as you accumulate years unless you foolishly listen all the time to music at 110dB+ levels.
The biggest hearing issue I have is when watching movies. No problem with old movies where the dialog is compressed and actors, many of whom migrate from stage, knew how to project. While that acting style today appears stilted and fake, it didn't back then. Mumbling is today's affectation that's designed to sound like "real life", but really doesn't. In the future it will appear as stilted as the acting style of the 1930s, but combine that with bad post-production or no post-production where ADR (automatic dialog replacement) is eschewed in favor of using production dialog (picked up by microphones just above the actors but out of the frame) and there's a audibility problem not just for older people! That's why most home theater receivers have a dialog enhancement setting.
The other issue I have sometimes is with soft classical music passages ("ppp") that occasionally can drift below my noise floor. That is my biggest issue. Of course, your stereo is a hearing aid. When the SPLs are too low, just crank it up (as one of my even older than I am audio reviewer friends instructs)! But then the crescendos can get too loud and you have to back off the volume. One problem I don't have that many of my friends, some younger than me do have, is in restaurants where I have no trouble hearing others around the table talk even in noisy spots.
<!- ------------------------------------>