Blowin' Free and Goin' Deep With Andy Powell About Wishbone Ash's New Argus 50th Anniversary Edition Multidisc Box Set That Heralds the Full Majesty of Their Milestone Melodically Progressive 1972 Rock LP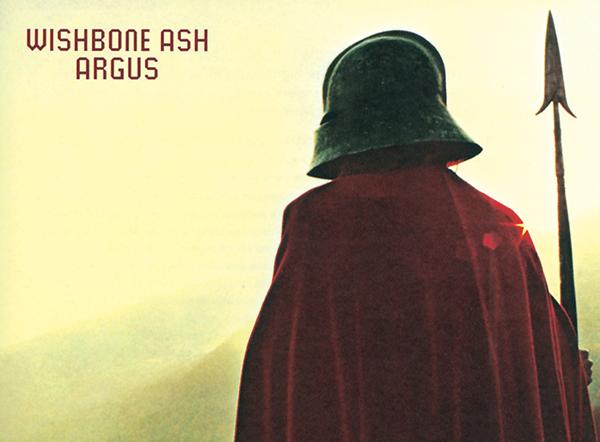 Certain albums serve as defining statements of a band's career trajectory — and when it comes to the British melodic progressive rock band Wishbone Ash, 1972's Argus is the shining example. To celebrate the golden anniversary of this milestone melodically progressive album, Wishbone Ash recently released the Argus 50th Anniversary Edition 1972-2022 multidisc box set via Madfish on April 14, 2023, with a special anniversary edition run of 5,000 copies.
Argus was first released on April 28, 1972 on Decca in the U.S. (as pressed by MCA) in the UK (as pressed by Decca). Me, I've owned various Argus LPs over the years, including that 1972 U.S. release, though my original 1978 rainbow-label MCA reissue sports some well-worn white-halo ringwear that encircles the album's iconic, Hipgnosis-designed "Guardian" cover art. I also have a clean copy of the 2010 digitally remastered 180g 1LP reissue from Decca/UMG (mainly for collectability purposes), but I now prefer the new LP that's in the Argus 50 box set, as it sounds much closer to the 1972 edition to me.
The mastering for Argus 50 was done by Pete Reynolds at Reynolds Mastering — and, yes, it's likely not been done AAA, but guitarist/vocalist and Wishbone Ash co-founder Andy Powell shares some insight as to why this new LP sounds just right to these ears — and his. "My only requisite was, 'don't remix it — just remaster it,'" he explains. "To me, Argus is perfect as it is." (Very much agreed.)
The 7-disc Argus 50 box set that's showcased in the above video clip consists of the following (deep breath!): 2LPs (the original Argus remastered for this release on standard-grade black vinyl as LP1; Argus Live on standard-grade yellow vinyl as LP2, the latter of which consists of five live recordings in total — two songs culled from Alexandra Palace in London on December 22, 1973 on Side 1, and three songs from the Memphis Radio Broadcast on August 21, 1972 on Side 2; one 7-inch single on red vinyl ("No Easy Road" b/w "Blowin' Free"); 3CDs including album-track demos and the full sets from Alexandra Palace and the Memphis Radio Broadcast; 1DVD with live performance footage from The Rainbow that aired on French TV on January 10, 1973, and additional live footage from BTS (RTS) that aired on Swiss TV on January 5, 1974; a 48-page softback book with rare photos, extensive liner notes, and other contributions from the aforementioned Andy Powell, bassist/vocalist Martin Turner, and drummer Steve Upton; and finally, last but not least, a numbered certificate of authenticity.
The Argus 50 box set can be ordered directly through the Wishbone Ash store on Burning Shed here. (For the record, the numbered certificate in the copy of Argus 50 I bought through Burning Shed lists mine as being 2,579 of 5,000.) The SRP for this box set is fairly reasonable at $155 U.S. (£125 in the UK).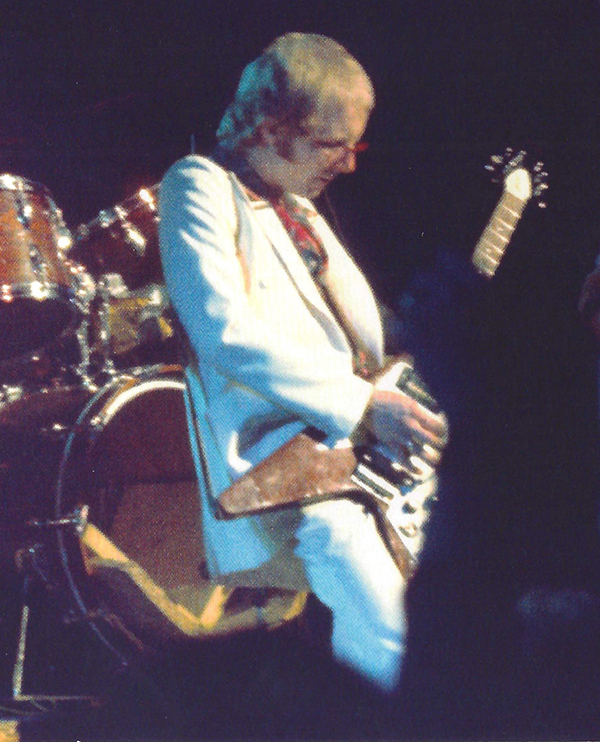 Much has been made of the cover art for Argus that you'll see throughout this story, a visual concept that was brought to the band by the late, great Hipgnosis guru Storm Thorgerson and his partner in design, Aubrey "Po" Powell (no relation to Andy, btw). "Those two guys were film-school student dropouts, so their album covers are very cinematic," Andy Powell (shown jamming above) notes, "and you gotta try to put your mind into what it was like to be around at that time. We didn't have Internet, we didn't have iPhones, and we didn't have all this imagery that assaults us every day. You were reliant on magazines and album covers to stir the imagination."
Depending on which version(s) of the Argus LP you own, something to keep an eye out for is the presence — or lack thereof — of a mysterious UFO that's once again visible off in the distance on the box set's restored cover art. "What's really, really weird is, in some cases, they nicked the flying saucer off," Powell says with a laugh, "but now it's back, and it's amazing! And that's part of the mystique, isn't it? One minute it's there, and the next minute, it's not! I think that was an intentional thing, and it all just adds to the vibe, The thing about Argus is, it's a beautiful synergy between music and visuals."
Couldn't have put it better myself. On a recent call from his Northeast homebase, Powell, 73, and I discussed why the multiple movements in the lengthy album opener "Time Was" were absolutely critical for how the sound of Argus unfolded on vinyl, how Wishbone Ash pioneered the use of twin-guitar harmonics, and the specific sonic elements the band added to Argus they felt were lacking on previous albums. I'm leaving to search for something new / Leaving everything I ever knew. . .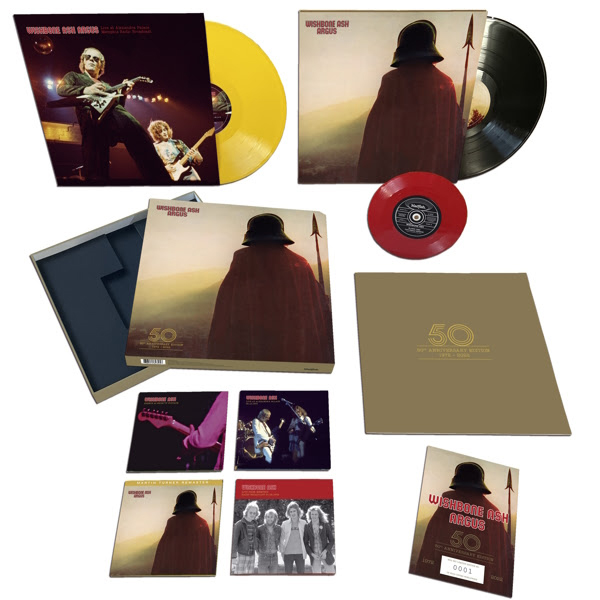 Mike Mettler: What were your instructions for the way the original tapes for Argus needed to be handled for this 50th anniversary box set release?
Andy Powell: I said, "Don't mess with it. It's a gem." People have said to me — they go, "Oh, well, obviously, if you remix it, you can correct the vocal pitching, and you can change all this other stuff too." But I didn't want it remixed because it's such a recording of the time, and of the era. It's something from the last century, for God's sake! That's the way records were made then, you know?
Mettler: I'm glad to hear you say that, because there is a tendency to want to "upgrade" vintage recordings these days as some people feel like they need to change things from how they were in the original mixes. I do admit that I like hearing alternate versions of some albums, but I also prefer having the "needle-drop" version too — the one we heard when an album was initially released. That said, this new edition of Argus sounds more like it did when it came out in April 1972 to me — which is exactly what you wanted to have happen here, isn't it?
Powell: Yeah, because it's called a record for a reason. It's a record of a moment in time where you were in that studio making that music, and that's the recording of that moment in time — and that's exactly where it should stay.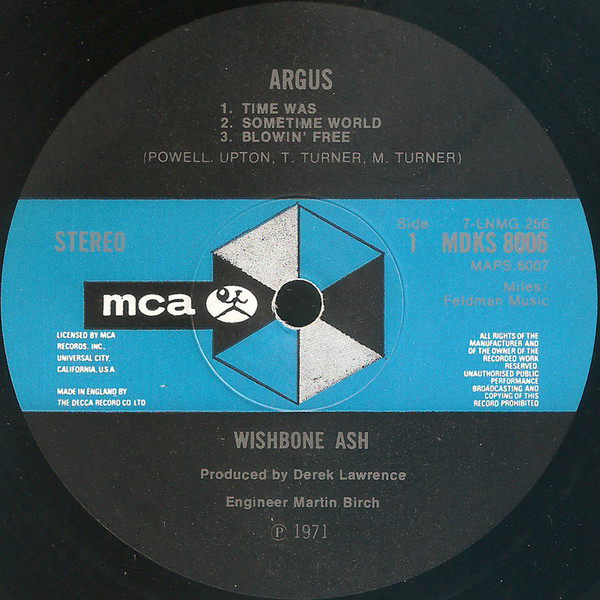 Mettler: Yeah, I'm with you on that. Well, to bring you back to the mists of 50-plus years ago, Argus is album number three for Wishbone Ash, and you guys went into the De Lane Lea Studio in London with Derek Lawrence as your producer and Martin Birch as your engineer. Did you guys all have discussions about, "Here's how we want this record to sound"? Was your thought process like, "We want Side A to sound more American, and Side B can be more pastoral and more English," or something to that effect?
Powell: I think when you're in the middle of a creative moment, you are guiding it, but because you are employing that side of the brain where you're in that creative moment — the right side, or whatever — you are creating something that's also dictating to you how it should go. I think it was six of one, and half-dozen of another. You are being guided by what's coming forth with a loose game plan.
It was obvious, really, that some of the music on Argus that all kind of combined into the one side [Side 1] was gonna be influenced by our recent travels in America, which was very new to us. It's very upbeat. It's very major-key stuff with some shuffles in there, and a bluesier kind of vibe.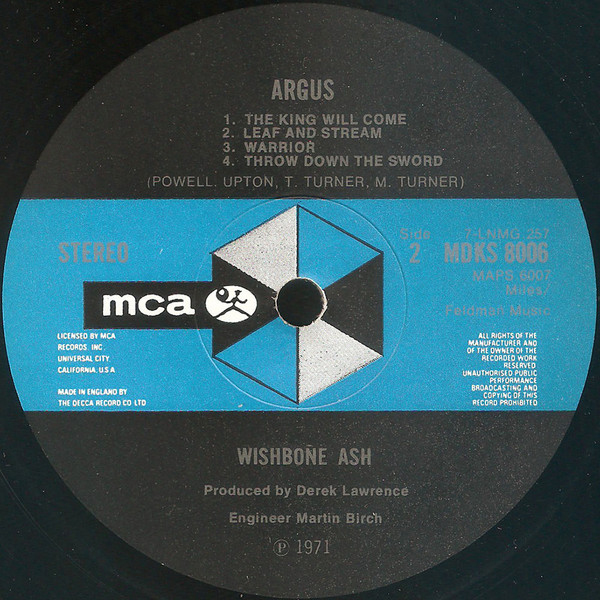 Then you get into this more pastoral side, as you call it, which is taking the influences from folk, English hymns, and church music — songs like "Throw Down the Sword" [the fourth and last track on Side 2] — and other things, like time and space. Those themes are a bit more, how can I say — reflective. And that's what I love about the album. It's got those two sides to it that are very different in a way, and yet it's cohesive because the lyrical themes are complementary.
Mettler: Well, the very first lyric of the entire album is, "I've got to rearrange my life" [the opening line of Track 1 on Side 1, "Time Was"], which is a very profound statement to really walk us into a record with, don't you think? That's pretty heavy, when you get right down to it.
Powell: Yeah — you're so right! You're so right. And, ironically, though [bassist] Martin Turner wrote a lot of the words for a lot of the songs, that particular part of "Time Was" and that opening line was written by [second guitarist] Ted Turner. Ted was always a conflicted person for much of the time I knew him in the band. He was a person who, for the four brief years he was in the band [initially, up through 1974], was never completely comfortable being where he was. Partially, that was because of the extreme dislocation of the way we were touring and living where we were just thrown into a maelstrom of hard work all around the world. It's that feeling of just waiting for your personal development to catch up with the geographical location you were at during some particular moment in time. So it was always about, "I've gotta rearrange my life and try to get it together." That was a phrase people in their early 20s used a lot back then — people in bands would say, "Hey, I'm just getting it together, man! I'm getting it together."
Then it becomes, "Well, when are you gonna arrive? When is it gonna be together?" After a while, you realize that where you are and what you're doing at that moment — that's the way it's always gonna be, and that you are exactly where you need to be at any given moment of time. That is the nature of being a traveling musician, or a traveling band.
But you're right — it is a very profound statement, and it goes on to be this sense of, "Where am I? What am I? What is being human?" And then the whole album just opens up, and it gets expounded on — that idea of dislocation, and time and space, war and peace, why are people fighting each other, and how can we then make the peace?
Some people go, "Oh, it's a concept album." I suppose, in some strange way, it kind of is — but like I said a minute ago, the material for Argus, as it was developing and evolving, kind of dictated the way we would have to present it. It was just in the creative moment at that time, and that's all I can say.
Mettler: Argus fits and flows together exactly as it is presented to us, and that's what I feel about it every time I put it on my turntable. For example, I really love the acoustic reflection of the first couple of minutes of "Time Was," and then you have that pause before the whole band essentially kicks in after that where you move into a different level of overdrive.
Powell: Totally! Totally.
Mettler: Was that always going to be the first song in the album sequencing? Did you guys know the order of Argus early on, or did you have to play around with it?
Powell: I think we played around with it a bit. But, again, the nature of the material dictated it. Typically, an album might kick off with a real heavy track.
Mettler: True. I mean, "No Easy Road," the song that was released as a single and not on the Argus album proper, could have been a side opener here — but the way the record unfolds, it really feels better as kind of a P.S. to it all, in a way. [Sidenote: "No Easy Road" did also appear on Wishbone Ash's next album, May 1973's Wishbone Four.]
Powell: I agree; I agree. We were into all that sequencing stuff. We would talk about it, and think about it. We always considered the dynamics of the music. A lot of our songs, they start soft and then they go on a journey, and then they get heavier towards the end of the song.
We were also into that sort of lateral thinking where it was, "Let's do the opposite of what is the norm, and let's start with a dreamy kind of reflective opener" — and that's what expanded out into something like "Time Was." That was definitely a conversation that was had at the time. We thought, "Oh, that's kind of cute and clever. Let's do that. That'll set people back on their heels a bit."
And then it crashes into the heavy part of the song, which, as you just said, it's a bit more positive and says, "Okay, I know where I'm going. I can rationalize the fact that I thought I could fix everything, but there was no time to rearrange it because I'm moving at such a pace." So you're exactly right in analyzing it that way.
Mettler: The other interesting thing about where that early pause in "Time Was" comes before the transition is, if people don't know that song, they may feel like another song is starting after it because you very deliberately have a couple of seconds where it seems like you've stopped — but then it comes right back to get into the dynamics, and the overall dynamic range of the material. You were cognizant to start the record with "Time Was" because you needed the longer grooves to fit all the information in there.
Powell: That's absolutely right — and we didn't have the technology that's available today to do things like crossfades. We had to sort of imply that by pauses, dynamics, and gaps in the music. We only had limited things we could do in that respect. So, yeah, we were very conscious of how we were taking people on a bit of a musical journey there, for sure.
Mettler: You guys were also pioneering twin-guitar harmonics at the time Wishbone Ash started in 1969, something that hadn't really surfaced yet in the mainstream until some American bands got to doing it on this side of the Pond. In terms of the production side of things for Argus, did you have to be more mindful of how you blended those two guitar voices together?
Powell: Yeah, we were very mindful of that. We were always conscious of, if one person's playing a Gibson guitar with humbucking pickups on it, then the other person must play a Strat because that's a single-coil thing. If you blend those two sounds together, you get a broader harmonic range — so yes, we were very mindful of that.
And then, don't forget, when we were making Argus, we jumped from 8-track to 16-track recording. And then it was, "How do we broaden the harmonic range and the fidelity of this record, since we can do so much more with it now?" It really became a question of adding more instruments. You could add in an organ. You could add in an orchestra, even. But what we did was, we just double-tracked the vocals and double-tracked the guitars — and that, right there at that moment in time, gave the album such a distinctive sound because it was due to the technology that was suddenly available to us. All of a sudden, you had this very melodic sound in a rock band, which was harmonized vocals double-tracked and harmonized melodic guitars double-tracked, so you had this rich, rich sound that we just created with two guitars, bass, and drums!
Mettler: Argus is such a rich-sounding record, I totally agree. And I also like how conscious you were where the organ [played by John Tout, from the band Renaissance] comes in during the second half of "Throw Down the Sword." It's really a nice, complementary sound there. You really could have done organ fills on the whole record, but that sequence in "Sword" really seemed to be the best place to have it, as opposed to it just being everywhere.
Powell: That's right. It was used subtly, because we were very much mindful that we'd have to reproduce this material onstage, and we were also mindful of the fact that we were very much considered a premier guitar band at the time. We used keyboards to enhance and color — rather than just sit on a bed of Hammond organ where, for example, a band like Deep Purple had a much thicker Hammond organ in their sound.
The thing is, Mike, every band was conscious of creating their own distinctive style. We didn't mess with that. We spent a lot of time talking about our sound — and if you wanted to come across to America, it was very important to have your own footprint, your own sound, and your own identifiable ear candy. With Jethro Tull, it was the flute and the jazz drumming. With Yes, it was the strident bass of Chris Squire, and the unique vocal sound of Jon Anderson.
You talked about the conscious nature of putting the music together, and yes, we were very conscious of that. We had a plan. We would discuss the sound, and we would discuss the approach. If we wanted to move out of the clubs and play the bigger arenas and stadiums in America, we pretty much realized that, with Argus, the other component we needed to get out of that album was we needed to have more ponderous and more grandiose themes — and we needed to slow the music the hell down! (laughs) Like Metallica figured out for themselves later on, we realized all that quicker flash playing to show off our abilities wasn't going to get over in a bigger venue. The more notes you play, sonically, it all just gets absorbed by the acoustics in the venue. I learned that when we were touring with The Who.
Mettler: Lesson well learned, I'd say. Did you know "Blowin' Free" was going to become such a breakout song in terms of the bigger picture for Wishbone Ash?
Powell: To a degree, yeah. It has some very hooky guitar parts that have been borrowed by other bands. Like, if you listen to the outro of "Blowin' Free," you can hear the influence of that, which has just been changed a little bit, on songs like "Reelin' in the Years" by Steely Dan [released in March 1973], and "The Boys Are Back in Town" by Thin Lizzy [released in April 1976]. They both used that format. They obviously had listened to "Blowin' Free" because we were the first to do it where the guitars become like a horn section. Both of those bands — they did that too! (laughs) We were totally mindful of stuff like that.
Mettler: Okay, so the last thing I want to ask you before you roll on is, since we're talking 50 years of Argus here, let's now project 50 years into the future, to the year 2073. And, as I like to say, unless there's some weird science going on, you and I are probably not physically on the planet in that year. However people listen to music in the future, and they type in "Wishbone Ash" and/or "Argus," what kind of listening experience do you want somebody 50 years from now to get from doing that?
Powell: I want them to have the same kind of experience I get when I listen to early Django Reinhardt records or something like that where you listen to a recording, and you can picture in your mind's eye a location and an atmosphere. I think we're almost getting to that point now where you can listen to records that were made in the last century and you can imagine a mid-century kind of atmosphere. You can imagine analog, you can think about tape, and you can think about electric guitars.
In my mind, they've never surpassed the kind of instruments that were made by Leo Fender or those made at Gibson, the company. The guitars made in the mid-'50s and mid-'60s — it doesn't get any better. I'm talking about listening to vintage instruments along with rock drumming, but played with the mindset of all that went before. A lot of rock drummers from the early '70s, they grew up listening to jazz and big band, and they tuned their drums that way, so you'll hear that —and that's what I want people to think of. I want people and their imaginations to go back to a wonderful time where there were no worries, no angst, the promise of youth, and there were no wars on our domestic front.
When you listen to Argus, it has a sort of a post-Vietnam vibe at a time when it was just baby boomers who ruled the roost and people like us coming of age, and all of that. You listen to that record and you go, "Man! That was what it was like to be free in America." That's where we were at.
There's no point being a musician if you don't travel — and we were traveling musicians. We were seeing the world with a sense of wonder — no question about it. We were listening to FM radio as we were traveling, and the whole thing was like part of the movie, you know? And we wanted to be part of that movie with our music.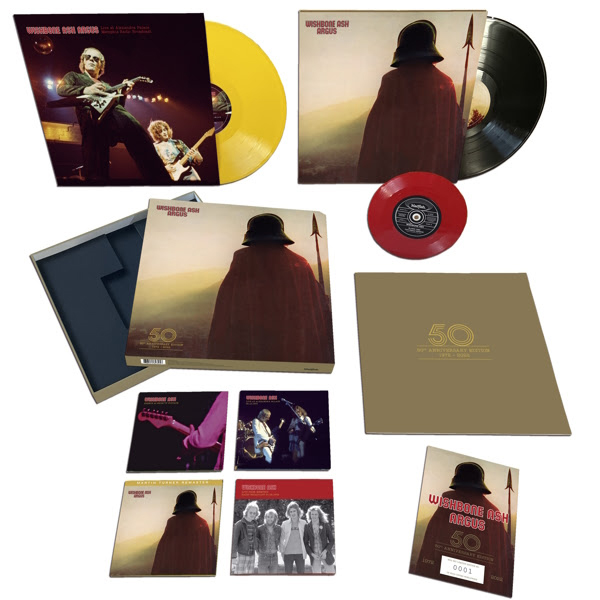 WISHBONE ASH
ARGUS 50TH ANNIVERSARY EDITION 1972-2022
2LP/1 7-inch 45/3CD/1DVD multidisc box set (Madfish)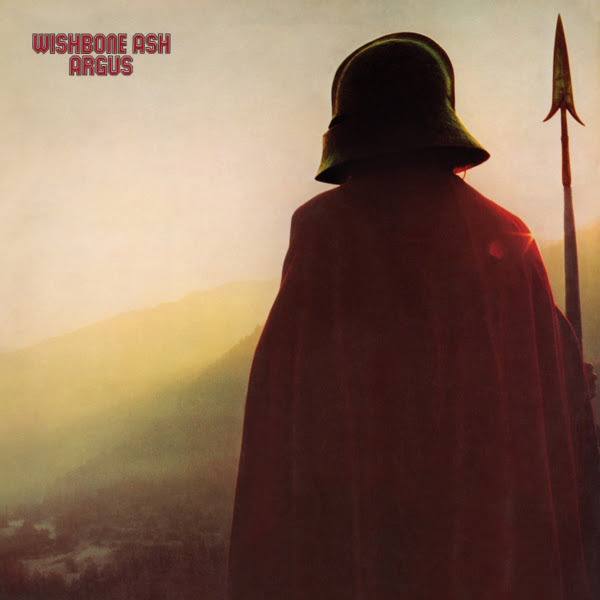 LP1: Argus
Side 1
1. Time Was
2. Sometime World
3. Blowin' Free

Side 2
1. The King Will Come
2. Leaf And Stream
3. Warrior
4. Throw Down The Sword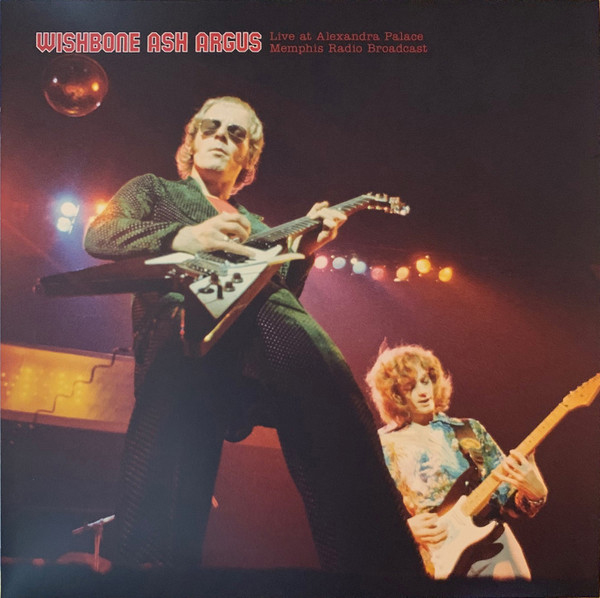 LP2: Argus Live
Side A
1. Blowin' Free
2. Sometime World

Side B
1. Time Was
2. Blowin' Free
3. Warrior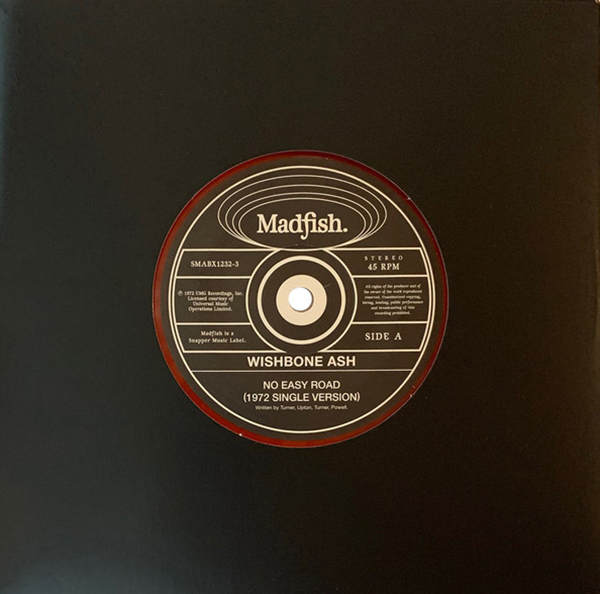 7-Inch Single
Side A
1. No Easy Road
Side B
1. Blowin' Free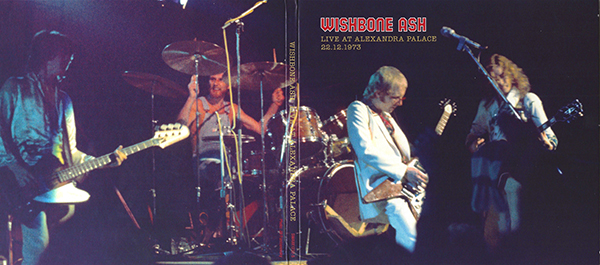 <!- ------------------------------------>