David Crosby Wants You to Feel the Overtones of Musical Freedom by Listening to the Broad Spectrum of His Long and Storied Catalog on High-Grade Vinyl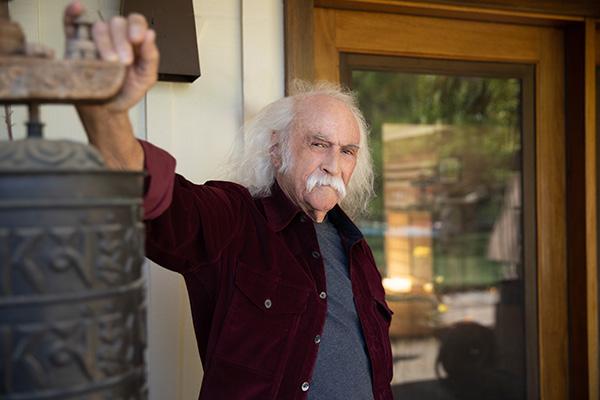 David Crosby has the voice of an angel. Not only can you hear his distinctive vocal tone coming across pure and true all throughout his most recent studio album, For Free — one of AnalogPlanet's Top New LP Releases of 2022, in fact — but you can hear his long-entrenched instinct for beautifully layered harmonies on David Crosby & The Lighthouse Band's Live at the Capitol Theatre, currently available in a 1CD/1DVD package via BMG, but (hopefully) coming soon on vinyl.
The fact is, well-arranged and well-performed Live tracks like "Things We Do for Love," "Laughing," and "What Are Their Names" will sound even better on high-grade vinyl, as soon as the fates-cum-pressing-plants allow. "I totally agree with you," Crosby confirms. "If you like vinyl as much as I do, then you know the best quality we can possibly deliver is the right thing to deliver."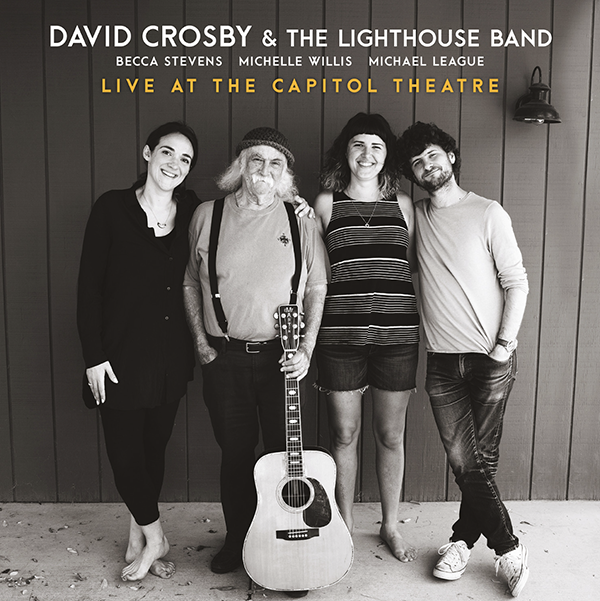 Crosby adds that the chemistry he feels with his three Lighthouse Band bandmates — guitarist/vocalist Becca Stevens, keyboardist/vocalist Michelle Willis, and guitarist/bassist/vocalist Michael League — has been quite palpable. "I do have another record coming with The Lighthouse Band you haven't heard yet," he notes, "and I just don't have a title for it yet. But it's already mastered, and it's ready to come out." (Sidenote: Once that new Lighthouse Band album makes its way to vinyl, rest assured, I'll be speaking with Croz about it. "We should do this again sometime," he offered — so stay tuned!)
When pressed, Crosby ascribes his lifelong vocal prowess to a certain kind of, er, shall we say, puffery — and he wants to keep singing as long as he can. "I do know that my voice is still hanging in there — which is very important to me, because my hands are going and I can't really play [guitar] very well anymore," he admits. "That I can sing is like my last bastion of musical input. I really love it, so I'm really glad it's still working. It will fail too, in the future somewhere — but it hasn't yet. I'm trying to squeeze every bit of music out before I can't do it. I really love making music, man. I'm a little devastated by not being able to play anymore, so I'm really driven to sing as much as I humanly, possibly can." Keep on keeping on, Croz.
Crosby, 81, and I got on the phone to discuss the importance of overtones all throughout his recording career, why having Miles Davis cover one of his most heartfelt songs is a career highlight, and why his very first solo album — February 1971's If I Could Only Remember My Name — remains an audiophile benchmark LP to this very day. I thought I'd seen someone who seemed at last / To know the truth. . .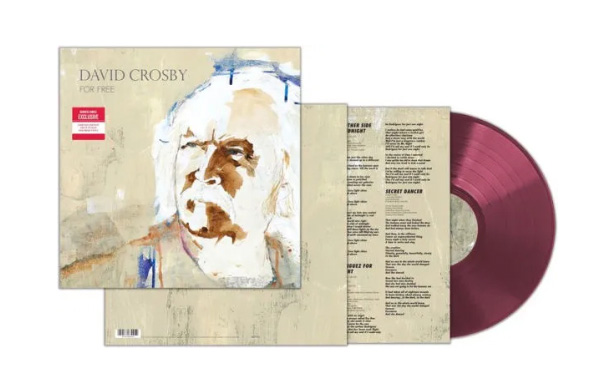 Mike Mettler: First thing I have to mention is how much I enjoy listening to For Free on vinyl. I specifically wanted to have the rum-punch color vinyl version of it, so I went to Barnes & Noble to buy it. I imagine having For Free on vinyl has to be something that was vitally important for you.
David Crosby: Yeah, it was. I like vinyl a lot. I like what it does to the sound. I always have.
Mettler: I also have to give you credit for the song you and your son James Raymond co-wrote on For Free with Donald Fagen, "Rodriguez for a Night," which I think is just a beautiful piece of work.
Crosby: Thank you, man! I am a huge, gigantic Donald Fagen fan.
Mettler: Me too. What is your favorite Donald Fagen and/or Steely Dan track? Do you have something of his, or theirs, that's your go-to?
Crosby: You know, I've been trying for years to pick one — I can't! It's impossible. Just when I decide "Josie" [from September 1977's Aja] is it, [the song] "Aja" comes on and I think, "No, maybe that's it" — and then all of a sudden, I'm into [the title track to November 1980's] Gaucho. I can't pick. I love all those records and a bunch of other stuff they did, but I really love those two records. They are in my Top 10 for life — both of them.
Mettler: Yeah. I'm not gonna argue with that. For me, the title track to Aja is always going to be special because I love the interplay between [tenor saxophonist] Wayne Shorter and [drummer] Steve Gadd in the middle of it. It's just so brilliant. Such an amazing thing.
Crosby: Yeah, yeah. Tough stuff.
Mettler: Great tough stuff, for sure. One thing I think that's still crucial to you is how you understand the importance of capturing overtones in your recordings. If you wouldn't mind expanding on that a little bit more, tell me why overtones continue to be important in the mixes and songs you come up with, especially when we listen to your music on vinyl.
Crosby: Well, I think most people don't really know they're there. But if you're a person who works in open tunings on a guitar, then there's a thing that happens. You can get all six strings so in tune that, until you get it, there are just the primary tones coming off the strings. And when you do hit it, suddenly there's like six extra notes — a whole bunch of extra notes. And some of them are in places the strings aren't. Some of them are at fifths or thirds, in relationship to the strings. It's just so startlingly beautiful when you can get it to happen.
Overtones, in a chord — you get a lot of 'em off a really good piano. When you play a chord on a piano, there are more notes there than you played. And that's the overtones working for you.
Mettler: Can you give me some examples of your favorite songs that you've written and played that we can tell the AnalogPlanet audience, "Go listen to this song on vinyl to hear what David is talking about here," from your point of view?
Crosby: Okay. Well, there's a purely vocal one called "Samurai" [originally from August 2004's Crosby & Nash] that has some pretty interesting overtones in it, just generated off of a capella harmony vocals.
The song "Laughing" [from February 1971's If I Could Only Remember My Name] has guitar overtones in it. If you can get the track up loud on really good equipment, you can hear 'em. Geez, there's a lot of places in my stuff with certain tunings, from, say, everything from "Guinnevere" forward. When you can listen to just the guitar — you'll hear it. ["Guinnevere" is, of course from May 1969's seminal Crosby, Stills & Nash.]
Mettler: I'm glad you said that, because "Guinnevere" has always been one of my own choices as being extra special to listen to on vinyl. As a brief sidebar to that, I really love the Miles Davis version of that song.
Crosby: Me too, man! What a thrill it was to hear the Miles version of "Guinnevere." I think it's one of the main musical events of my life, man — that he recorded that song.
[MM notes: Miles Davis originally cut "Guinnevere" during the recording sessions for Bitches Brew on January 27, 1970. An 18-minute version of it appears on November 1979's Circle in the Round, but the full-length 21-minute version appears on November 1998's The Complete Bitches Brew Sessions box set.]
Mettler: Yeah, it really is an amazing version. And you met Miles at one point, didn't you?
Crosby: Yeah, and it was an absolutely stunning thing. I'm standing in front of The Village Gate jazz club, in the Village [i.e., in Greenwich Village, in New York City]. I had just come out of a show in there, and while I'm standing there, he walks up to me, and he says (affects low-toned Miles Davis vocal rasp), "You Crosby?" And I said, "Yes sir. Yes, I am." "I'm Miles." I said, "I know." (chuckles) He said, "I cut one of your tunes." And my heart stopped. My brains just ran out my nose, in a puddle. I said, "You, wha . . . you wha. . . you what??" And he said, "I cut one of your tunes You wanna hear it?" And I said, "Oh, God — yes!" And he said, "Follow that car." It was a brown Ferrari. He and his lady got in the Ferrari, and I followed them in a cab. We drove up to his place in Midtown, and he played it for me. I think it's one of the main musical events of my life, man — that he recorded that song.
Mettler: And if I also remember correctly, [July 1960's] Sketches of Spain is one of your favorite albums, is that right?
Crosby: Yes.
Mettler: What is it about that Miles Davis album that touches you so deeply?
Crosby: His playing. I'm disturbed by the fact that the orchestra isn't exactly in tune, but his playing is just glorious.
Mettler: Yeah, even if we've all listened to that album 50,000 times, I never get tired of it.
Crosby: At least 50,000 times — and that's almost as many times as I've listened to Joni [Mitchell's] Blue, which is my favorite record. [Blue was released in June 1971.]
Mettler: Right? And when you're listening to those records on vinyl, I feel like you get those extra "feel" things that we've been talking about.
Crosby: I don't know if it's "extra" — it's a different matrix for the sound. Yeah. You get a different sound, and I like how the sound organizes itself in a vinyl record, very much. I do think our digital stuff has gotten to the point where it sounds excellent, but I like what happens to sounds on a vinyl record, yeah. I always have.
Mettler: I know you were listening to classical music from composers like Bach in your household as a kid growing up in Southern California, but what were the first non-classical albums you remember listening to?
Crosby: Besides Ella [Fitzgerald]? That was my first record. And the next one was one that my mother bought — well, there were three. There was Josh White, Odetta, and The Weavers.
Mettler: Wow. Right there, in those three records, I feel like that's David Crosby musical DNA 101.
Crosby: (laughs) You can tell a lot, right from those records, man!
Mettler: Yeah, and I think "Déjà Vu" [the title track to Crosby, Stills, Nash & Young's landmark March 1970 album] may in fact be what you get when all those things are put together.
Crosby: Well, those are my influences. And there are other people, like keyboard players in jazz bands — Bill Evans, and McCoy Tyner. People like that really blew my mind. A lot of stuff blew my mind, man. Shostakovich blew my mind, you know? (laughs) I think the broader spectrum of music you listen to, the better you listen — and the more you understand about music. Another record I still listen to it a lot is Weather Report's Heavy Weather [released in March 1977]. I really love that band, man. That was just maybe my most favorite jazz band.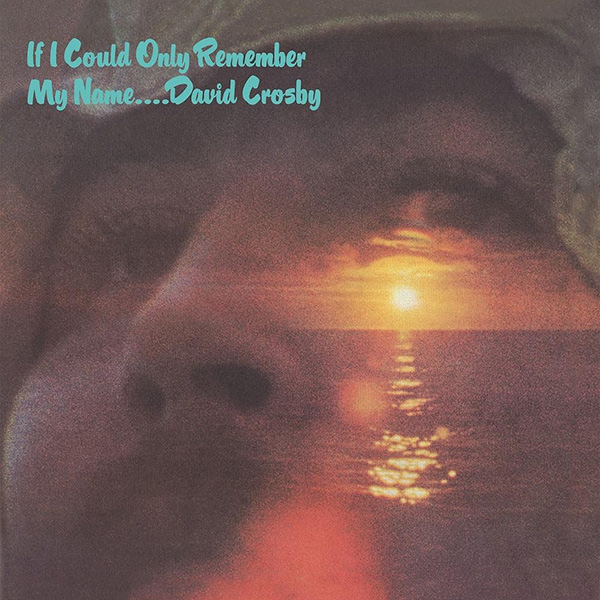 Mettler: And that's a great LP, too — Heavy Weather. But to get back to your own catalog, I have to note that If I Could Only Remember My Name really is an audiophile classic LP at this point, wouldn't you agree?
Crosby: Yeah, I think so, probably. It's a really odd experience for me — that record, man. I was in great pain — and at the same time, there was great joy there. It's really hard to separate the two. And they. . . (slight pause) they conflict. (chuckles)
[MM notes: The "pain" Croz is referring to here is him still being in the midst of mourning the death of his then-girlfriend, 21-year-old Christine Hinton, in a car accident in 1969.]
Mettler: Yeah, I totally get that. Even though it's 50-plus years gone from when that album came out, I feel like — and I think we feel this way with a lot of music, actually — if you personally put something on from that record, it takes you immediately back to where you were when you made it, right?
Crosby: Pretty much, yeah.
Mettler: You could have not shared any of that, really, but you felt you had to.
Crosby: I don't know if I wanted to, man — but I didn't have any much of a choice, you know? It was gonna come out. It was too big for me to keep it in. It was too big for me to deal with by myself.
It was one of the reasons I fell so much in love with [Jerry] Garcia — he didn't talk about it, but he knew perfectly well what was going on, and he kept coming every night, making music with me — and that kept me alive. [Jerry Garcia is the late, great Grateful Dead guitarist/vocalist who played guitar and pedal steel on much of the Name album, as well as contributing vocals to "What Are Their Names."]
Mettler: Well, you guys did it right. Why do you think If I Could Only Remember My Name is such a good-sounding record? Is it just the way you recorded it? It still holds up amazingly, today.
Crosby: A number of reasons. One, Stephen Barncard is a good engineer. Two, [Wally] Heider's [studio, in San Francisco] at that time had a very good sound. And three, we had a lot of time. I could take my time and build vocal stacks that pleased me, that were up to my specs — and that's pretty rare. I'm very picky in that way. It's hard to make me happy, acoustically.
And so, it was pretty amazing. A pretty amazing experience. I I think a lot of it had to do with the fact that we could take our time — and we did. We had time to listen to those vocals, and stack 'em. Really take my time, and stack 'em.
The other thing about working on that album was, I don't know what's gonna happen when I write. I just try to keep open, and see what's coming.
Mettler: And isn't that part of the mystery of the writing process? In general, no matter what you or I are writing about, sometimes I feel like the act of thinking is just as important as doing. You think about the process itself — maybe for hours, even days, and then. . .
>Crosby: (interjects) And sometimes, not thinking. Sometimes, you're trying to keep your mind blank to see what pops in. There are a lot of levels to keep in mind here, man — and not all of 'em are consciously monitored all the time. Some of 'em are working away at building lyrics when you're doing something else — brushing your teeth, or whatever. There's another part of my mind, anyway, that's sitting there going, "Hmm. I wonder if this fits into here. How would this sound?"
Mettler: Is there a good example of David's best "not thinking" song? Something that just happened that you weren't thinking about, but you got it in the moment?
Crosby: Mmmm. (takes brief pause) That vocal piece at the end of If I Could Only Remember My Name ["I'd Swear There Was Somebody Here"]. It was just purely, purely invented in the moment of standing there at the microphone, and that's what came out.
Mettler: Ahhh, yeah, yeah. That's a beautiful example. Well, I don't wanna over-eatup your time, so let me throw this ridiculously hard projection-question at you. Let's just say it's 50 years from now, in 2072. [MM notes: This interview took place in late 2022 and not in early 2023; hence the reference to 2072 here.] Unless science has done something magical, you and I are probably not physically on the planet anymore, but in 2072, and however people listen to music, if somebody types in "David Crosby" and something of yours comes up, what do you want a listener to hear at that time in the future?
Crosby: Ohhh, it'd be hard for me to pick, but I guess If I Could Only Remember My Name, probably.
Mettler: Great choice. What would you want them to get out of that experience? What kind of thing do you want listeners to hear in regard to any of your music?
Crosby: I want them to get the idea of musical freedom — that you listen to a lot of different stuff from a lot of different places, in a lot of different ways.
[MM addendum, 01.27.2023: For the previously unpublished portion of my interview with Croz, go here.]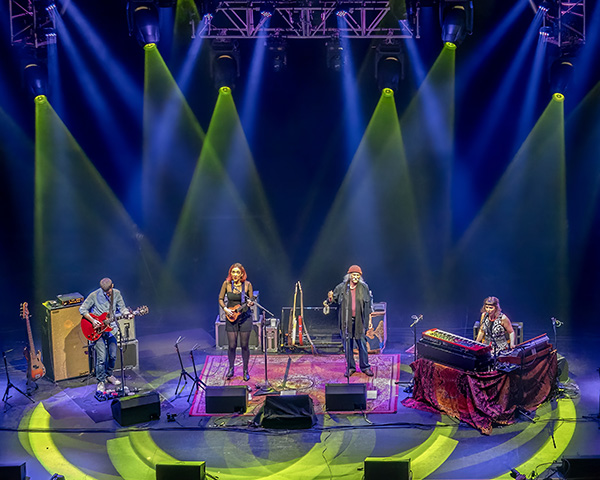 <!- ------------------------------------>